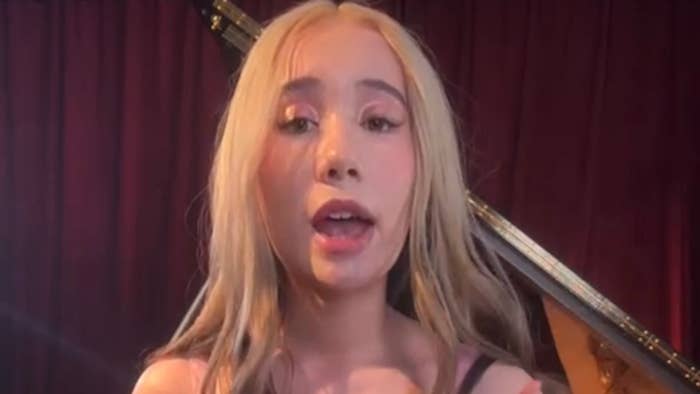 Lil Tay has made her first public appearance in five years with an explosive Instagram Live session where she made several accusations regarding her "absentee" father and his wife.
On Saturday, the 16-year-old hopped on her IG live stream, playing various instruments and covering several popular songs, such as "Hotel California" by Eagles and Metallica's "Master of Puppets," while 77,000 people tuned in.
People were initially confused about what was happening and asked the social media star to say something about the drama surrounding herself and her family. Lil, whose real name is Tay Tian, eventually got to talking and aired out a full clip on her father, Chris Hope, and accused him of committing inappropriate sexual behavior with multiple women in front of her.
She also accused one of the women, named Honey Hope, of physically abusing her and providing photos of her bruises. Tay also showed pictures of rotten food that was allegedly prepared by Honey and also claimed she was given worn-out shoes to wear while her father bought Honey designer clothes.
"They were always playing sexually inappropriate movies in front of me," she said. "She would always take her anger out on me. She punched me, pinched me. Chris shoved me."
She added, "It was the middle of the night and I was awakened by them. They were next to me and she had her hand on my leg. They didn't care."
When it comes to child support, Lil Tay claimed her father owes her over $250,000 and she hasn't seen one cent. Tay also claimed that Chris Hope has a history of abusing her mother. He allegedly "shoved her into walls" and punched her while also abusing Tay's brother.
"[Chris Hope] is not the fucking good guy here," Tay said. "He wanted control over my career and money and I had to go through, me and my family, had to go through even more years of abuse through the court system because of him. But in the end we won. I am free now. I thank God for it, I thank my mom for it."
Lil Tay has been surrounded by drama thoughout her time in the spotlight. She had disappeared while various messages were shared on her Instagram page that claimed she was being abused by her father. Things got even weirder when she, along with her brother, allegedly died.
It turned out to be a hoax, and Tay lived up to her promise that she would reveal everything to the people on Instagram. In addition to her highly-anticipated return, Lil Tay dropped a new song titled "SUCKER 4 GREEN" with an accompanying music video where she's dancing in front of several luxury cars and performing with backup dancers. Check it out below.