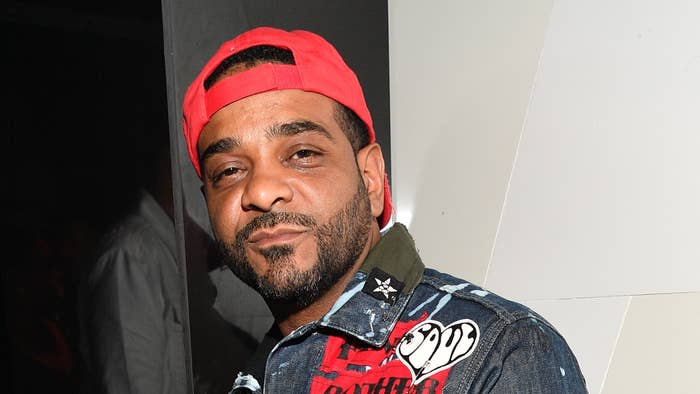 Jim Jones has offered some insight on the television series based on The Diplomats he teased back in March on DJ Self's Apt. 5H talk show.
During his conversation with DJ Self, Capo revealed he wanted to do a show based on the group's pre-fame beginnings. There have already been movies and shows based on hip-hop artists and the possibility of an actual Dipset TV series coming to light had fans talking.
"You got a talk show, I'm about to give you the Dipset 5H TV series," Jim told DJ Self. "I think I'ma do that 'cause the shit that went on in 5H before we became the players we were, you n***as need to see. We was reckless. Young, dumb and stupid, but we was having a ball."
However, in an exclusive interview with Complex, Jones cleared the air to explain the show wouldn't directly be about the legendary Harlem rap group but instead focused on his grandmother's apartment unit and what went down inside of it. Apartment 5H is where the now 46-year-old spent much of his time as a kid and something that lies deep in the origin story of Dipset.
"I'm not trying to get a Dipset TV series going but a show based on apartment 5H that focuses on what came before Dipset," Jones told Complex. "That's something I can control wholeheartedly. 5H was my apartment, my grandmother's apartment and I'm going to talk about all the stories that came out of there. Some of it will be Dipset, but a lot of them will be about Jomo."
He continued: "Jomo was who I was before I was Jim Jones. It would be everything that went on in 5H, like the time my grandmother passed. When she passed, at times I turned into a whole different person. I lost a lot of love in my heart and the stuff we went through in 5H you can't even imagine."
Some of the things Jim said he experienced include gangbanging, running around the neighborhood, hustling, and much more. Most importantly, while that was happening, apartment 5H was also a safe haven for those trying to get out of the streets. According to Capo, several big-name artists passed through his grandmother's doors.
"A lot of the stars that have become multi-platinum stars like Mase, Cam'ron, Juelz, myself, N.O.R.E. and so many others have been there," Jim said. "5H has a long history to it, and a lot of it has to do with The Diplomats. Me and Cam always been talking about when it's the right time, and this could be the start of it."
The apartment 5H series is still in its early stages and has yet to be picked up but Jim Jones has it on his list of things to do. He also went on to say a show telling the story of The Diplomats would be a "monumental moment," and something like that would take a complete effort from all members. However, Jim is already a few steps ahead as he also revealed who he wants to play him.
"My son is a split image of me right now," he said. "He got his braids, the body type is getting there, he's doing his pull-ups right now. He's been around me enough to know my mannerisms more than anybody. If anyone could get into Jim Jones mode, I believe it's him."
He continued, "I'm not going to have him try out either because I'm training him to be me. On the flip side, I would love to get Cam's son to do a couple of scenes as him. I think that would be dope."