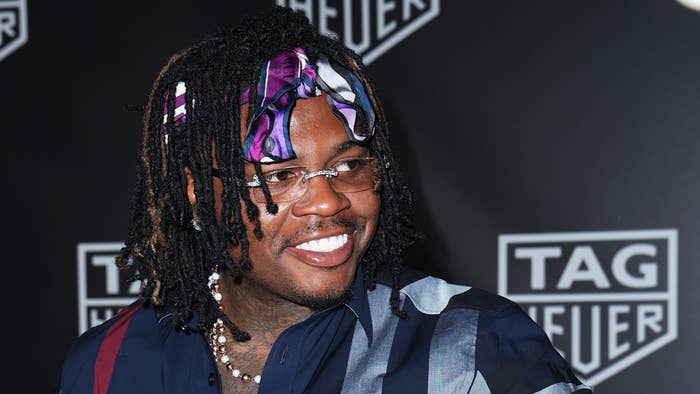 Gunna is the latest rapper to get hit with clone accusations after displaying a slimmer look following his release from prison, and he has a response to all the commotion.
On Friday, the Atlanta rap star took to his Twitter to answer a fan who questioned his appearance in the music video for "fukumean." The fan had initially tweeted a still image from the video that showed Gunna's noticeably thinner face and claimed there was no way the person in the picture was the YSL hitmaker.
Gunna wasted no time retweeting the post and used the title of the song cleverly to dispel any rumors that he has a clone on the loose. "Fukumean," Gunna wrote in his retweet.
Gunna dropped the video for "fukumean" last Wednesday, and people were shocked at how different the rapper looked following his release from prison in December 2022. The rapper lost a considerable amount of weight, but some are convinced he was cloned due to the drastic change.
Gucci Mane experienced something similar when he showed off a huge transformation after being released from prison in May 2016. He reportedly lost 100 pounds while serving two years and maintained a healthy lifestyle afterward thanks to his wife, Keyshia Ka'oir. However, just like Gunna, fans believed a clone had taken his place in society.
The silly rumor allegedly started after the satirical website ThingUThink posted a fake article on Lil Boosie that quoted a fake Breakfast Club interview in which the Baton Rouge native claimed Gucci was cloned. Gucci responded to the clone allegations during an interview with GQ in 2018, saying he understood why people would think that happened given his major transformation.
"In a way I feel like I grew. I kind of morphed into a different person," he said. "Shed some of my old ways. I can say I grew up. I love the person I was, I love the person I am, and I love the person I grew to be. I tried to lose weight, I tried to take care of myself, change my thinking, my environment and associates—the ones that wasn't benefitting me. I guess that's the transformation everybody's saying they can't believe. But I can believe it."