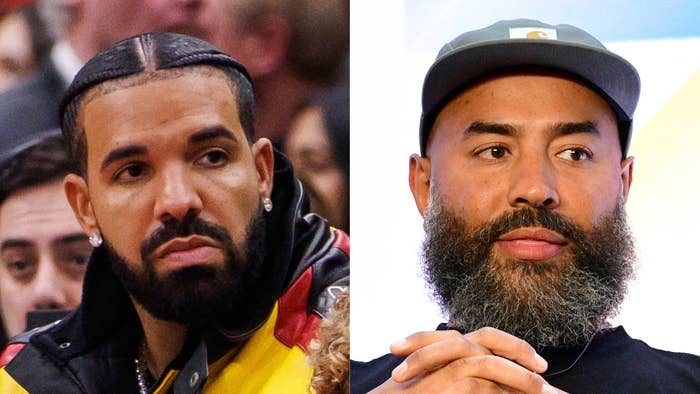 Ebro Darden has called out Drake for not speaking up against issues facing Black communities worldwide, and social media has been having a field day with his statement.
On a recent episode of Apple Music's Rap Life Review earlier this month, the radio personality took aim at Drizzy for throwing shade at Childish Gambino and his track "This Is America" on one of the earlier stops of his It's All A Blur Tour. According to Ebro, the 6 God hasn't lifted a finger regarding Black issues, while other artists won't waste a second bringing awareness to said issues.
"Drake, who has never shown up, and y'all know I'm the biggest Drake fan on this show," Ebro said. "Drake has never shown up to have anything to say about anything going on in society with Black folks or anything other than himself."
He continued, "So now you have an issue—I get you have an issue with Childish Gambino if what you're saying is face—but fam, the song was supposed to be a joke diss, it didn't actually happen. So why you in your feelings about it and taking shots at a song?"
Ebro's take sparked conversation on Twitter from fans to journalists coming to the defense of both men. Journalist Marc Lamont Hill said Ebro was "100% right," while others such as Andre Gee and Charles Holmes defended Drake and spoke on artists not having to feel obligated to speak on certain issues they aren't informed about.
Ebro caught wind of the commotion he started on Twitter and sent out a tweet that cleared up his statement. According to Ebro, Drake doesn't have to speak on certain issues if he doesn't need to, but speaking on someone who takes it upon themselves to address an issue isn't right.
"This is out of context," he tweeted. "Drake doesn't have to. Nor should he if he doesn't feel it. But to say 'This is America' is overrated and over awarded when that song came at a time when people needed someone to say something. And he doesn't feel the need to. That's all."
Drake rarely uses his musical platform to speak on societal issues, but he does reference current events from time to time. On "Spin About U" off his collaborative project with 21 Savage titled Her Loss, Drizzy spoke about abortion with the line, "Damn, just turned on the news and seen that men who never got p***y in school are makin' laws about what women can do."
On "Circo Loco," he allegedly referenced the Megan Thee Stallion and Tory Lanez shooting incident, rapping, "This b***h lie about getting shots, but she still a stallion/ She don't even get the joke but she still smiling."
Despite not using his music to speak on Black issues, Drake hasn't kept entirely silent on the matter. Earlier in his career, Drake spoke about growing up as a biracial kid in Toronto during various interviews and on a few songs, including "You and the 6" and "6PM In New York." In 2016, Drake penned a letter to his fans calling for an "open and honest dialogue" after Alton Sterling was killed at the hands of police. Oddly enough, Ebro reposted the letter on his Instagram page.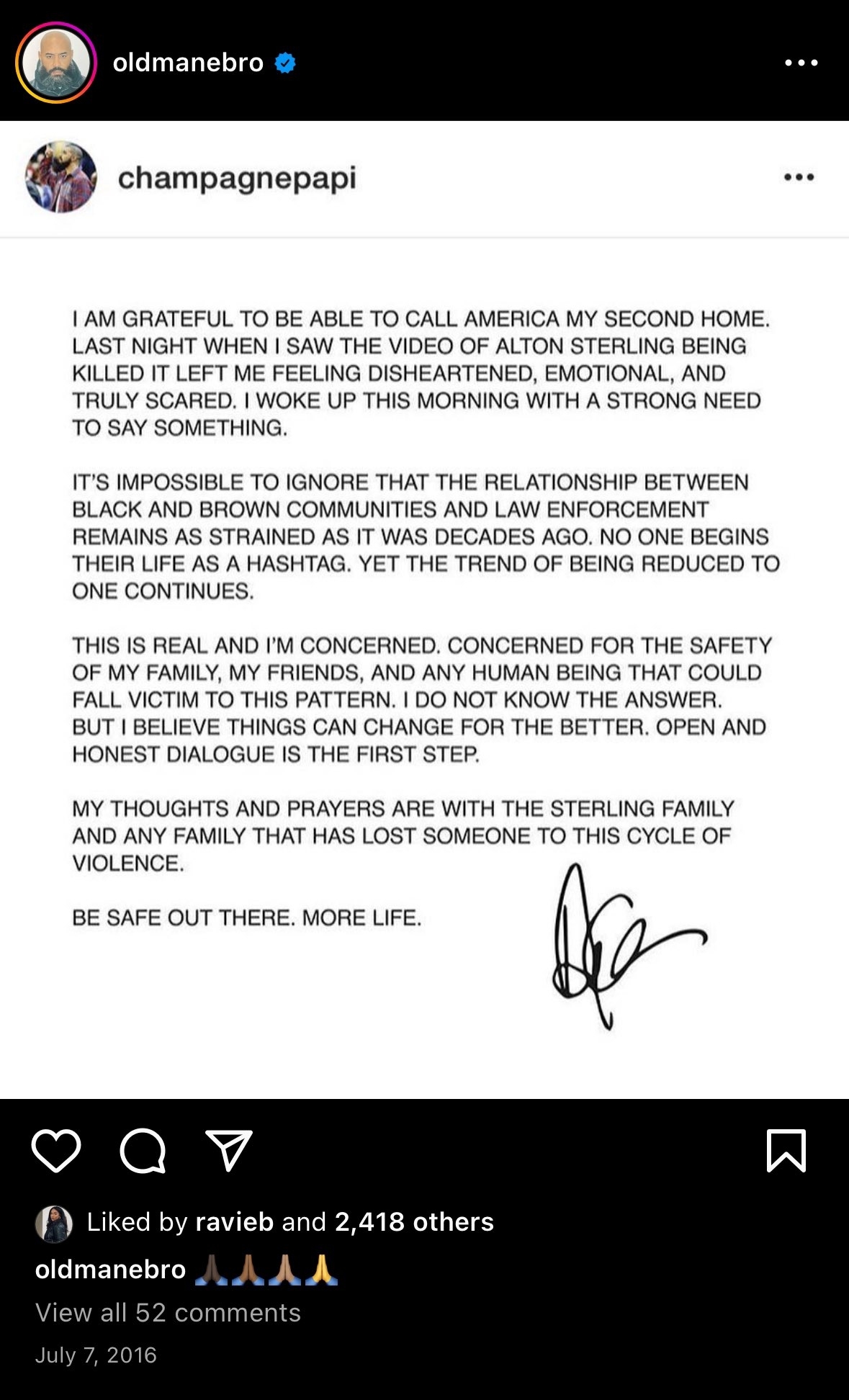 Drake also went deeper into how he handles race issues and helps out other communities during his viral Rap Radar Podcast interview in 2018. According to the Toronto megastar, he won't make a scene out of his humanitarian work and would rather do it on the ground than speak about it on social media.
"I'm also not the most outspoken person when it comes to political issues," Drake said. "I prefer to talk about it amongst my people, and if we're gonna do something, I prefer to go and make the change or actually do something and not just like post about it so that people are like 'oh wow this guy is really conscious about what's going on.'"
He continued, "Like you know, the work we put in the communities, you know, the way we give back is legit. It's on the ground, you know. It's not so you guys can all just like you know, double tap and say, 'Wow, oh my God, Drake!'"
Check out more responses to Ebro Darden's criticism below.