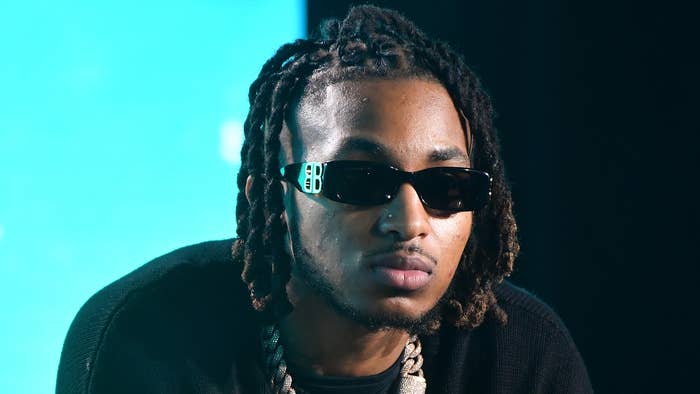 DDG has responded to a media outlet that referred to him as an "E List Rapper" while mentioning his alleged breakup with Halle Bailey.
On Tuesday, media outlet Pop Tingz shared a tweet that alleged Bailey and DDG had called it quits. The singer was mentioned by her actual name while DDG was referred to as an "E-list rapper."
"Halle Bailey and E-list rapper DDG are rumored to have broken up," read the tweet.
DDG caught wind of the post and shared a tweet humoring the slight jab the outlet sent in his direction.
"'E-list rapper' kinda funny ngl lol," he tweeted.
Pop Tingz fired back at DDG with a tweet that read: "Our reports on Halle Bailey and DDG breaking up seemed to have triggered the 'rapper'. 'E-List' was also trending under music following the report."
Instead of responding to the outlet, DDG ran with the "E-list" moniker in a separate tweet that highlighted him being one of the artists to have the most added songs on urban radio this week.
"Number 2 [face exhaling and flame emoji] E-List rapper going crazy [face with tears of joy emoji] I'm Geekin remix this friday," DDG tweeted.
Despite the rumors, it seems like everything is all good between DDG and Bailey. On Wednesday, People shared an exclusive interview with Bailey where she spoke on her fairy tale romance with the rapper.
According to The Little Mermaid star, DDG has the makings of a real Prince Charming, and their relationship has been a "transformative" experience.
"I think the best thing about young love is that you're able to continue to find yourself through this journey of loving somebody else," she said. "And you're discovering new parts of yourself and maybe things that you didn't notice before about your heart."
She added: "I feel like things change when love gets more involved in your life. I have definitely discovered more within myself as a woman. …It's a really cool thing to go through, but a transformative experience."