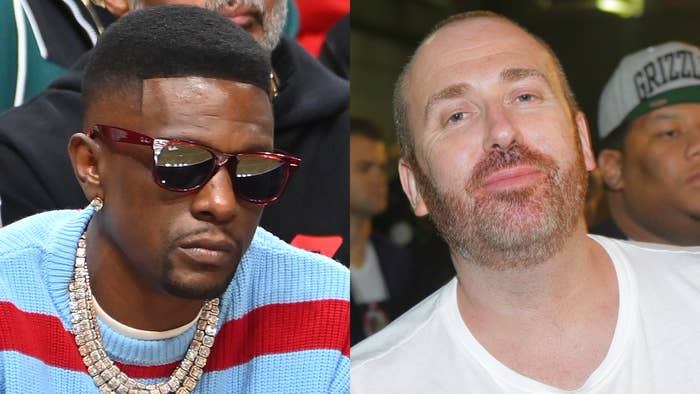 Boosie Badazz has come to the defense of DJ Vlad against the cop criticisms he's received lately.
During his conversation with The Baller Alert Show, Boosie reflected on his relationship with the VladTV host and claimed he's never had an issue with him. Over the years, several rappers have taken shots at Vlad, claiming he's a cop given the interviews he's done that have allegedly gotten some people in trouble.
Boosie claimed he's never argued with Vlad and that he actually have business with the host where he makes "good" money. And according to Boosie, rumors of Vlad being a cop couldn't be any farther from the truth.
"Nah, me and Vlad never argued. We do numbers, and he pay me good, you know," Boosie said at the 17:45 mark. "I never incriminated nobody on there. I've never said nothing to start a beef on there. I've never had no backlash. Everybody love my interviews on Vlad."
Boosie added that all these rappers who have gotten in trouble did it to themselves as they should know how to act in certain spaces. He even said if Vlad was a cop how is he still a free man with all the stories he's shared on his show over the years.
"You should know how to [act] if you're a criminal or rapper," Boosie said. "Sometimes rappers go on there and forget they're criminals. You can't blame [Vlad]."
NLE Choppa was one of the rappers who called out Vlad for allegedly being a cop. In 2012, NLE and Vlad were engaged in an all out social media war where the rapper called the host out for being a "culture vulture" and more.
"You a culture vulture. You make money off us and really don't fuck with the people. Police ass," said NLE.
Some of Vlad's most controversial interviews have been memorable. In 2017, Vlad got Soulja Boy to go into detail about a home burglary, including the timeline, assailants and victims in his entertaining story.
In 2016, Vlad got Atlanta rapper No Plug to suggest he shot the gun that may have killed Bankroll Fresh in March that year. Vince Staples flat out explained he didn't want to talk about gang life during his time on Vlad's show.
"I just ain't tryna sit down and talk about gang banging for 30 minutes," Vince said in a since deleted tweet.