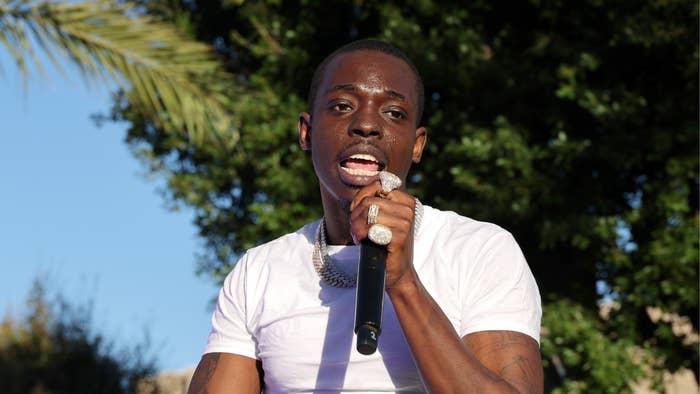 Bobby Shmurda has revealed his celibacy journey didn't make it far because of a situation that caused him to end it early.
During an interview on Kick Game's Shopping For Sneakers that aired last week, the Brooklyn rapper admitted he tried to refrain from having sex but barely made it through. According to Bobby, something came in the way of him completing his mission.
"I just got off celibacy this year," he said. "It was supposed to be 90 days but I did 45 because some shit happened … It was my first time, celibacy, y'know what I'm sayin'? So some shit happened and, y'know, I repented for seven days, then I caught a relapse again."
The "Hot N***a" rapper explained that he relapsed three times and had to watch pornography to make it through the struggle. "I think I slapped one off," he told the host.
Bobby opened up about his decision to go celibate back in Dec. of 2022.
It's hard, it's very hard what I'm doing right now. I'm going through this celibacy, but you know sometimes — what's that," Shmurda said at the time.
In June, Bobby Shmurda called hip-hop music a "dangerous" genre for kids. During his conversation with the Danza Project podcast, Bobby admitted that he no longer wants "to be a part of the rap game," and his distaste for it only has him listening to it at the club.
"You got these fucking kids following you guys...and you're fucking rapping about these lifestyles," he said. "It's endangering, it's very detrimental, very dangerous to the communities, that these little kids think that is going on; [something] that you did not even live."
He continued, "I think rap's supposed to be telling motherfuckers to go from negative to positive, coming from poverty to going to riches and stuff like that. And how to stay in that and how to change. That's the shit that I wanna hear, I wanna hear about living life. ... That's why I don't listen to rap, for real, I don't listen to rap. I don't know nothing about rappers. ... Only time I listen to rap is when I'm in the club, I just dance to anything."