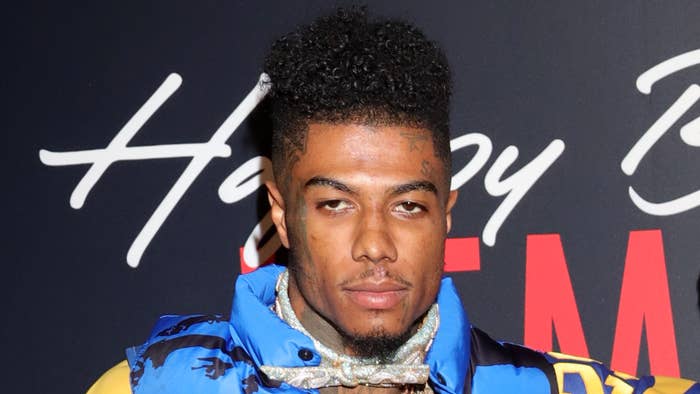 Blueface has even more legal issues to deal with after he was arrested on robbery charges in Las Vegas, according to TMZ.
The rapper was arrested on Wednesday and detained at Clark County Detention Center in Sin City while charged with a felony, which police say was a result of Blueface having something to do with an alleged robbery. Blueface's attorneys, Lisa Rasmussen and Kristina Wildeveld, told TMZ they're investigating the arrest and stated they were looking forward to "defending him."
After his bail was set at $20,000, Blueface's manager, Wack 100, quickly took to Instagram to announce his client was already released and spending time at a spa.
"Ask @losangelesconfidential about me .. I don't never leave mine down," he captioned his post. "This already done he's at the spa [double exclamation point emoji] #West [index finger emoji, red dot emoji, blue dot emoji] Tune into @hollywoodunlocked for the details .. Or catch me On The [100 emoji] Side on @clubhouse."
Blueface was initially on his way to court for a preliminary hearing for his attempted murder charges stemming from an incident in October 2022. At that time, Blueface was arrested for attempted murder after he was accused of confronting a man and firing shots at him in front of a strip club.
He was arrested the following month on charges of attempted murder with a deadly weapon and discharging a firearm at/into an occupied structure.
The rapper's alleged participation in the robbery directly violated the court's stipulations on him once he was released on a $50,000 bond concerning that attempted murder case.