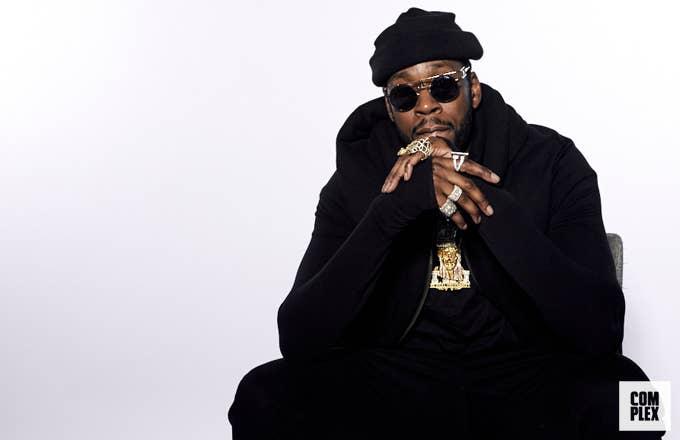 In hip-hop, the sands are always shifting: in its faces, sounds, styles, and distribution. That's why attaining any form of longevity is difficult. Releasing a hot song or mixtape is one thing, but churning out fire project after fire project is the sign of true greatness. 2 Chainz, the resident gatekeeper of Atlanta's trap-rap movement and a key figure in ushering the genre into the mainstream, has been at it for over two decades now, and is continuing to leave his imprint on the game.
"I think I've remained myself over the years," Chainz tells Complex, "and that's how I've been able to keep up with the times and stay fresh." At first glance, the statement seems paradoxical. But isn't that what all the best creatives do? Remain true to themselves and their personal ethos as artists, while growing through experiences?
Chainz's lyrical dexterity (sometimes silly, always sharp), flowing in tandem with the up-tempo, heavy kick-drum ATL production he raps over, have stayed with him from the "Duffle Bag Boy" days, to his most recent album Pretty Girls Like Trap Music. The difference now? Chainz is better than ever, which shows in the trap and non-trap artists vying to work with him—like Gucci Mane, Migos, Drake, and Chance, to name a few. He even announced that a new album is on the way (a follow up to PGLTM), which you can bet will be packed with an array of features.
It's not just music that has propelled Chainz to keep maintaining. He is a master marketer, essentially adapting pink as his color. It's the color of his famous wheelchair, and the colorway of a Chainz-inspired Timberland shoe dropping exclusively at Champs Sports. He also has his Most Expensivist Shit video series, his massively popular line of dabbing sweaters, and is starring in a brand-new animated series with Timberland and Champs Sports called The Sole Protectors, alongside DJ Khaled, to help promote the new Timberland shoe.

In this exclusive interview with Complex, we chopped it up with Chainz about Timbs culture, the state of ATL hip-hop, inspiring the next generation, remaining true to his artistry, and more.
(This interview has been edited and condensed for clarity.)
Complex: You're working on a new animated series called The Sole Protectors with Timberland, Champs Sports, and DJ Khaled. In it, your superpower is to stretch your limbs like rubber. If there's one superpower that you could have in real life, what would it be?
Chainz: To tell you the truth, I would probably either want to be invisible, learn how to fly, or see through walls... Probably fly, because I hate being in traffic so I'll probably go with fly.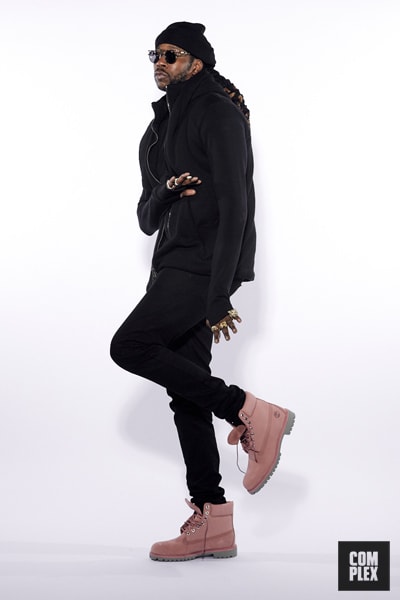 Nice. So you've got these new pink pastel Timberlands dropping exclusively at Champs Sports. What is it about Timbs that you love so much?
I just think Timberlands is like a staple. Period. You know what I mean? [It's] a hip-hop boot since day one. Biggie wearing the Wheat Timbs, things like that. It was my favorite part of [rappers'] outfits. So when [Timberland] started making colors and stuff like that, they was really reaching beyond the core of hip-hop. It's about reaching people with flamboyant taste like myself. I just dropped this album called Pretty Girls Like Trap Music. My album cover's pink; I broke my legs a couple of months ago, and my wheelchair is pink. So when this came up, I thought it was just meant to be. 
As you mentioned, Timberlands have such an important place in hip-hop culture. A lot of the New York rappers were known for wearing them back in the day, like Biggie, members of Wu-Tang, DMX, Cam'ron. Can you describe Timbs' presence in Atlanta hip-hop culture?
We still wear them, but now I feel like more or less in the wintertime. At first, you would see rappers wear them all year round, especially up top on the East Coast. I think Atlanta people have adopted the Timberland lifestyle, except that it's more catered to us during the wintertime because it's so hot during the summertime.
Being a basketball player, it makes sense that you're partnering with Champs Sports. Can you talk to me about how that relationship came about?
It's one of those things, man. I'm active in the community, I'm active in the marketplace. I do good business, I'm intelligent, successful. I'm sure some of those things played a role.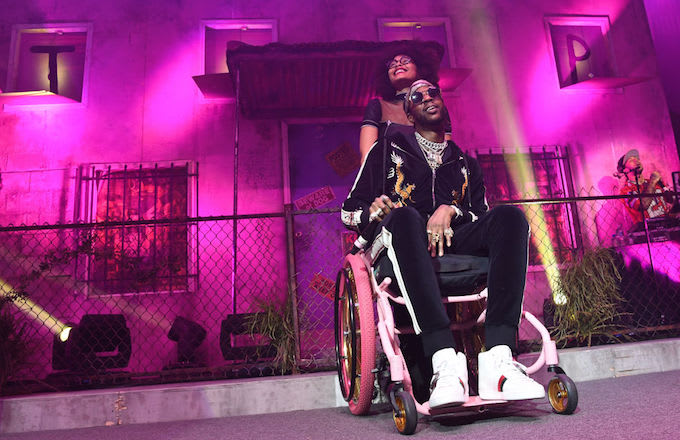 Totally. And you talked about your love for all things pink. You got the pink Timbs, pink album cover, the Pink Trap House, pink wheelchair. What draws you to pink so much?
I guess nothing draws me to pink, really. It was the marketing and the concept of my album Pretty Girls Like Trap Music, so I made everything associated with trapping on that last album pink. To associate it with "pretty," the word pretty, things like that. So I ain't obsessed with the color, it ain't no thing. It just seems like it's great timing for that right now as far as having color scheme.
Atlanta has been consistent with running the hip-hop game for at least a decade... As I'm looking at it, I don't see nobody that's fumbled it yet.
You've collaborated with DJ Khaled in the past. People know he's talented, but tend to think about him for his outspokenness and social media antics. Can you tell me something that we either don't know about Khaled or that we don't give him enough credit for?
I think everybody knows everything about Khaled, you know? He kind of lives like an open book. He has a 1-year-old son with an Instagram page and everything, so I don't think he's harboring or holding anything back from the world. He has a loving personality, he's a good guy, he's hardworking, and I think what you see is what you get with Khaled.
Right, and working with him in the studio?
Just good vibes, good times. You know what I'm saying? Just good vibes.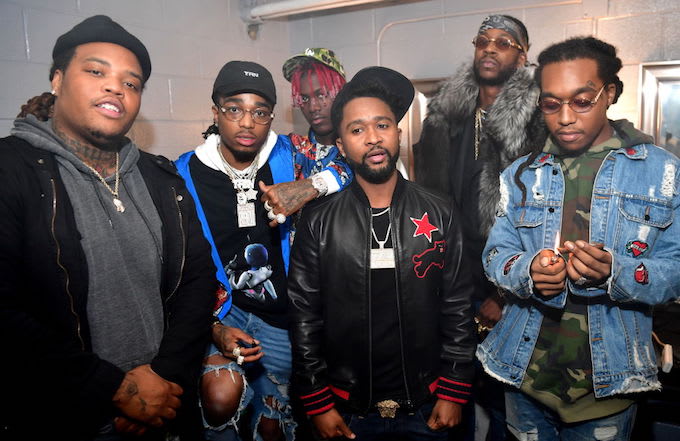 Atlanta has such a specific sound when it comes to rap. I wonder, how do you think it has evolved since the days of Lil Jon and the East Side Boyz to Gucci Mane, and then to the newer generation with the Migos and Lil Yachty's of the world?
Lil Jon and them would have the beats, and then we incorporated the rap and the lifestyle, you know? Basically, it's just a passing of the torch over these few years. Atlanta has been consistent with running the hip-hop game for at least a decade. So it's always good to have these up-and-coming people that we can inspire to gear them towards and continue running the game. As I'm looking at it, I don't see nobody that's fumbled it yet. You know what I mean? It's a huge responsibility, but I think that us guys in Atlanta are doing a great job at putting that energy out there to let them know we're here to stay. We work together. It's just Atlanta style. We work together, we support each other. The production is always upper echelon, and it's just about the artists and the people accepting the artists for what they are.
I think I've remained myself over the years, and that's how I've been able to keep up with the times and stay fresh.
As someone who's a veteran in the game, are these young Atlanta guys coming to you for advice, or do you ever reach out to them to offer advice?
I don't think it's really like that. I think it's organic. We're all dope and we're all adults, we're just different ages. I don't really see anyone calling or checking up, you know? You gotta ride your own wave; flip through your own personal experience and learn from it.
For sure. And hip-hop is dynamic. It's always changing. Have you changed sonically or lyrically at all over the years to try to keep up with the times or to try to stay fresh?
I think I've remained myself over the years, and that's how I've been able to keep up with the times and to stay fresh. I've always thought ahead of myself, ahead of my time. I've always had futuristic thoughts of what could be next. Fortunately for me, I've been accepted for a while and I'm still getting them fans, which is a good thing.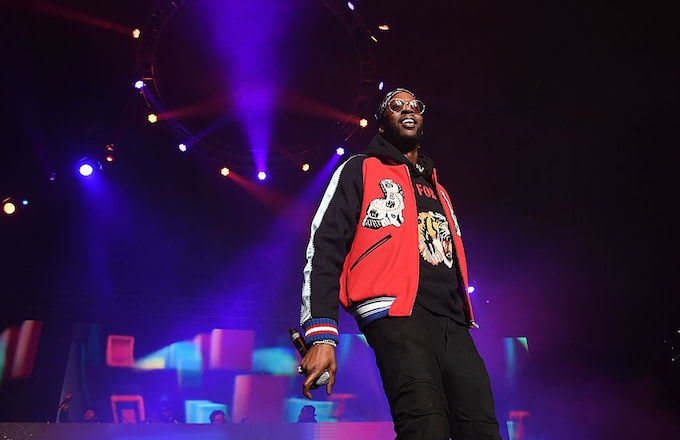 Right, absolutely. You mentioned in a recent interview that trap-rap has become pop music. Do you perceive this as a good or bad thing?
I just perceive it as an uncontrollable thing, which is the way music goes. I just feel like more people have their ears open and eyes open for what Atlanta is known for, which was the trajectory that we predicted years ago. It's good to see Migos or Cardi B or whoever else get the No. 1 record, you know? All across the board.
You recently mentioned that you've got a new album coming out soon. Is there anything you can tell us about that?
I got features, and I got the name of it. [Laughs]... But I gotta make it a movie, man. I gotta use my platform. I'm lining the ball to throw it, and I definitely hope to be dropping something [soon].
Absolutely. We're hyped for it! Aside from the album, is there anything else you're looking forward to? Any other plans you've got cooking?
Oh, yeah, be looking out for Skooly, an artist that I have. His project[BAcCWArdFeELiNgS] dropped in November. It's a great project that he's put together. Just look out for me trying to make other people successful and millionaires. That's what I'm leaning towards right now. Just trying to help other people.