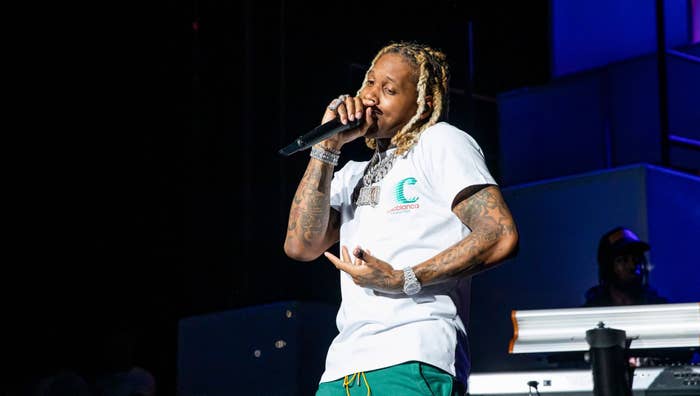 Before wrapping the Back Outside Tour with Lil Baby, Chicago's Lil Durk headed to Washington, D.C. to perform at Howard University's homecoming. Unfortunately, Durk decided to end things early.
"Aye, look. We supposed to did more songs but this shit sound so bogus, I don't even feel this shit, for real," Durk told the Howard crowd in a now-viral video. "But I appreciate y'all for fucking with us in this motherfucker, man."
Durk then walked offstage, reportedly leaving his DJ to pick up the slack and try to keep the energy going. The caption on the TikTok—"Lil Durk wasn't feeling the vibe at Howard Homecoming"—and subsequent coverage give the impression Durk found the crowd underwhelming.
Lil Durk is having such a good year that he can afford to stop a show he isn't feeling. He recently celebrated his 29th birthday alongside some of rap's biggest stars, including Drake, who thanked Durk for being such a good friend in an Instagram post. "Love u boy we really built some shit for life I appreciate you just checking on me and being a real friend," Drake wrote. "Today it's MORE LIFE only the family forever @lildurk." 
Other stars wished Durk a happy birthday as well, including Diddy, Swizz Beatz, Metro Boomin, DJ Khaled, and Yo Gotti.
Durk also rang in his latest year around the sun with his girlfriend India Royale. The duo opted to show the internet that they're stronger than ever after breakup rumors for some reason began to swirl a few days ago.
"Y'all want us to break up so bad," Durk replied in a video that had India giggling in the background. He then posted a photo of them kissing a few minutes later, with the caption, "Y'all know damn well this shit 4eva."