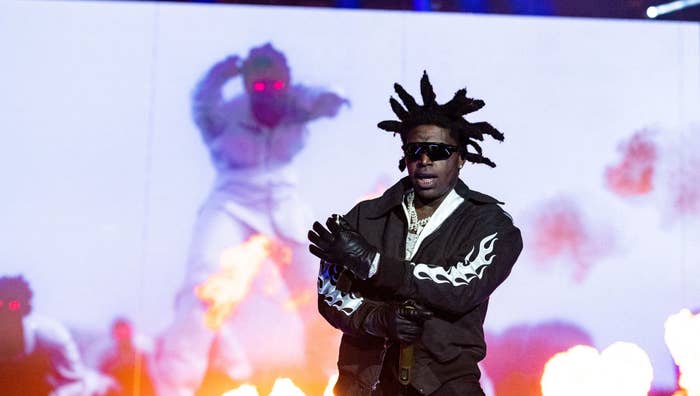 Kodak Black spent his New Years' Eve behind bars. 
According to the Broward Sheriff's Office, the Florida rapper was arrested on trespassing charges last night in his hometown in relation to a months-old cease-and-desist letter.
As reported by TMZ, the 24-year-old rapper was reportedly in the Greenacres neighborhood both ringing in the new year with friends and paying off some credit card debt for 5 families who also lived in the area. Police at some point picked him up on the four-month-old cease-or-desist notice, and claimed he was violating that notice.
Kodak's lawyer, Bradford Cohen, told the outlet that the letter was initially issued by the local Housing Authority back in September when Kodak was caught riding around Pompano Beach delivering AC units to local families. Cohen called the arrest unwarranted, and claimed that Kodak was never officially served the cease-and-desist notice, and therefore wasn't aware of it. He also said the letter included few specific details, so it had no basis for an arrest. Kodak was reportedly booked around 3:02 AM on Friday and was quickly released on a $25 bond a few hours later.
It remains unclear whether this arrest will affect Kodak's supervised release. The "ZEZE" rapper violated his supervised release back in September when he failed a drug test, and as a result was forced to complete a 90-day drug rehabilitation program. Black had previously been in the midst of a 46-month jail stint related to gun charges when he was freed by former President Trump last January.
The news comes as Kodak recently announced that his girlfriend Maranda Johnson is pregnant with his second child. The pair have been dating on and off for about four years, and she is said to be expecting to give birth to a daughter in early 2022.