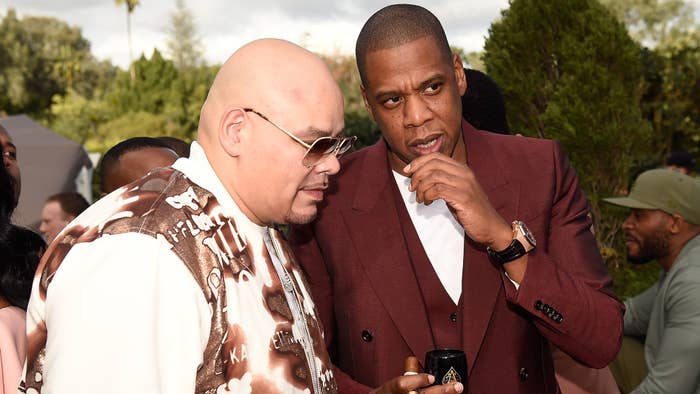 Fat Joe has no doubt who the Greatest Rapper of Time is. 
When Billboard's Top 50 Rappers of All Time had Jay-Z at No. 1, people were conflicted. For reference, Kendrick Lamar, Nas, 2Pac, Eminem, The Notorious B.I.G., Lil Wayne, Drake, Snoop Dogg, and Nicki Minaj made up the publication's Top 10, in that order.
According to Fat Joe however, the list makes sense.
"Historically there are certain rappers who were the Gods at the time, who had flows like nobody else, but when they got older in age, it almost sounded...it don't sound current with 2023," Joe said in an Instagram video. "Jay-Z just dropped 'God Did' where he spit for 8-minutes straight! Not just because he's the richest. It's just I agree with it. Some of the best rappers we looked up too fell off when they got older."
He continued, "When they tried to make new music they used played out words, played out flows, be honest."
While Fat Joe was supportive of the list, which didn't include him at all, not everyone was on board with the publication's list. Ice Cube expressed disappointment about the list, which had him at No. 18.
TMZ Hip Hop caught up with the West Coast rap legend while he was departing Los Angeles International Airport (LAX) this week, and Cube at first didn't seem to be phased by his ranking.
"Who?" he asked rhetorically when the reporter mentioned Billboard's list. "I don't fuck with Billboard or the editor. Billboard ain't Hip Hop so their opinion don't matter. So who gives a fuck?"
Cube added that his Mount Westmore contemporary Too $hort not being included on the list was definitely an undeserved snub.
"It's an irrelevant list," he continued. "It's like assholes: everybody got one and they all stink."
Ja Rule also expressed his disappointment at the list but congratulated everyone who was on it.
"There ain't 50 rappers dead, alive or waiting to be born better than me… #ICONN #Vibes," he tweeted at the time. "@billboard congrats to everyone on the list well deserved but check my resume… #ICONN #Vibes."