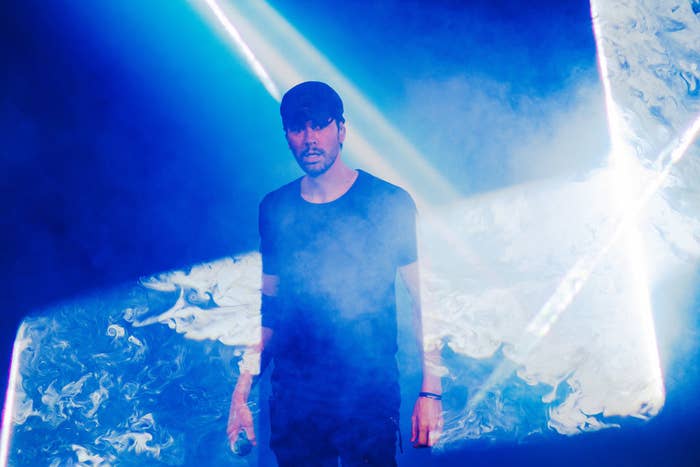 A tour consisting of Pitbull, Ricky Martin, and Enrique Iglesias sounds like a goldmine for fans of those artists, but concert attendees weren't so thrilled once the show started.
The trio performed in both Toronto and Montreal last week and many fans were not thrilled with Iglesias' performance.
A TikTok account by the name of Life_Gace_Me_Lemons posted a video of Iglesias struggling to sing "I Like It" at the Toronto date of the tour.
When he performed in Montreal three days later, reactions were similar.
TikTok user Vivspens posted a video of Iglesias attempting to sing the same track but having a hard time hitting the right notes.
While the first video amassed over 300,000 likes, the second reached just under 700,000 and 11 million views.
The replies saw many people clowning the performance with one commenter from the Toronto show video writing, "I want a refund and I wasn't even there."
In the Montreal video comments, one user said the footage prompted them to search "Enrique Iglesias can't sing" leading them down a rabbit hole.
Another person said she was at the show and confirmed Iglesias' poor performance.
"Yep... I was there... In Montreal. [It] was bad. Really bad," she wrote.
Some compared his voice to Elmo and Mickey Mouse, while others pointed out how baffled the crowd looked as Iglesias was singing.
Many people in the comments wrote, "Sing to me, Paolo, a reference from The Lizzie McGuire Movie where Hilary Duff's second character, Isabella Parigi, tells opposite Paolo that quote when the crowd realizes he can't sing.
Another video showed Iglesias in Toronto halting his performance as the chorus of "Hero" started, hoping the crowd would take over for him.
"When you pay to hear the artist sing but they have the crowd sing instead," one commenter wrote, amassing just over 16,000 likes.
Though Iglesias performed on the east coast in Canada already, interested or curious fans can catch him closing out the tour in Vancouver on Dec. 10.