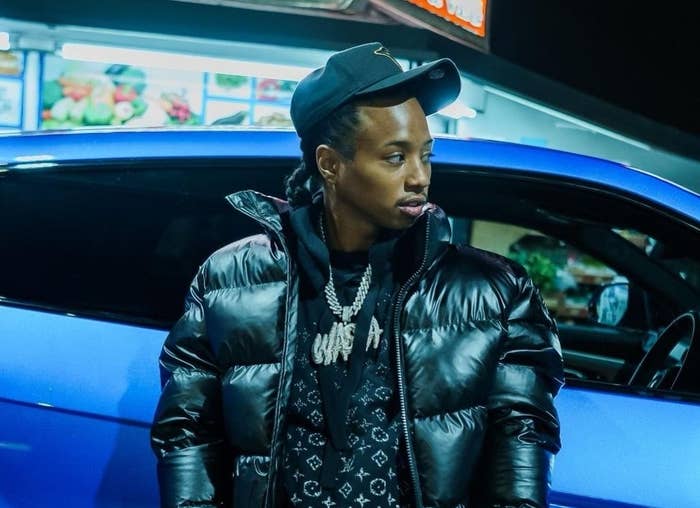 It's hard to keep up with new tracks every week. With a bevy of songs being released every day, we made a list highlighting new tracks from Canadian artists.
Belly, "American Nightmare"
On "American Nightmare," Belly flips the script on his view of the American dream. The horn-led instrumental gives the XO rapper all the room he needs to boast about his unorthodox life while the video puts him through an electric high-speed car chase. From his upcoming album Mumble Rap 2 with Hit-Boy.
Bandokay f/ Pressa, "The Jungle"
Canada's hip-hop scene continues to mesh with U.K. rap as Bandokay drops his latest song, "The Jungle," which features Toronto rapper Pressa.
Jon Vinyl, "No Feelings"
Jon Vinyl isn't interested in love on his new 70's inspired track "No Feelings," featuring a sample from Earth Wind & Fire's "September."
Ekelle, "Flo"
"Flo" is an eclectic banger from Ekelle which sees the Toronto rapper confidently boasting about her looks and style.
AR Paisley, "Let's Slide"
Flipping Cam'ron's iconic "Hey Ma," Toronto rapper AR Paisley tries to entice the girl of his dreams to come home with him after the club.
Mouraine f/ Westside Boogie, "Big Dawg"
Edmonton rapper Mouraine teams up with Westside Boogie on "Big Dawg," meticulously crafted for cruising with the top down.
Harrison f/ Nanna.B, "Blue Sky"
Toronto producer's sunny "Blue Sky" features serene vocals from Los Angeles-via-Denmark singer Nanna.B.
Gxlden Child, "Joyride"
"Joyride," off of Montreal artist Gxlden Child's newest EP Save Me, Ramona, is a nocturnal ode to love and spending precious time with his partner.
Fernie, "Nothing Left (Lonely Song)"
Fernie is tired of lingering on old partners and past mistakes on the Montreal artist's latest track "Nothing Left (Lonely Song)."