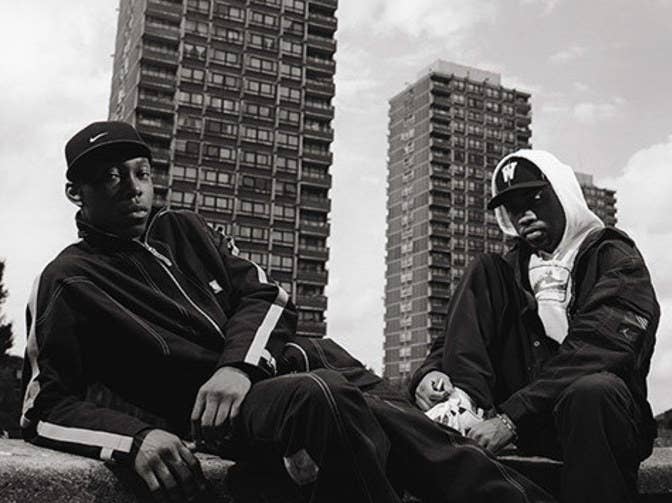 Before grime MCs began invading the charts, they were tearing up pirate radio across London. From Dizzee and Wiley to Tinchy and Skepta, mostly all of today's grime stars exercised their skills through the pirate radio circuit.
Back in the day, many of us grime stans would rush to our (now-dusty) tape decks to record and relive the drama, dubplates, and clashes heard through the fuzzy FM dial. And while there have been countless standout moments in grime throughout the last 15 years or so, we took it upon ourselves to trawl through the vaults and carefully select 10 of the best pirate radio sets from a very specific era in grime—the golden age, if you will.
So join us as we re-encounter some of the hypest times in British underground music history.
---
Right from the start, this set is pure gold. Slimzee draws for "dark garage" instrumentals as Wiley and Dizzee lyrically unite and flow smooth like silk. God's Gift, Jamakabi, Breeze and Flowdan also contribute to this epic bar-a-thon, however it's the aforementioned former friends-in-grime who take things to new levels. Wiley and Dizzee on any set together will always be cherished, and this is one of them.
---
Okay so, technically, this isn't a pirate radio set, but it's an event in radio history that had to be thrown in. The controversial session took place on Commader B's late-night show on Choice FM, with Dizzee Rascal, Wiley, Asher D, Megaman, Skat D, Akira and Swiss all in the building. From eight minutes in, Dizzee starts his acapella antics and the rest is history.
---
When this hype session aired on Deja Vu, N.A.S.T.Y Crew and Roll Deep were the biggest crews in East London. D Double E, Wiley, Flowdan, Stormin, Scratchy, Sharky Major, Hyper, Monkstar and a young Tinchy Stryder all make themselves known as DJs Mak 10 and Karnage select the finest early grime riddims in "Hoe", "Creeper", "Eskimo VIP" and more.
---
Can you imagine the energy in the room with Mak 10 on decks and Hitman Hyper, Kano and D Double E all passing the mic? A standout from this set is hearing the late Esco, a young Dizzee and the always-aggy Crazy Titch showing off their lyrical skills back-to-back-to-back (4:00). Another is when D Double steps up and completely devours the riddim (12:15). To pick more highlights from a set where Wiley, God's Gift and Slew Dem are also present, we'd literally be here forever.
---
Within the first two minutes, Discarda explodes through the FM dial and even manages to big-up Terry from the pet shop in the process. One of the standouts here is just past 13 minutes when Wiley discusses his beef at the time with 2 Tuff Crew's Babycham. But then, suddenly, everything goes quiet due to overcrowding and politics. Birthday boy Bashy then proceeds to take matters into his own hands and sprays up the place with some serious wordplay (18:30). Lethal B and D Double, with their quick-fire slogans, also pepper the set with nostalgic gun-finger moments.
---
Boy Better Know and Bloodline were once collectively known as Meridian Crew, and before Meridian Dan, Skepta and Jme had chart smashes, they were all travelling from their North London stomping ground of Tottenham to East London's Bow to jump on pirate radio sets. This specific set is one of the brotherhood's finest, with Big H, President T and Frisco also on-hand to shower it down. It's refreshing hearing Meridian all together again as there's recently been some issues in-camp that have separated them. It's also very easy to forget that Skep actually started out as a DJ and is now one of the UK's most-loved artists.
---
This N.A.S.T.Y Crew gathering begins with the sweet R&G sounds of Sadie Ama and Kano's "So Sure". But don't be fooled: what awaits will knock you out of your creps! Some great moments here from Sharky Major and Hyper, and Stormin's viper flow really helps bring everything together. But it's Ghetts and Kano who really steal the show. 13 minutes in, you can hear the excitement in G-H's voice for what's about to happen: he sets up the energy with his "fuck your badboy image" line (17:50), then Stormin surfs the wave for a second before Kano goes into his bars aimed at Flirta D: "Ghetto embarrassed you on the stage and I haven't seen nothing like that since 8 Mile." Reloads for days!
---
We could only hunt down this 2-minute clip of Skepta showering down Axe FM, but it was one of the first times the BBK MC sent war vibes over the airwaves. Here, Skepta takes aim at Sniper E's very interesting nose piercing, and the line "your video looked like a video from Fitness First" will always get laughs. Also on the hit-list: East Connection's Double O and Ryder, but not before Mr. Adenuga reels-off his notorious go on then! bars for the win.
---
"Shots on dem!" screams out Chronik, getting us ready for the marathon of bars we're about to experience. G Man hits the air 12 minutes in before Tempz starts shelling with the same energy he displayed in his now-legendary Risky Roadz freestyle (21:00). As expected, this set is littered with Waifer and Spooky productions—the latter's "Joyride" riddim gets a significant wheel-up 25 minutes in. The crew spitting raw content over calm, reggae-licked beats is also something we need to hear more of (31:00).
---
BBK's DJ Maximum spins whilst Wiley hosts and sends for God's Gift (and The Movement, and Lethal B) at any given opportunity. 50 minutes in, they both get down to set business. But when God's Gift turns up at Rinse FM (1:10:00), all we hear in the distance is muffled vocab that sound-out anger and distress. We felt like we were live in the war!
---