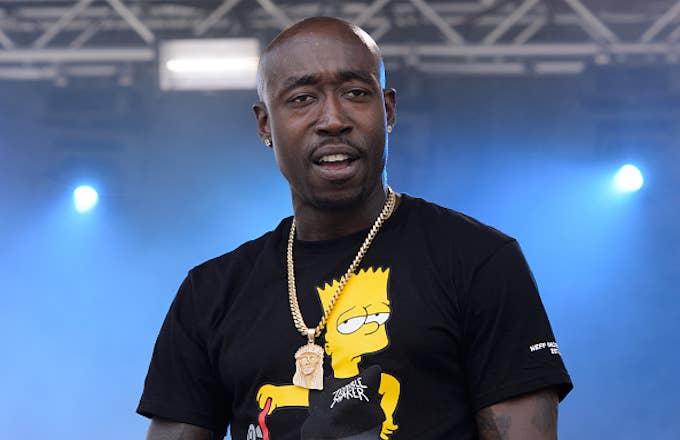 Freddie Gibbs isn't shy about sharing his opinion, regardless of what the subject is. So when Logic teased an album cover that looked strangely similar to the artwork for Gibbs' latest project You Only Live 2wice, Gibbs did not hold back, and accused Logic of jacking his style. 
But it looks like Gibbs and Logic have settled the score. In a post on Gibbs' Instagram page this morning, the Gary, IN native shared a photo of the two rappers on Facetime, both men smiling from ear to ear. 
On Logic's end, it's a good thing Gibbs felt satisfied with the explanation for how they ended up with such similar visions. The Renaissance-style artwork for You Only Live 2wice and Everybody is similar enough as it is, but the accompanying teasers for the artwork also bore resemblance to one another:
Logic's team has been out in full force trying to clear up the misunderstanding. After the initial wave of controversy caused by Gibbs' accusation, the artist who created the cover for Everybody took to Twitter to share the story of how the artwork came to be. Sam Spratt claimed Logic came to him last summer with the idea that eventually turned into reality.
After all this, it looks like the best route to a solution was a simple phone call. Though it's unfortunate we probably won't get any bars traded between the two rappers, maybe this eases the way for a collaboration between Logic and Gibbs in the future. Logic's name looks like it's cleared, and he would do well to avoid Gibbs' wrath moving forward—a guy who often goes by the nickname "Gangsta Gibbs" is probably not someone you want to mess with.