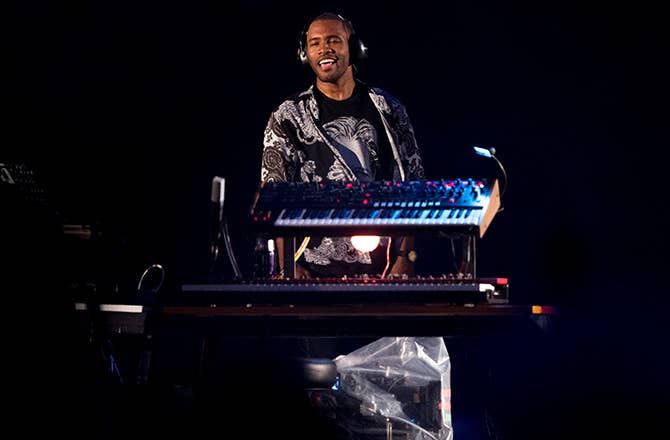 Frank Ocean's time behind the boards for Blonded Radio has been a gift for fans, with lots of new music premiering on his sporadic, often surprising Beats 1 Radio show. The last episode was a particularly exciting edition of Blonded, with Ocean sharing his collaboration with ASAP Rocky, "RAF," as well as a new version of "Biking," this time without the assistance of Jay Z.
But the seventh episode figures to be the best episode yet, with August marking a couple important anniversaries for Ocean's catalog. Last Sunday was the one-year anniversary of Ocean's album, Blonde, which is when the singer recorded this latest episode. Frank discussed how he thought about going to a technical school. Ocean mentioned possible future crafting projects, like the spiral staircase he made prior to releasing Blonde. "I can do more," he said. "And there's more to come."
Frank also spoke with Spike Jonze about being motivated by the famed director to do something special with his live show. "I was sitting at a dinner with Spike and said, 'I feel like an amateur.' He said, 'Why don't you be more?'"
And get this: it turns out it was Frank's brother's who convinced Brad Pitt to join the artist on-stage during his performance at FYF Fest.
Saturday, Aug. 19, also marked a year since Ocean dropped Endless, the Apple Music exclusive project that preceded Blonde. With these two pieces of art making up the majority of his creative output over the last few years, Blonded Radio figures to be especially eventful this time around. Oh, and Ocean released some new music with "Provider."
You can listen to the latest episode of Blonded Radio here.