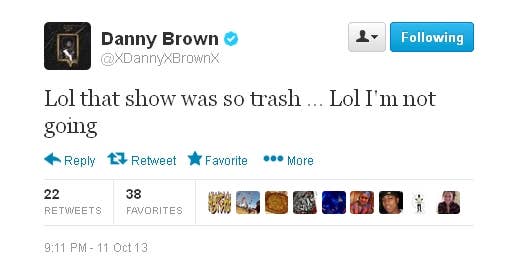 2013 saw new albums drop from both Pretty Lights and Danny Brown. With their combined online communities, it must have made sense to someone to have Danny Brown hop on a few dates of Pretty Lights' current "Illumination" tour, but judging by what happened at the St. Louis stop last night, there might not be any Danny Brown at the Nashville stop tonight.
From what we can tell, based on tweets from Danny Brown and Pretty Lights, Danny's set didn't go over well. Whether it was because of his actual performance not connecting with the Pretty Lights crowd (which seems to be what Pretty Lights is saying) or Danny's accusations that the soundman had his music "sounding like I was playing outta a beats pill in the middle of a castle," there was definitely a huge disconnect. The online fanbases of both acts ended up going ham on each other via Twitter, but whether it was the shots that Danny lobbed at Pretty Lights ("to be honest i thought Pretty Lights was the name of a festival") or vice versa ("I hoped Danny Brown would rock the spot but no dice. shit was weak.my bad for letting it go down"), the end result has Danny Brown not hitting the Nashville gig.
Pretty Lights is calling for an end to this "no class" Twitter beef, while Danny Brown is apparently going to be in Nashville looking for some BBQ, the key to this might be in one of Pretty Lights' tweets: "diff shows diff fans." Maybe this was just not meant to be; whatever the case may be, don't expect a Danny Brown/Pretty Lights collaboration in the near future. We'll keep you posted on more of this situation as it develops.
(reddit)