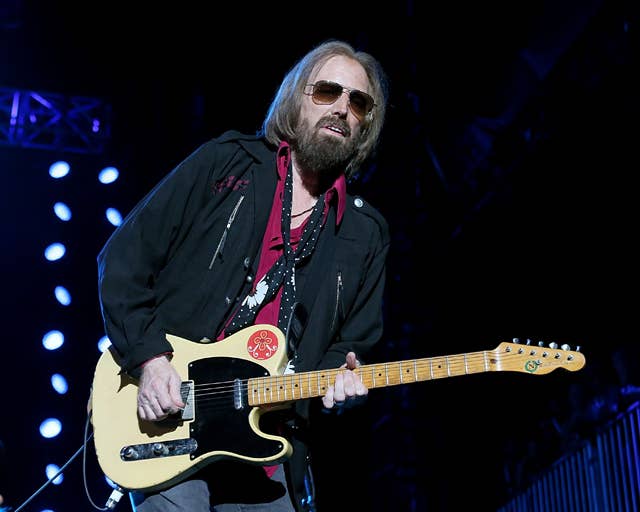 UPDATED 10/3/17 12:15 a.m. ET: Multiple outlets are now reporting that Tom Petty has died at the age of 66. Petty's longtime manager Tony Dimitriades has confirmed the singer's death.
"On behalf of the Tom Petty family we are devastated to announce the untimely death of of our father, husband, brother, leader and friend Tom Petty. He suffered cardiac arrest at his home in Malibu in the early hours of this morning and was taken to UCLA Medical Center but could not be revived," Dimitriades wrote. "He died peacefully at 8:40 p.m. PT surrounded by family, his bandmates and friends." 
After CBS News reported the legendary musician's death, citing the Los Angeles Police Department, the LAPD released a statement saying they had "no information about the passing of singer Tom Petty​." TMZ later reported that Petty was "clinging to life" after being found unconscious in his Malibu home. 
UPDATED 10/2/17 5:05 p.m. ET: The Los Angeles Police Department have released a statement via Twitter explaining they have "no information about the passing of singer Tom Petty​" and no investigative role in the incident. CBS News has since clarifed its initial report that Tom Petty has passed away.
(1/2)The LAPD has no information about the passing of singer Tom Petty. Initial information was inadvertantly provided to some media sources
(2/2) However, the LAPD has no investigative role in this matter. We apologize for any inconvenience in this reporting.
According to TMZ, the L.A. County Sheriff's Department handled the emergency. Petty is reportedly "clinging to life" and not expected to live throughout the day. 
See below for original story published.
Singer, songwriter, and producer Tom Petty has passed away. He was 66.
TMZ initially reported Petty had been found unconscious at his home in Malibu on Sunday night in a full cardiac arrest and not breathing. He was rushed to UCLA Santa Monica Hospital after EMTs were able to find a pulse, and was put on life support. Petty did not have any brain activity after arriving at the hospital, and according to TMZ he was pull off life support. CBS News confirmed Petty's passing.
Petty rose to prominence in the music industry in 1976 as the frontman of Tom Petty and the Heartbreakers. He returned to the limelight in the late '80s/early '90s with singles like "You Don't Know How It Feels" and "Free Fallin'."
Petty ended up performing for four decades after their initial debut, and performed his final show last Monday, ending a three-night series of sold-out shows at the Hollywood Bowl; it was the 53rd show of their 40th anniversary tour, which Petty told Rolling Stone would be their final. 
"It's very likely we'll keep playing," Petty said, "but will we take on 50 shows in one tour? I don't think so. I'd be lying if I didn't say I was thinking this might be the last big one. We're all on the backside of our sixties. I have a granddaughter now I'd like to see as much as I can. I don't want to spend my life on the road. This tour will take me away for four months. With a little kid, that's a lot of time."
They'd already solidified their career, after being inducted into the Rock & Roll Hall of Fame in 2002.
During his career, Tom Petty won three Grammys and three MTV Video Music Awards, as a solo artist and as part of the Heartbreakers. He was also recently seen on HBO's 2017 docuseries The Defiant Ones reflecting on his past with producer Jimmy Iovine and working on their 1979 Damn the Torpedoes album, which ended up going triple platinum.
Here's a look at Tom Petty and the Heartbreakers performing "American Girl" from their last few Hollywood Bowl shows.