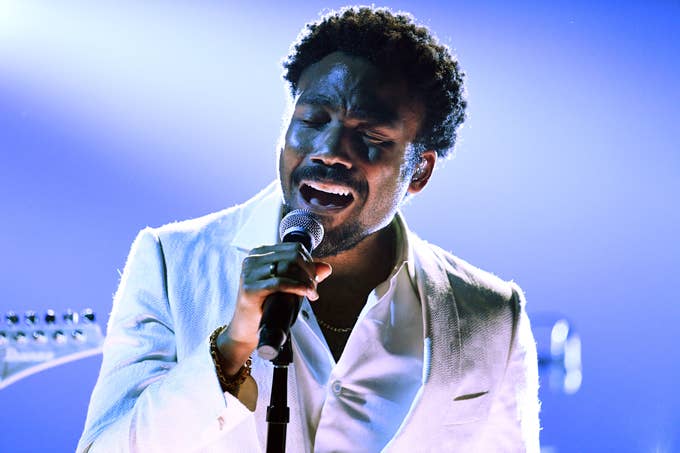 With a new music deal over at RCA, the release of the upcoming Solo film AND Atlanta Robbin' Season hitting in March, Donald Glover has a lot of work on his plate. If Quincy Jones has it his way, Glover would be adding "playing Quincy Jones" to that long to-do list.
This information is found in a new GQ feature on Jones, who says he's "never been this busy in my life. We're doing ten movies, six albums, four Broadway shows, two networks, business with the president of China, intellectual property. It's unbelievable, man." Jones, who is currently 84, is going to be having his 85th birthday celebrated with a documentary on Netflix, a CBS special hosted by Oprah Winfrey, and a 10-part TV biopic, which Jones "hopes" will star Donald Glover.
There's no word on when or where you will be able to see this biopic, or how much of the 10-part series would feature Glover. (Or if Rashida Jones would make an appearance.)
Now, it'd truly be interesting to see if Glover actually picks this up. This could be one of those "once in a lifetime" opportunities, especially if it's with input from Jones. Glover's already building his empire, but Jones is the architect of this shit that Glover's getting into. Jones not only had his hands on Michael Jackson's Thriller, Off the Wall, and Bad albums, but he worked with everyone from Frank Sinatra to Aretha Franklin. His Quincy Jones Entertainment imprint also helped develop The Fresh Prince of Bel-Air​ and MADtv, as well as magazines like Vibe and Spin.
All-in-all, Glover could soak up some real knowledge if he picks this up, while adding a major feat to his ever-evolving résumé.