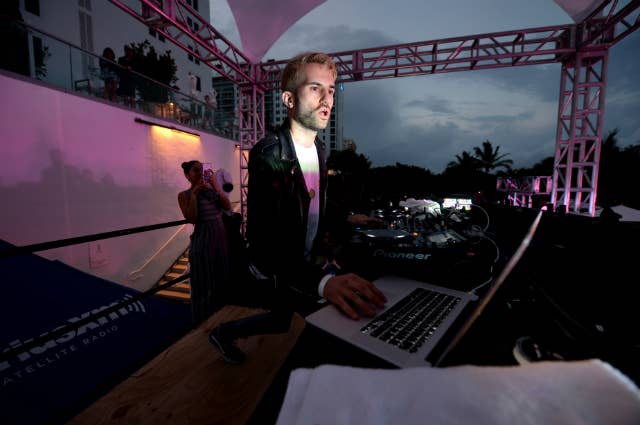 Back in June, world-renowned, championship-winning DJ A-Trakannounced that, alongside Vice, TMWRK, and his Fool's Gold imprint, he's putting on his own DJ/producer competition. Dubbed the Goldie Awards, this event will bring together the best DJs and producers around the world for two competitions, one focused on skills behind the turntables, the other a beat battle for those behind the boards. The showcase goes down on September 7 at Brooklyn Steel, and is not only hosted by Dave East, but features a plethora of esteemed producers and DJs as judges, including Just Blaze, Diplo, Mannie Fresh, DJ Craze, and many, many more.
A-Trak spearheading a proper producer/DJ battle makes sense, considering the competitive DJ accolades he has under his belt. Not only did A-Trak win the DMC World DJ Championship at the age of 15 (making him the youngest champ and the first Canadian to do so), he was also the first DJ to hold the DMC, Vestax, and ITF world championships, as well as being the first DJ to win five world titles. He's the kind of guy who developed a notation system for scratching. His career took him on the road with Kanye West back in 2004 (and adding his flavor to 'Ye's Late Registration and Graduation), but he's also seen success with his Fool's Gold imprint, which is celebrating its tenth anniversary this year. A-Trak's also shined on his own as a producer, working on full-length projects with the likes of Cam'ron and recently releasing "Believe," his latest single, with Quavo and Lil Yachty.
In anticipation of the Aug. 6 submission deadline for this year's Goldie Awards, we caught up with A-Trak to discuss the motivation behind this new competition, how he ended up being a part of HARD Summer's Mobb Deep Forever Prodigy tribute/performance, and how it took him a year to create "Believe."
On the inspiration behind the Goldie Awards:
"The idea came up maybe a year and a half ago. It' was definitely one of those like, Of course, I should be doing this, why didn't we do this earlier? I think it also came at a good time with where the DJ scene as a whole has found itself in the last year or so. To me, it fits in particularly well now after the passing of that big EDM phenomenon that took over for years, which in a way helps set this kind of thing up because that explosion blew up DJing as an identity more than ever. But, at the same time, I think a lot of people who became fans of DJs at first got a surface knowledge of what DJing is and now that the smoke and mirrors is passing, it's a good opportunity to dig deeper. I feel like right now, even just in music, in general, it's a good time to go for some substance."
On why the competition is broken into DJ and beat battles:
"Part of that came from just accepting the idea that when people talk about DJs, they're gonna talk about producers. When people talk about producers, they're gonna talk about DJs. That's just how tight at the hip it all is nowadays. You can see Metro [Boomin'] play a DJ set. It's just everybody's straddling that line. So, I just didn't want to have one without the other. And it's interesting because even just a year ago, when I started explaining the concept to people, everyone understood the DJ battle side of it right away, but a lot of people were asking me, "what's a beat battle?"With all the stuff that Swizz has been doing with his battles—Swizz versus Just Blaze, Swizz versus Timbaland—that literally single-handedly brought a lot of awareness to what a beat battle, is. But I also know that there's a lot of producers, like Boi-1nda for example, who came up in the beat battle scene. And that beat battles really are a forum for producers for the last couple years. I want to put that on my platform, too."
On what he learned as a battle DJ growing up:
"My formative years as a DJ were through battles. The first couple years of me being a DJ, all I wanted to do was scratch and put together a six-minute set. I didn't play an actual DJ set until later. So a lot of my first lessons as a DJ came through battling. Battling is such a high performance and high stakes kind of event, it's like Olympic sports. I love to read articles about competitive Olympic athletes because when they talk about the mantle preparation, and the way that they deal with their nerves, and whether or not they tune out the audience, and things like that, those are things that I learned when I was like 14 or 15.
"I remember that really well: the difference between what your set is like when you're practicing at a home versus when you go on stage and maybe the table that the turntables are on is a little bit of a different height. Or maybe the needle skips at some point. Or maybe the crowd's reaction to a certain part will distract your mind for just a blink of an eye and suddenly you lose sight of where you are and that really intricate pattern. Then you gotta recover and find your beat in that pattern again, you know. I learned that on the battlefield man, in the trenches. But I think that really prepared me for performing in front of crowds for a very long time. Honestly, doing a battle in front of a thousand people is way more nerve wracking than playing just a DJ set in front of 800,000 people. There's just more at stake and you know that everyone is paying full attention to every minute detail of your performance. I think I learned a lot about mind control from doing battles. A lot of it is a mental game. You psych yourself up before the battle."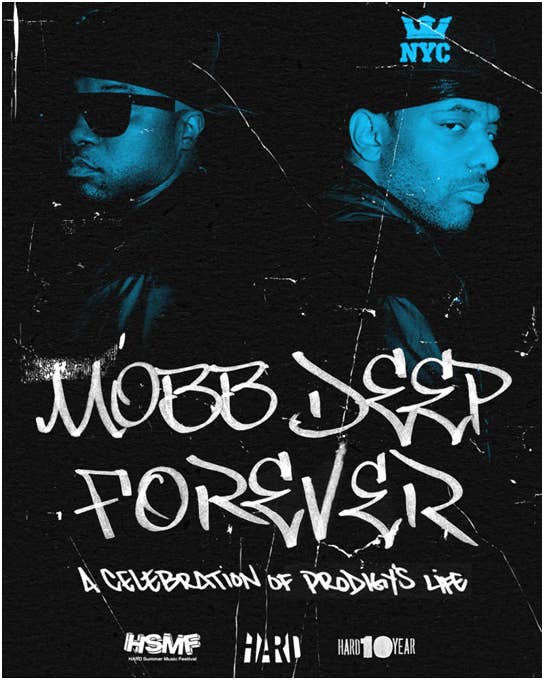 On being a part of the Prodigy celebration at HARD Summer:
"Mobb Deep was booked to perform at HARD Summer already. They were already on that bill. Actually, they were next to my name on the lineup. So [after Prodigy's death] I had spoken to Destructo [aka Gary Richards] a little bit and he told me that he hadn't talked to Mobb Deep's camp just yet. This is maybe two weeks after Prodigy had passed. He had told me he was just giving them time and waiting to see if Havoc still wanted to perform.
"Then, when I was in Europe on tour, and Destructo called me and he said that he had a conversation with Mobb's manager and that [Havoc] still wanted to perform at the festival; they asked him if there was a DJ who was on the bill who he felt could come on and become a part of the Mobb Deep performance, which they were going to label "Mobb Deep Forever," and help present it to that audience. They thought of me, and I was interested right away. We all got on the phone and basically figured out a format where I'm going to open their set with a tribute mix, then Havoc is going to take the stage and they have a whole thing planned with video productions and guests and things like that.
"That's a huge honor, man. That's the kind of shit that's like, makes me feel like this is why I do what I do. To be in a place where I'm able to take that call and know that I can deliver what's needed because you gotta do that kind of thing right. You know? Like they're saying it's gonna be the last Mobb Deep performance or a while, so it needs to be done right."
On his new single, "Believe," featuring Quavo and Lil Yachty:
"It started with simply the vocal session in Atlanta a year ago. I recorded Quavo and Yachty a year ago and sat on it for a while. It was over a different beat or a different version of the beat. There's like one or two elements that I kept and changed pretty much everything else afterward. That was the easy part, recording them. It was amazing to watch them work, honestly.
"I feel like on both lanes of what I do, both on the hip-hop side and the electronic side, the sound of production was going through changes. And I was trying to think of like what would be a way for me to rework this beat for it to sound original enough to not just be any other song that has Quavo and Yachty on it, but still feel like a natural fit for them. I wasn't going to put them on an EDM trap festival banger beat when they're doing sing song-y raps and like basically cracking jokes. I knew I was looking for something simple, and sometimes that simplicity is what takes a little minute to get because to get something simple and catchy but still really identifiable, that can take a minute. And then I got busy working on other projects, launching the Goldie Awards, launching the Fool's Gold store. And at one point earlier this year, I was like, Wait a minute, on my hard drive I have a song with Quavo and Lil Yachty, maybe I should finish that!"
On Quavo as a rapper and Migos as a whole:
"You know you can tell that both Quavo and Yachty are in the studio pretty much every day. There's a level of exact precision that's pretty amazing to watch. Quavo, in particular, man I've seen a lot of great rappers in my time. Honestly, I've worked with 'Ye, but like, I've seen Supernatural freestyle at shows, do you know what I mean? I've had the Lox play at Fool's Gold events. Obviously, I've worked with Cam. Quavo is up there with any of the greats, for me.
"It incenses me that too many hip-hop fans still think that when it's time to have a conversation about bars or about battles, people still think that rappers are supposed to flow like a DJ Clue mixtape from 1999 or 2001. Like people think that if you're spitting it's supposed to sound like Cannabis. That's ridiculous. Rap has evolved a ton. And like Migos are a prime example of actual skills. The way that they've innovated cadences and flows, it changed the way that everybody else raps."
On if we'll get an "A-Trak album" anytime soon:
"I haven't really had the urge to make an A-Trak album. If anything, the Duck Sauce album [2014's Quack] was the closest thing to me making an album in recent years. I put a lot of work into that album. I tend to just make songs as the ideas come to me. I'm not like an assembly line kind of producer, and I don't say that in a condescending way at all. I wish I could churn out 20 beats in a day, I just can't. And I have to accept that."
The deadline to register for the Goldie Awards is on August 6, so register via their website ASAP.