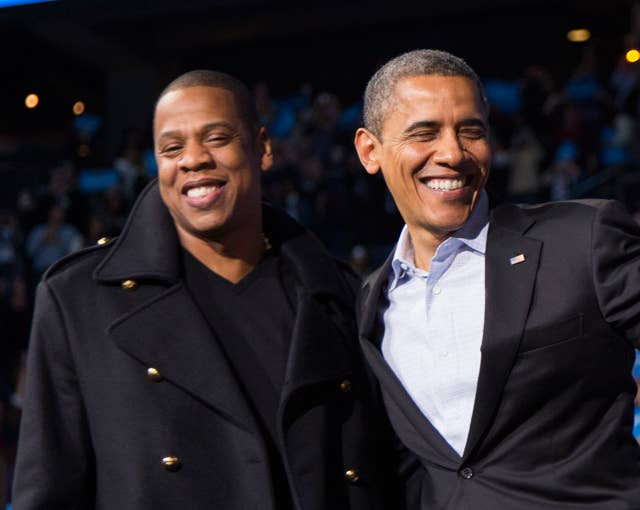 "Thank you 44." That was what Jay Z said during a recent tweetstorm of thanks he sent out after becoming the first rapper to be inducted into the Songwriters Hall of Fame. It made sense when you realize that Jay was sharing the introduction Obama cut for Jay's induction that night, but when you realize that Obama cut a promo for Jay's induction into the Songwriters Hall of Fame, it ends up meaning more. We're talking about a two-term president taking the time out to put on for arguably the greatest rapper of all time. Obama might just be that big of a rap fan, but this feels like its deeper than rap.
Obama's legacy isn't that he's the first black man to run the country. It's that he did it without the usual mudslinging. He felt like someone you'd want to have over for Thanksgiving dinner, an older head who could school you about your jump shot during pick-up games. He felt like a real friend, and for him to do this for Hov, they had to have had a deeper relationship than Hov saying, "I admire you for what you've done for black people," while Obama said, "You know what, you're my favorite rapper." It would appear that the two connected on a deeper level, and who knows, maybe 4:44 will highlight that relationship.
For now, let's examine Hov and Obama's history, and see if there's some truth to the idea that Hov's latest album could be some kind of homage to our 44th president.
April 17, 2008: Obama gets that dirt off his shoulder
On the 2008 presidential campaign trail, there were a number of shots being thrown Obama's way, and during one stop, Obama spoke on the attacks, and how he deals with them.
The crowd went apeshit, but many were confused about why. When asked about it, Tommy Vietor, who was Obama's campaign spokesman, said only that Obama "has some Jay Z on his iPod." Oh, word, Obama?
Nov. 1, 2008: Jay's on the campaign trail
When Obama becoming a president was close to being an actual thing, Jay hit the campaign trail, visiting Virginia Union College in Richmond, Virginia to let the world know that "Obama's running so we all can fly."

This wasn't Hov's only campaign rally stop; he hit a number, featuring the likes of Puff Daddy and Mary J. Blige along with Beyoncé.
Jan. 20, 2009: Hov hops on the remix of Jeezy's "My President"
After Jay Z rapped his verse to "My President" live at Love Nightclub in Washington, D.C. alongside Jeezy two days earlier, the official version featuring the full verse dropped on Jan. 20, 2009, a.k.a. Inauguration Day, a.k.a. the day Obama hit the office. The original was said to have been recorded the day Obama received the Democratic nomination in 2008, and was released on The Recession in September of 2008.
Jay's remix was a celebration of Obama winning the presidency, kicking things off in a major way:
My president is black, in fact he's half-white
So even in a racist mind he's half right
If you have a racist mind you'll be a'ight
My President is black, but his house is all white
For added measure, Jeezy recorded a new verse with shots aimed at Bill O'Reilly, for the culture.
Feb. 19, 2010: Obama's bumping The Blueprint in the White House
During an interview on BBC One's Friday Night With Jonathan Ross, Jay let it be known that he'd been invited to the White House "a couple of times," and although he'd hadn't visited yet, "hopefully we'll keep him in eight years so I'll have time to get there." Hov also let it be known that when he called Obama one time, Obama "was playing Blueprint in the gym."
What song do you think Obama was working out to?
March 3, 2010: Jay and Bey visit the White House
As his tour was swinging through Washington, D.C., Jay Z (along with Beyoncé and Trey Songz) got to visit the White House, taking pictures in The Situation Room. Looks like he finally took up Obama on his offer.
May 15, 2012: Hov praises Obama's stance on gay marriage
With Obama on the campaign trail once again, Hov was letting the world know who he supported. In an interview with CNN, Hov confirmed he was riding for Obama, especially after Obama stood in support of states legalizing same-sex marriages.
"I've always thought it as something that was still holding the country back," Jay-Z said. "What people do in their own homes is their business and you can choose to love whoever you love. That's their business. [It] is no different than discriminating against blacks. It's discrimination plain and simple."
Sept. 1, 2102: Obama says "you can make it if you try. Jay Z did it."
The attendees at Hov's annual Made in America festival got a special treat during 's performance: a message from President Obama.
"To me, the idea of America is that no matter who you are, what you look like or where you come from, you can make it if you try. Jay Z did it," Obama said. "He didn't come from power or privilege. He got ahead because he worked hard, learned from his mistakes and just plain refused to quit. That's what 'made in America' means."
Sept. 19, 2012: Obama says he and Jay Z have "a little bond"
During a fundraiser that Jay and Bey held for President Obama, Obama joked about how much he and Hov had in common, especially after the birth of Blue Ivy. "Jay Z now knows, you know, what my life is like. We both have daughters. And our wives are more popular than we are... so we've got a little bond there. It's hard, but it's OK."
April 11, 2013: Jay invites Obama to chill with him on the beach
In April of 2013, Jay and Bey took a trip to Cuba to celebrate their wedding anniversary, and it turned into a huge ordeal. After having his name dragged through the headlines, Hov opened up about it on "Open Letter," which premiered via Hot 97 before being released on Magna Carta... Holy Grail the following July.

On the track, Hov not only said he's "got White House clearance," but rapped the following:
Obama said "Chill, you gonna get me impeached"
But you don't need this shit anyway, chill with me on the beach
The White House tried to downplay Hov and Obama talking, but don't not front like they don't have a history, Carney. And the best part is Bey and Jay's Cuba trip ended up being declared legal in August of 2014.
Aug 5, 2016: Jay gets the invite to Obama's "top secret" 55th birthday party
For Obama's last birthday party at the White House, he got turnt up. Word is that the "top secret" dance party featured everyone from Oprah Winfrey to Usher, and Hov and Bey are said to have also in the building. Wonder if one of Obama's BlackBerries has a photo of him, Bey, Michelle, and Jay doing the Electric Slide or something.
Jan. 6, 2017: Obama invites Jay Z (and others) to his Farewell Party
While it was reported that Jay, Bey, and many others were invited to Obama's Farewell Party, without the pictures, it's hard to confirm if Jay and Bey actually showed up. 
June 15, 2017: Obama pens Songwriters Hall of Fame Speech for Jay Z
How many of us wish we could get Obama to speak so highly of us, or to say that he and you might relate? "I think Mr. Carter and I understand each other," President Obama said during the Songwriters Hall of Fame speech that Jay shared on Twitter. "Nobody who met us as younger men would have expected us to be where we are today."
Obama also shared that he's been down with Hov's music for a bit. "Like all of you, I am a fan: I've been listening to Jay since I was a young and hungry state senator. I sampled his lyrics to close his speech at Selma, and tweeted a reference to 'My First Song' when I was putting the finishing touches on my final State of the Union address. I had to 'brush some dirt off my shoulders' during a campaign. So I'm pretty sure I'm still the only president to listen to Jay Z's music in the Oval Office." Sounds like FACTS to me.
With all of this ammunition in the chamber, and roughly a week and a half before the release of 4:44, one has to wonder: is that code for "For 44," as in "this album is for our 44th president?" Could Hov have written a fire tribute to one of the greatest men walking the Earth, and/or be using Obama's Black Excellence to throw multiple shots aimed at the Cheeeto-hued Donald Trump, the Shoot First, Ask Questions Last mentality of some police across the country, and the rest of society's ills? It could happen, and even if their perceived relationship isn't as deep as we think it is, it'd make a great jumping off point for a No I.D.-produced project. Just saying.