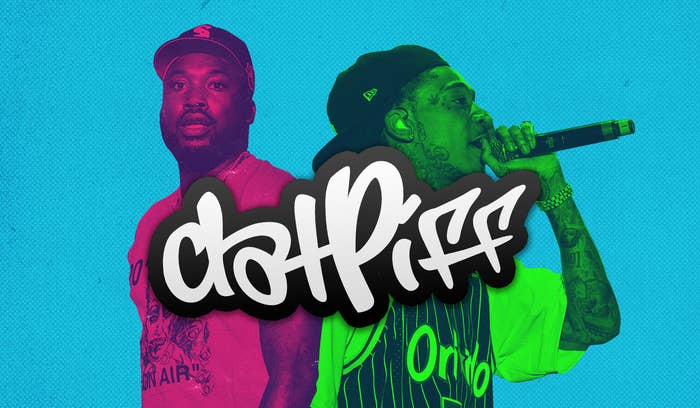 "I remember Diddy telling me years ago that DatPiff put out bigger projects in the last five years than all of the major labels combined," says Kyle "KP" Reilly, vice president of DatPiff. "And that was dead ass true."
When the music distribution platform entered the industry in 2005, it became one of the go-to places to hear mixtapes. For rappers, producers, DJs, and hip-hop fans across the world, DatPiff developed into a favorite place to share music directly with fans. It became home.
From the very beginning, the platform put a focus on developing close relationships with artists and assisting in career development. KP prides himself on that, and credits the success and longevity of DatPiff to being hands-on with the artists and teams he works with. One notable example is Wiz Khalifa, whose Kush & Orange Juice, Taylor Allderdice, and Cabin Fever projects earned the highest certifications on the site.
"Wiz's old production company uploaded the mixtape Flight School to DatPiff, and that was our first official release with them," remembers Will Dzombak, president of Taylor Gang Entertainment and manager of Wiz Khalifa. "After that, I reached out to KP on Twitter, started talking, and we kept in touch. About two years after first talking online, Wiz had a show at Lehigh University. KP was around and we connected then. We hung all night, smoking, taking shots, and just talking music."
From that first upload, Wiz became a fan favorite amongst eager rap fans on DatPiff who were searching for the next new thing. "At the height, DatPiff was a huge part of life," Dzombak says. "It helped mold the course for Wiz's success."
Whether it's working with a major star like Wiz Khalifa or a local artist with under 1,000 SoundCloud followers, KP has maintained his artist-friendly approach. He remains dedicated to breaking new talent—something he's doing now for rising artists like New York rapper Rah-C. "KP initially emailed me out of the blue," Rah-C tells Complex. "I thought at first, maybe it was a spam email until I saw the address was the same one in his Twitter bio. It was crazy random."
Rah-C says he was drawn to the unique music-obsessed nature of DatPiff users, compared to those on other streaming platforms: "People were going out of their way to find new tapes on DatPiff, in comparison to now, where most people only find new music if it's put right in front of them."
Despite its history of breaking artists and shifting the music industry, there has been a narrative floating around that DatPiff has fallen off in recent years. But KP says the site is doing better now than ever. DatPiff has found a way to live on without sacrificing its content or its values, allowing for the platform to find its niche.
After the end of the music blog era, streaming services like Spotify and Apple Music are scrambling to add mixtapes to their platforms, leaving DatPiff as the only place to find many projects from the past 15 years. "Our archive will be here forever," KP promises. "So long as I'm handling it, it will be one of the best catalogs of historic hip-hop music that exists for decades to come." 
Complex caught up with KP to talk about the history of DatPiff, how the site is still breaking artists, and what's next for music's richest archive of mixtapes. The interview, lightly edited and condensed for clarity, is below.
What's the most important thing you want people to know about DatPiff in 2019?
I want people to know, first and foremost, that we're still here and stronger than ever. Nothing has changed with us. Our mission remains the same, which is being a ground level platform and helping artists have a first step to becoming successful. We help them get their name out there and get recognized. We have a very hands-on approach. That's one thing that we will always stay true to. 
We're going to be doing a big overhaul of the site in the next year or so. We've had a new version ready to go, but we've just been making final tweaks and things like that. Over the next year, you're going to see a big transition. It's not necessarily a rebranding, but a modernization of DatPiff—not only the look, but the functionality. Over the next 12 months, you'll see a big change. 
How would you describe DatPiff's niche in the music industry in 2019?
We still provide a ground level entry into this industry for new artists. That's always been our goal: to be the bridge for artists who are just starting their careers, and helping them transition to the next phase. We have 10-20 artists at any given moment who we are investing in, whether its money, budgets, or resources. We're also able to stay relevant by continuing to do major mixtape releases from the likes of Dave East, Lil Durk, Chief Keef, Ace Hood, Juelz Santana, Papoose, and slew of up-and-comers like Clever, Rylo Rodriguez, and 22Gz. Our intentions in this industry have always been that of helping out artists. And I will never be outworked. 
JAY-Z's ex-manager hit me saying he found a JAY-Z freestyle on DatPiff that he hadn't heard or seen in 20 years. We have so many gems like that.
There have been a lot of conversations lately about how music from the mixtape era is getting lost in the streaming era. DatPiff is one of the only places left to find some of this music. Do you feel a responsibility to keep an archive of hip-hop history?
Well, if it's on DatPiff, it isn't lost, is it? I see it all the time on social media. People are talking about, "Put this on Apple Music and Spotify. Well, guess what? 75% of the music you want on streaming services from the "mixtape era" will probably never be there. I've always viewed our archive as unmatched and unrivaled. I've even had Biggs Burke, JAY-Z's ex-manager, hit me saying he found a JAY-Z freestyle on DatPiff that he hadn't heard or seen in 20 years. We have so many gems like that. DatPiff deserves historic archive status. Our archive will be here forever, and so long as I'm handling it, it will be one of the best catalogs of historic hip-hop music that exists for decades to come. 
Who would you say is the core audience on DatPiff right now?
If you asked me that a few years ago, I would say that a lot of our users have graduated college, moved onto professional careers, and basically retired their musical trace—meaning they're not evolving any further. Luckily, we've been able to turn, at least with our audience, by using outside platforms and leveraging things like YouTube and Spotify. 
As far as our brand recognition goes, we have to show that we're not just an app that you can go on to stream music. We're still a music discovery platform, just like we started out to be. I think that's the main thing with us; we reached the point in the prime years of 2011 to 2015 where we became the hub for releasing everything. That was great, but that was never what we set out to do. That's just something that we rolled with because we kind of became that place. 
We've always prided ourselves on being a place to give young artists and independent artists a platform to be heard, by simply distributing their music without any strings attached. Also, when these new kids discover us, they're saying, "This is still, in 2019, a valuable platform to get my music on and get heard by new fans." Even major artists, like the Lil Durks, still tap into their core audience. When they do have something that's available on retail, we can still drive a good amount of people to them by saying, "You can listen to it here, but if you want to go add it to your favorite playlists on Spotify or add it to your iTunes, go buy it." We're still bridging that gap for major artists, while giving the young and independent artists a ground level platform to get heard on.
Have you noticed some types of artists who are having more success on your platform than others?
Yeah, we still definitely have our core artists. Obviously the Meeks, the Durks, the Chief Keefs, and some of the D-Block guys, or Vado and Dave East. East Coast artists have always been our core. That's always been our core fan demographic. It's always been East Coast, first and foremost. Although they're not necessarily putting out free mixtapes anymore, they're still taking up a chunk of our streaming percentage. There are about 15-20 guys that account for 30-40 percent of the listening happening on our site. Big Sean and mixtapes like Detroit drive a lot.
We could have grown and evolved into a big full-on streaming service, but I've always wanted to have a personal hand in everything that we're a part of.
Aside from bigger artists, how are smaller artists capitalizing on DatPiff?
It's still a great discovery platform. For a lot of kids, I'm able to discover and help. If it's something that I'm personally interested in or see a value in, I'm investing my time, our resources, and our money into it. Whether it be paying for more studio time, shooting some visuals, or helping create content for them, that's what we're doing now. That's the benefit of DatPiff. It still has a very small business, hands-on feel. We could have grown and evolved into a big full-on streaming service, but I've always wanted to have a personal hand in everything that we're a part of, just so it gets that Midas touch.
You can't really go to Spotify or Apple Music and have any one person holding your hand through the whole process, making sure everything is right. That's what I'm always here to do, whether its Lil Durk who calls me or this kid from Alabama who has 125 SoundCloud followers, I treat each one the same. If I see, not just potential, but also that they are respectful and have a good rapport, I treat every situation the same. 
I can imagine that the personal connection is different compared to places like Spotify and Apple Music.
Exactly. Sadly, I'm only able to do three or four projects a month, just because of what goes into them and the personal touches I put on them. But as I slowly grow and evolve, I'm expanding to more people. Finally, after 15 years, I'm opening up to grow what we're doing. Obviously not large, wide-scale, but I'm talking about adding three to four guys who I know can complement what we're doing and help streamline the process to help more artists. Now that I'm not dealing with as many of these big Meek-level projects every week, I'm able to be more hands-on with the smaller guys. I'm trying to build that out as we speak. 
How do you think DatPiff has impacted the music industry?
DatPiff really forced the labels' hand to adapt and allow artists to have creative freedom. The way the industry was working before, artists would just come to me with a project and say, "I want to put this out. It's not cleared, it features all of my friends, and it's a passion project for me. It's not something the label approved, but I'm going to put this out." The labels accepted that for many years, because they had to, until the mixtape industry became bigger. 
I remember Diddy telling me years ago that DatPiff put out bigger projects in the last five years than all of the major labels combined. And that was something that was dead ass true. That's what we did by taking over the industry and moving it over to this free platform, where you were able to put out these projects quickly, freely, and without any interference. We put labels in a panic, where they had to adapt and allow artists to have the creative freedom to say, "Hey, this is my project. I'm putting this out whether you guys sign off on it or not. This guy is on it, this guy is on it, and this guy produced it. You either help me clear it or I put it out myself." 
We really forced labels to give artists back that freedom, instead of just the usual, "You gotta turn in an album three months beforehand. It's gotta be approved by us, you've gotta have two or three radio-approved records on there, and the features have to be signed off by us or planned by us." It really put the control back in the artists' hands. That's one of the things I'm most proud of: using the flex and the muscle that we had at that time to force the Warners, the Atlantics, Universals, and all of these guys to say, "We gotta change the model and the way we've been contracting these artists for the last 30 or 40 years. We have to give them the freedom to come to us with a project two days before they want to put it out say, 'You don't even have time to listen to this, approve it, or anything. I want this out tomorrow and that's that.'" 
It's given them the freedom and power to do that. Obviously, there are certain instances where they can't, but I want to say, most artists now have the creative freedom to. NBA YoungBoy can get out of jail and say, "I want to put out a project next Friday." I'm sure he didn't have to ask Warner for permission, and that's really because of the industry we created back then, and forced them to be able to work with artists this way. One of the most important things DatPiff did was force labels' hands to operate like that and put the control back into the artists' hands.
DatPiff really forced the labels' hand to adapt and allow artists to have creative freedom.
Do you have a direct relationship with record labels now?
Of course. We've always maintained very good relationships, despite our differences. We've always used each other, because we could benefit each other. We work with labels to do ad campaigns for their major stuff. They still pay us to run ads. Sometimes we even team up with them if they say they want to do a project and it's going to be off-label, meaning it's not going to count toward one of their album obligations. They'll come to us and work with us on it in exchange for the data or a marketing budget.
We prefer to be in good graces and have a working relationship with all of the labels. We've always operated that way over the last 15 years. Obviously we've had some differences and there's time where yeah, it hurts. Having to remove Drake's So Far Gone[from DatPiff] was one that really hurt. I don't have the personal relationship with Drake needed to reach out, because he's also the one that would need to sign off. I tried. He's one of the few people I don't have a direct relationship with, who I didn't want to pull that favor for. So that one definitely hurt. But in most circumstances, like with Wiz's mixtapes and Mac's, I'm able to come to an agreement with the copyright owners to say, "We're going to keep this up," even if we have to disable a download or redirect to a DSP or a smart URL. We'll actually do that, but in most cases, we're able to work with the label or the artist to make something that works for the both of us. 
Mixtapes haven't gone anywhere. They've just become legitimized by labels. That's what we forced.
Mixtapes are still relevant now, but they're nowhere near as big as they were years ago. Where do you think mixtapes stand in the music industry in 2019?
This all goes back to what I was saying about labels being forced to adapt. Mixtapes are still everywhere. Mixtapes are being dropped every Friday. They're just being packaged as retail projects. Unfortunately, the art of a mixtape, an album, an EP, and an LP, has been lost in translation the last couple years. It's very confusing as to what's what. But I'll always say, mixtapes are passion projects. 
When you see Young Thug drop So Much Fun, you see the features he has on there. Those are mixtapes, because you can see the passion and the full creative control he had. There's no Ed Sheeran track on there. It's all Lil Duke and YSL. Almost everything you see dropping every Friday is a mixtape. If it was five, six, or seven years ago, you would've seen DatPiff drop them because of what they are. Chance the Rapper did just drop an album, because it had an album feel. And people are confused like, "Whoa, he dropped like six projects, what do you mean?" You can tell that every project leading up to that felt like a mixtape. This one felt like an album. I say that because there are always bigger marketing budgets for album releases. But, like I said, when NBA YoungBoy comes back from jail and announces he's putting out a project on Friday, that's a mixtape. That's something that he's just passionately putting together with stuff that he wants to get out. It's not something Warner is sitting there saying, "We're going to put $150,000 behind this thing, get billboards all over Times Square, and make sure we have big features." 
Mixtapes haven't gone anywhere. They've just become legitimized by labels. That's what we forced. We forced artists to be able to come to these labels with mixtapes, instead of labels making artists create albums. These artists are now delivering the project, as opposed to the labels saying, "Here's $200,000 or $500,000; go create what we want over the next six months." That's the difference. 
You've spoken before about your early stages and having to beg artists to put their tapes on DatPiff. How do you recruit artists to drop their tapes now?
Luckily, I've been able to build the network over the last decade. I'm constantly being pitched new artists from people I've been affiliated with and worked with for years. I'm able to go through 5-7 artists a day that are being brought to me. I'm one million percent accessible. I'm never one to think I'm bigger and better than anything. I'll help somebody reset a password if they need to. That's just how I am. 
Obviously, the bigger projects are more relationship-based. We still do work with Durk a lot. That's all about working with Alamo Records to complement what they're already doing and touch his core fan base. I'm not necessarily seeking projects like I was. It reached a point where people were just lining up to hand me shit. But like I said earlier, that's never what we really set out to do. Obviously I ran with it, and I enjoyed it. It was very beneficial for us and for the artists. But I'm happy to be back to our core, which is about helping benefit the artists without needing to be an exclusive premiere partner. I don't think anybody curates better than we do on the independent, urban street level. I don't think anybody has the up-to-date content that we do anywhere. That's one thing that I'll always stand by. 
Can you walk me through some of the initial conversations you were having with Meek Mill when it came to convincing him to drop Mr. Philadelphia?
This was about 2008 or 2009. I was super close with producer Jahlil Beats and Eagles player DeSean Jackson. We were always together. So we were at the studio one day and I was taking DeSean to Batcave Studio, where Meek started in Philadelphia. Meek had just gotten out of jail, still had his ankle bracelet on, braids, everything. He was just starting to dabble in the internet a little bit. He didn't know much about it at all. At the time, he was making about $100,000, just selling mixtapes locally in Philadelphia. And he was all over the radio in Philadelphia, so it was hard to explain to him, "Bro, you're not doing what you could be doing." When somebody is making $300,000 or $400,000 a year by just selling a few mixtapes a year, plus shows, it's hard to explain to them that they're missing out on a lot of fucking money. 
Our initial conversation was about Meek modernizing himself and realizing the internet is a tool. It was about how giving away music for free is actually beneficial and it wasn't not going to hurt him. His manager at the time was Will Smith's old right-hand man, Charlie Mack, who had more of an old-school approach. It worked and really helped Meek grow to be a local superstar before anyone really knew of him outside of there. But in my travels back and forth to L.A., when I would talk to people about Meek Mill, they had no idea who I was talking about. So in this conversation, I just begged and pleaded, "Give us one chance to do a free internet project. You can still sell it locally in stores here if you want to, but let's give it out for free to the world. Nobody outside of Philadelphia and New Jersey knows you." 
After about a month or so of back-and-forth, I was out in L.A. and got one of the DJs I was working with at the time, DJ Ill Will, to host this project. I got Meek on board, and it only took 30 days or so to record Mr. Philadelphia. That was Meek's first internet launch where we really used it to propel his music. From there, the rest is history. He's one of the biggest in the game right now, and I can't take full credit for it, but I do think that was a very big part of his career trajectory. 
If Dreamchasers 5 arrives, is it going to be released on DatPiff?
It absolutely will. Like I said, Meek is one and Atlantic is one, where we have a relationship and understanding that it's something that needs to be in front of our audience. It's only going to benefit, not hinder, any part of a release or a rollout. Absolutely. It'll be on DatPiff.