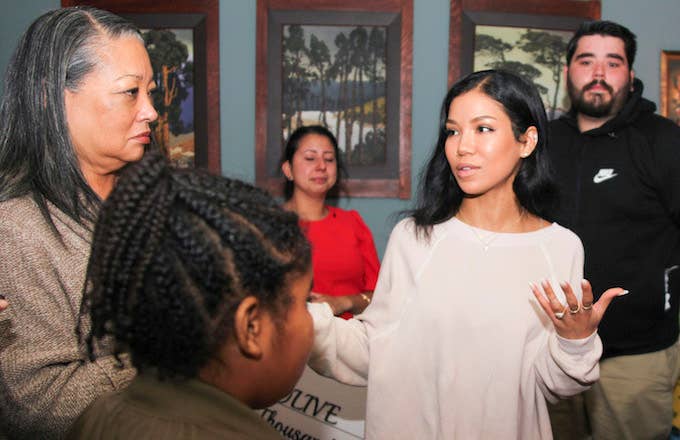 Jhene Aiko is a creative alchemist. If there was ever someone who knew how to take their broken heart and turn it into art, it's Aiko. After her brother Miyagi died of cancer in 2012, Aiko transformed her loss into a short-film entitled Trip, and went on to release an album with the same title shortly thereafter.
This Christmas, the singer launched her WAYS Foundation, in honor of her late brother, in order to bring much needed financial support and hope to cancer sufferers and their families. Aiko explained to Billboard, "This Christmas, I decided to gift my family with the 'WAYS Foundation,' something my family and I have had in the works since the passing of my brother. I decided to make a donation on my family's behalf in which we plan to continue to help people and families affected by cancer."
As Billboard reports, Aiko made her first donation in the amount of $15,000 to five-year-old Lily Olive on Christmas Eve. The young girl from Eagle Rock, CA had been unexpectedly diagnosed with leukemia over Thanksgiving break, and she has been battling the illness ever since.
Oh, and in case you were wondering, WAYS is an acronym for "Why aren't you smiling," a turn of phrase Aoki's brother coined during his own fight with cancer. How's that for a lesson in gratitude? Don't forget, fam: 'Tis the season of giving.