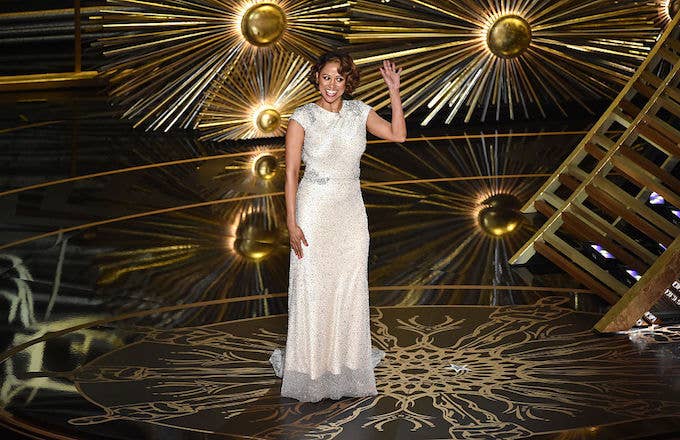 Just one day after Dame Dash's long-delayed movie Honor Up was announced on Instagram, Stacey Dash—who appears prominently on the movie's poster and is listed as having a starring role in the film—is already distancing herself from it. The movie, which is executive produced by Kanye West, is supposedly dropping on Valentine's Day, but it was likely shot awhile ago. Even so, Dash claims she has no contract with either her cousin Dame or Kanye, and she also claims she has not authorized her name or likeness to be used in the movie.
I'm sorry that my cousin Damon Dash is using our family relationship to advertise his movie. I have no written contract with him or Kanye West's company (who I have had no dealings with at all). No one is authorized to use my name or photograph for "Honor Up."
BET is also reporting Stacey is so upset about being featured in a "'Black' film" that she actually "filed a lawsuit to remove all evidence of the film."
Although that sounds insane, it's actually not too far off from Dash's usual insane musings. Dash—a proud Trump supporter—went from her iconic role as Dionne in Clueless to being a pundit on Fox News. In that position, she called for the end of Black History Month and the BET Awards, claiming that "either we want to have segregation or integration." She has since been fired from the network, but she really does seem to hate the BET Awards and all those associated with it. After Jesse Williams gave a powerful speech at the awards ceremony in 2016, Dash called the actor a "Hollywood plantation slave."
Dash has also claimed that transgender people should pee "in the bushes" if they cannot go to the bathroom that correlates with their gender and has said we should all "empower [men] to be men, because they're falling away."
Whether Dash gave her cousin and Kanye permission to feature her in Honor Up or not, it's hard to feel sorry for her when she is always in the news for her crazy, racist, and discriminatory views on the world. We don't know many other details about Honor Up besides what Cam'ron posted about the film on Instagram, but it's probably safe to say that anyone who wants to go see it won't protest if Dash is suddenly removed from the project.