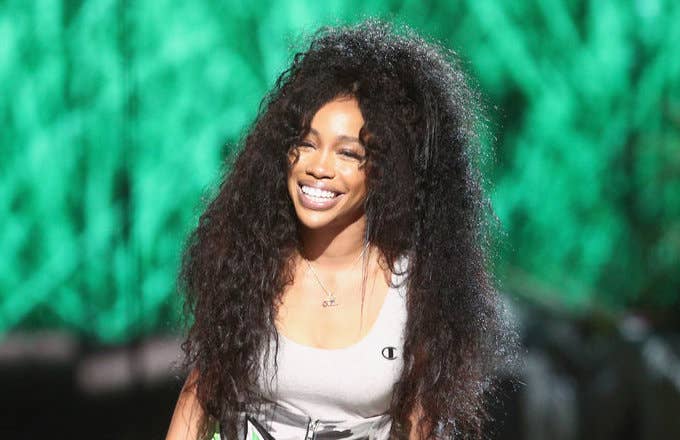 While it is widely accepted that SZA's debut studio albumCtrlhas been, without a doubt, one of the best albums released this year, the artist's struggles with her own self-doubt and her label have been well-documented. But in a recent BBC Radio 1Xtra interview, SZA revealed that someone else in the industry initially shared her insecurities about her work—Jay Z. But, she insists, in a good way.
"Jay Z was the first person to tell me that he thought I was a fluke, to my face," the 26-year-old said. "I laughed and I said, 'So do I.'"
SZA insisted that Jay Z used the word "fluke" to mean he was pleasantly surprised by her consistently good work, and wasn't just being a hater.
"He was just like, 'You're really good, you're pretty good,' and I was like, 'Thanks,'" SZA explained. "He said, 'I thought you were a fluke,' and I was like, 'Me too!'"
Maybe Hov's stamp of approval could have helped SZA last year; in Oct. 2016, she tweeted about quitting music. "I'm really frustrated, and I'm kind of over it," she told Complex the following month in an interview. It seems like creating music is a big source of anxiety for SZA, as she toldThe Guardian in July that the process of creating Ctrl was not as smooth as she might have hoped.
"I freestyle everything, all the way down," she said. "And I listen back and think, 'What's shitty?' And if something's too shitty and I can't put my finger on it, and I think, 'Wow, this sucks to me,' then I get way frustrated, and usually scrap the song. I just kept fucking everything up. I just kept moving shit around. I was choosing from 150, 200 songs, so I'm just like, 'Who knows what's good any more?'"
Ctrl was released at the time it was because TDE literally stole SZA's hard drive from her and pushed it out into the world. But the process of finally releasing her music, as well as the positive reception, have helped relieve some of her doubts. "I have less anxiety about the things that hindered me putting this album out," she said, also hinting that new music could be on the way.
Since then, SZA has hopped on the Lorde "Homemade Dynamite" remix alongside Khalid and Post Malone, and released "Quicksand," a brand new song included in the Insecure season 2 soundtrack.