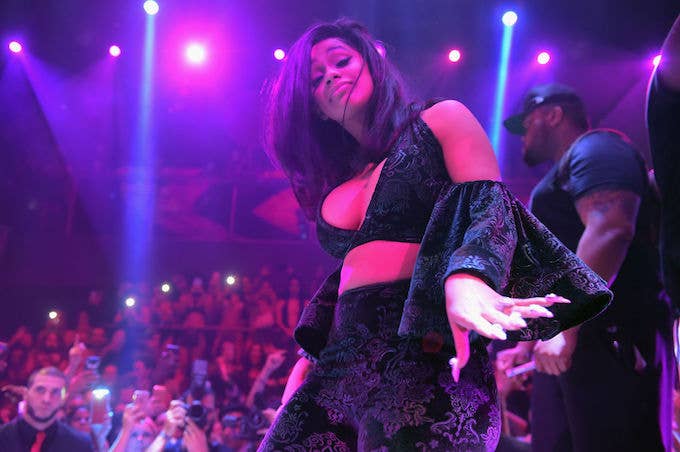 Cardi B stopped by The Norte Show on Capital Xtra on Tuesday, and was, as usual, an open book about most things. She discussed how she came to be featured on "MotorSport" alongside Migos and Nicki Minaj as well as her recent Grammy nominations. But the Bronx rapper got uncharacteristically cagey when the interviewer, Manny Norte, asked her about Nicki Minaj.
"Are you good with Nicki?" Norte asks.
"I spoke to her before, I saw her in person before," Cardi replied. "We spoke about things," she continued, somewhat awkwardly. "I don't like getting into detail," she said, before Norte interrupted her.
"When I heard the track, her verse wasn't finished. It was not the verse that is on right now," Cardi revealed. "Quavo told me to get on the song, and I just felt it was a perfect opportunity for me to be on a track that's big like them."
Cardi also displayed some refreshing self-awareness and honesty about how she fits in relation to the industry and what her motivations were for joining "MotorSport." "I just started in the game, so I know that if I get on this record, it's gonna be crazy. Who doesn't want it?" she said. "So, it's like, I'm gonna jump on it, and I jumped on it."
Nicki and Cardi have both repeatedly said they do not have any beef with each other, even in an interview with Complex. Cardi was asked about her relationship with Nicki on The Breakfast Club back in September, and she again shot down rumors, but again she was slightly awkward about having to do so. When "MotorSport" first came out, people initially thought the two were taking shots at each other on the song, but Nicki soon cleared up all of those rumors by being very clear about how the song came to feature herself, Migos, and Cardi B. 
Obviously, the interview was not all about Nicki Minaj. Norte also asked Cardi about her recent Grammy nominations.
Cardi was recently nominated for two Grammy Awards: Best Rap Song and Best Rap Performance. The ceremony will be held on Jan. 28, 2018. 
"Its taken me some time to take in. I'm just happy that I'm there. I'm going up against people like Kendrick Lamar and Jay Z. So people to just say my name, it's just like, 'A-hah! I made it,'" Cardi said.
When the radio host suggested Cardi was blessed, what with her booming success being rewarded so soon with not one but two Grammy nods, she was hesitant to agree outright. "It's a blessing, but it's a lot of hard work, though," Cardi added.
She even mentioned she was "sleepy" during the interview because she had been working so much. "If you want it, and the more you keep hearing you can't have it, you just go and get it. And now I'm here and I'm just so blessed."