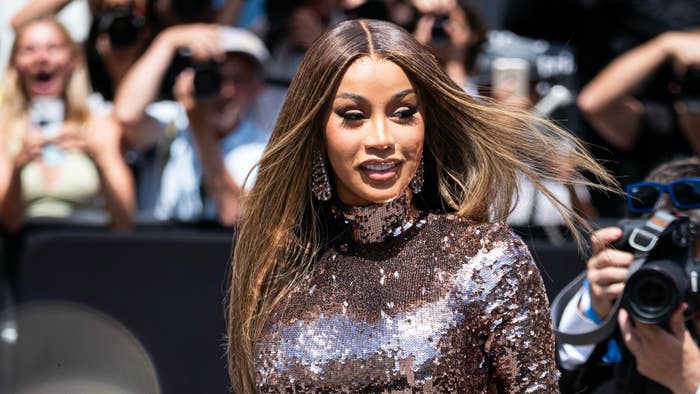 Cardi B's marketing skills are unparalleled.
In anticipation of her "Bongos" single with Megan Thee Stallion, the Grammy-winning rapper took to Instagram to share a video of her signing physical copies of the collaborative track. At one point during the broadcast, fans began asking Cardi to release a "scratch and sniff" edition, which prompted her to rub the CD and DVD covers on her body parts, including her breasts and nether regions.
"Y'all want scratch and sniff videos, bitch? Hold on," she said on Instagram Live before rubbing one of the copies under her dress and one over her dress. "This one smells like titties. This one smells like puss. This one smells like asscheek."
Cardi went on to sign the rest of the batch and licked several copies.
"Bongos" is scheduled to hit streaming services at midnight Friday, more than three years after Cardi and Megan joined forces on their smash hit single "WAP." The rappers announced the new track this week, when they revealed its release date and cover. The art shows the artists rocking rainbow-colored hair and posing in barely-there bodysuits with lollipops in hand. A second cover, which was posted on Tuesday, features Cardi and Megan lying next to each other while wearing pink and green fishnet bodysuits, respectively.
The song is expected to arrive on the long-awaited follow-up to Cardi's 2018 debut album Invasion of Privacy. The Bronx-born MC touched on the project in an August interview with Vogue México y Latinoamérica.
"I'm not going to release any more collaborations, I'm going to put out my next solo single," she said. "Right now I'm working on the cover art and ideas for the next record because it's definitely coming up."