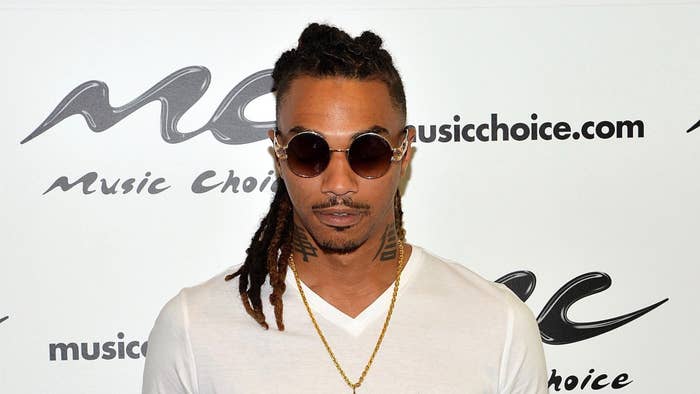 Snootie Wild is the latest rapper to lose his life to gun violence.
The tragedy was confirmed Saturday night on the CMG artist's verified Instagram page: "Gone in body, but your NAME & LEGACY will live forever!" the caption read. "💙 #TeamYayo4Life💯."
ABC 13 reports that a man was found shot in the neck early Friday in the south side region of Houston. Authorities say they received reports about gunfire at around 2 a.m. along England Street, where they discovered a man in a ditch next to an SUV. A man had sustained a gunshot wound to the neck, and was transferred to a hospital in critical condition.
Despite rumors, Snootie, real name LePreston Porter, was not confirmed dead after the news broke. His official Facebook account shared a message that he was "fighting for his life."
"Snootie is not DEAD! But he is fighting for his life. Out of respect for the family, please refrain from sharing anything that is not communicated through his official accounts. Thank you."
According to ABC 13, a neighbor captured the shooting on video, which authorities are now reviewing.
"It looks like he backed in there (the ditch) accidentally," Houston Police Department Lt. R. Willkens said. "Then the other vehicle pulled up, and folks got out of the car. They were talking for a little bit, and then all of a sudden, gunfire went off. Only one shot, actually."
It's unclear if the HPD has identified any suspects.
News of Snootie's death comes more than three months after his fellow Memphis rapper Young Dolph was shot and killed.
Snootie rose to prominence in 2014, after the release of his Yo Gotti-assisted single "Yayo" and "Made Me." After signing with Gotti's CMG imprint in 2013, Snootie delivered his debut EP Go Mode, which was followed by his 2015 tape Ain't No Stoppin' Me.
Gotti spoke about his protégé in a 2016 interview with The Fader.
"My moments are like, when I see an artist like Snootie Wild at a wing shop and he tell me he just got out of prison, plays me a couple songs, and tells me how hard it is for him in the streets," he said. "So, I tell him I believe in the music he's creating and Ima try to change his life. And eight months later, his life changed. He performed at the BET Awards, got songs in the top 10 for radio spins in the country, performing on 106 & Park. In eight months! That's the shit that I enjoy."
Hip-hop figures, including Boozie Badazz and Three 6 Mafia's DJ Paul, have since taken to social media to pay tribute to Snootie.
Complex has reached out to Snootie's team for comment.