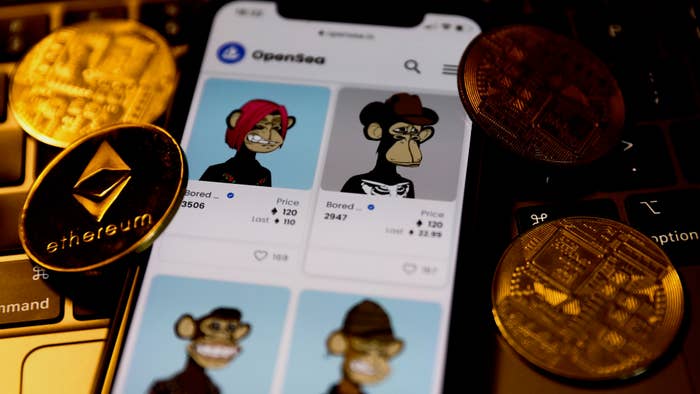 Dozens of celebrities have been named in a class action lawsuit against Yuga Labs Inc.—the cryptocurrency startup behind the Bored Ape Yacht Club NFTs.
The suit, filed Thursday in Los Angeles federal court, alleges A-list actors, musicians, and athletes were discreetly paid to "misleadingly promote" and inflate the value Yuga Financial Products. Plaintiffs Adam Titcher and Adonis Real, who allegedly began purchasing Yuga assets in 2021, say "vast scheme" resulted in "staggering losses" for investors.
According to the complaint, obtained by Rolling Stone, Yuga formed a partnership with entertainment manager Guy Oseary, who helped devise a plan to "leverage their vast network" of celebrity clients. The lawsuit alleges stars like Justin Bieber, Post Malone, Snoop Dogg, the Weeknd, Kevin Hart, and more promoted Bored Ape and other Yuga offerings via MoonPay, a financial tech company that reportedly has ties to Oseary's Sound Ventures capital firm.
"Defendants' promotional campaign was wildly successful, generating billions of dollars in sales and re-sales," the lawsuit reads, "The manufactured celebrity endorsements and misleading promotions regarding the launch of an entire BAYC ecosystem (the so-called Otherside metaverse) were able to artificially increase the interest in and price of the BAYC NFTs during the Relevant Period, causing investors to purchase these losing investments at drastically inflated prices."
The complaint lists a total of 37 defendants, including Oseary, Yuga Labs and MoonPay executives, Reddit co-founder Alexis Ohanian, NFT artist Beeple, as well as celebrities like Paris Hilton, Diplo, Future, Jimmy Fallon, Gwyneth Paltrow, DJ Khaled, and Madonna. The plaintiffs allege billions of dollars were generated through the misleading celebrity endorsements, and "at no point did any of the defendants register these securities with the SEC."
Per the lawsuit:
MoonPay purports to be a white-glove service designed to help the super-rich and celebrities buy NFTs 'without all the hassle ofsetting up a wallet, buying crypto, using that crypto to purchase an NFT and thentaking custody of it.' In truth, the Executive Defendants and Oseary used their connections to MoonPay and its service as a covert way to compensate the PromoterDefendants for their promotions of the BAYC NFTs without disclosing it to unsuspecting investors.
A Yuga Labs representative responded to the lawsuit in a statement to Fox News.
"In our view, these claims are opportunistic and parasitic," the spokesperson said. "We strongly believe that they are without merit, and look forward to proving as much."