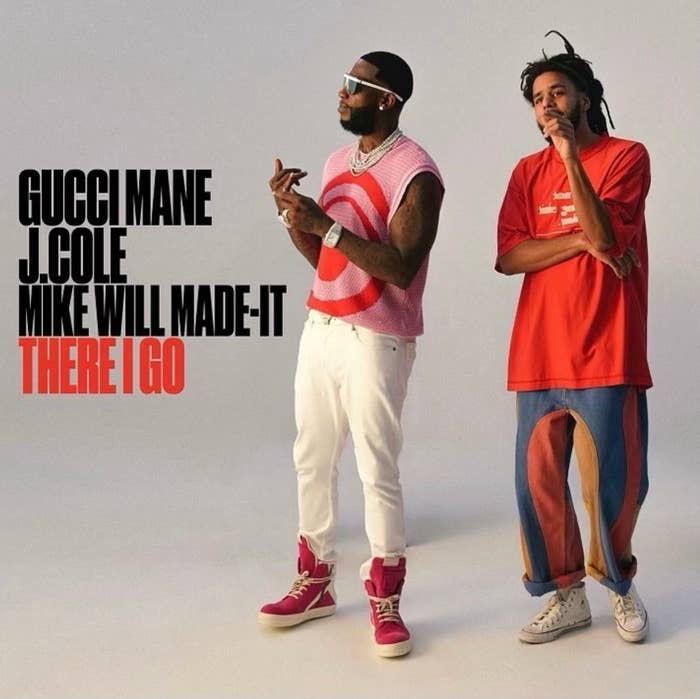 Gucci Mane is keeping fans fed.
Since announcing his next 16th studio album, the Alabama-born rapper has come through with a number of promotional cuts, including the Lil Baby-assisted "Bluffin," "Married with Millions," and "Woppenheimer." Gucci continued his steady stream of releases on Friday, when he unleashed the much-anticipated track "There I Go," featuring J. Cole and produced by Mike Will Made-It. (The superproducer connected with Cole just one week ago on his own single, "Blood Moon" with Lil Uzi Vert.)
Guwop confirmed the release via Instagram on Tuesday, when he shared the cover art, which shows him and the Dreamville boss standing side by side against a white backdrop.
"My diamonds go brrr," he captioned the post. "It's a Cole world…dropping Friday."
The song is expected to land on Breath of Fresh Air, the much-anticipated follow-up to Gucci Mane's 2021 album Ice Daddy. The rapper announced the double-disc LP back in June, after blessing fans with cuts like "06 Gucci" with DaBaby and 21 Savage, "Pissy" featuring Roddy Ricch," and "King Snipe" with Kodak Black.
The 43-year-old spoke about his new musical direction in a June interview with Zane Lowe, saying he wanted to showcase a different side of himself — a dimension that was much more positive and inspiring.
"I feel like it's time for people to start hearing more from me as far as game and advice and my opinion on stuff," Guwop explained. "So I feel like now when I do a verse with somebody like Baby, who the kids look up to and listen to, I try to put some game on them instead of just rapping."
"Ever since [Young] Dolph passed away, and my artist [Big] Scarr passing away, and Takeoff passing away, and Pooh [Shiesty] locked up, and Foogiano locked up, I'm just not in the mood to hear a whole bunch of drilling and killing," he continued. "Let me just lead by example and show people that there is more to rap about than my opps."
You can stream "There I Go" now on Apple Music and Spotify. Breath of Fresh Air is scheduled to arrive on Oct. 13.