It's been almost a year since Montreal hosted the world-renowned Red Bull Music Academy, and now Red Bull is returning to Canada's Sin City for a four-day festival that will feature experimental and immersive events celebrating music and the minds behind it. 
The Red Bull Music Academy Weekender will happen from September 21 to 24, with different events every night. The agenda is as follows: 
September 21, Temple Damné: The first night will be an exploration of "extreme" music, from industrial techno to underground metal. The event will showcase a selection of boundary-pushing artists, including Âmes Sanglantes, Montréal Academy alumna Pan Daijing, Canadian ambient drone duo Nadja, Baltimore experimentalist TRNSGNDR/VHS, Iranian-born and Montréal-raised performance artist SADAF and a special industrial set by Orphyx.
September 22, RBMA & Moonshine présentent​ Sagacité​: Montreal's Moonshine collective brings their diverse dance party to the RBMA festivities. This two-room event will feature local residents Pierre Kwenders, Bonbon Kojak, M. Bootyspoon and Odile Myrtil, joined by Toronto's Bambii and Portugal's DJ Marfox alongside New York's TYGAPAW, Le1f and Total Freedom.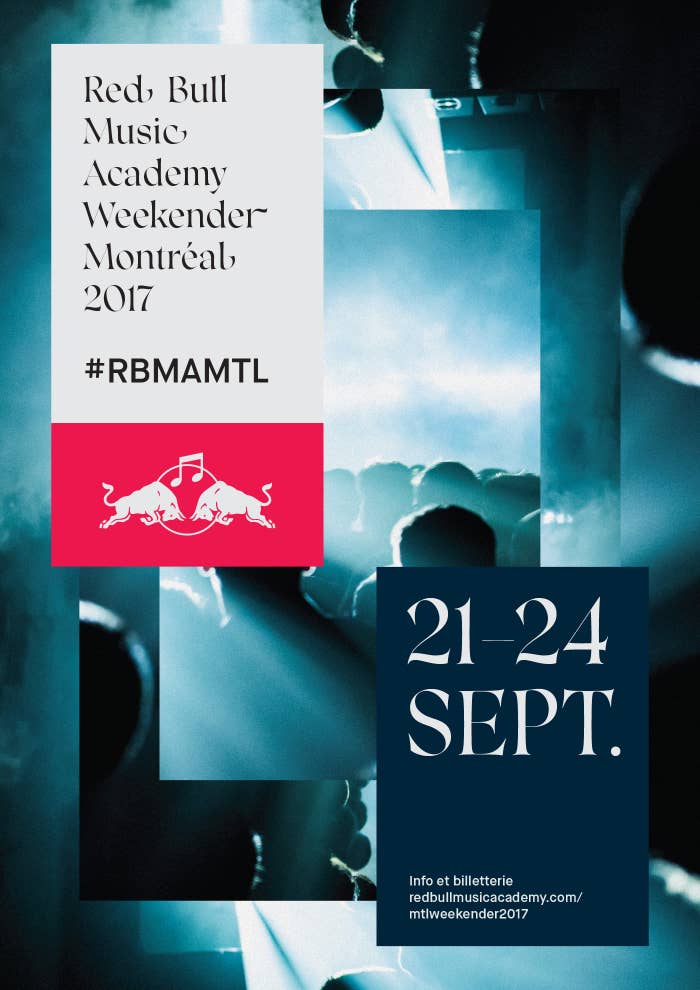 September 23, RBMA & Never Apart présentent​ Equinox: Get ready for an intence 13-hour, 2-stage marathon of danceable house and techno. This edition will feature Vancouver native Jayda G; Academy alumna and Ectotherm label head Courtesy; Discwoman's Umfang & Volvox; Cómeme's Borusiade; a special live set from Australian experimentalist Carla Dal Forno; and an extended back-to-back set from Derek Plaslaiko and Carlos Souffron. 
September 24, Une Soirée Avec Rhye: The weekend will close with a performance from ethereal R&B duo Rhye performing at one of Montréal's most historic venues, The National. Former Red Bull Music Academy Bass Camp participant and Charlotte Day Wilson will open.
Check out the announcement video above and watch for tickets for all events to be available starting on August 31 at redbullmusicacademy.com/mtlweekender2017.