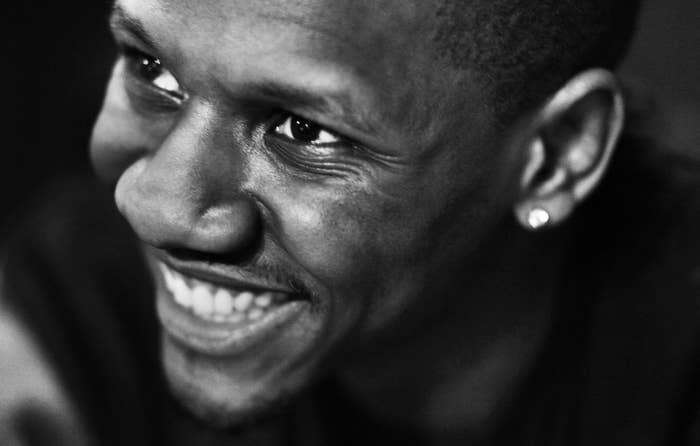 When journalism and media students hit me up with questions for their dissertations—while a pleasure to do, I still find it weird: having been in the music writing field for almost a decade, I still feel like I'm learning myself.
My journalism journey has been an odd one, and I told i-D mag about it in depth last year. I grew up in a rough part of London—Stockwell, South London—where the "olders" wore off-key Versace, and moped bikes were all the rage, and I wanted that. I wanted all of it: the girls, the gold teeth, the Nike 110s (in every colour). My older brother was one of those olders, and also my idol, which has been as much of a gift as it has been a curse for me. Joel was the ultimate rebellion child: from the age of 16, him being the son of a strict Pentecostal preacher, instead of going to church on a Sunday, he'd be hungover from the night before having had the time of his life at some garage or jungle rave. And, obviously, your boy here was intrigued.
But life took an unexpected turn when I hit thirteen: my old folks broke up, and I ended up moving to a small town called Wellingborough (near Northampton) with my mother, who was pregnant at the time. So, I go through life up there, hanging with the cool kids on the ends, or what today would be classified as "roadmen." But I always knew I had an artistic side. I could (and can still) hit a note or two, and was always skilled when it came to art—drawing, painting, design—but I was still drawn to the rudeboy ways. I sold the odd ounce, here and there, thought I was tough at the odd hood dance, but I always knew I was destined for more than that. Amidst all of this, I found a passion for grime, held grime events, and made a blog site dedicated to it. And for the fact that I taught myself how to 'write'—you know, like a proper journo—after getting an E in my English GCSEs and never taking on higher education post-high school, God was definitely in the detail. 
I've never professed to be the best writer in the world, but I know my subjects well enough to a point where it is respected. And I say all that to say: being in touch with the streets is something that makes critiquing street music that little bit more authentic. I am a 28 year-old black man who can relate to a lot (not all) of the bars these guys spit—if not from my own experience, then definitely from those around me—so I draw from it at times. An intriguing question has popped-up in conversations lately: does it matter if a white journalist covers the same topics as I do (i.e. black) for a living? The simple answer to that is, no. There are plenty who do a great job at it—havingimmersed themselves in and studied the culture like exam-taking students. But is there a problem with white journalists covering the same topics who romanticise about them from the sidelines? Yes, and it needs to stop. 
Earlier this week, UK rap star Giggs released his fourth studio album, Landlord. Our review was a glowing one, and so was the one from respected "indie bible" NME—until we get to the paragraph that insinuates rape in a song (said review has since been amended online).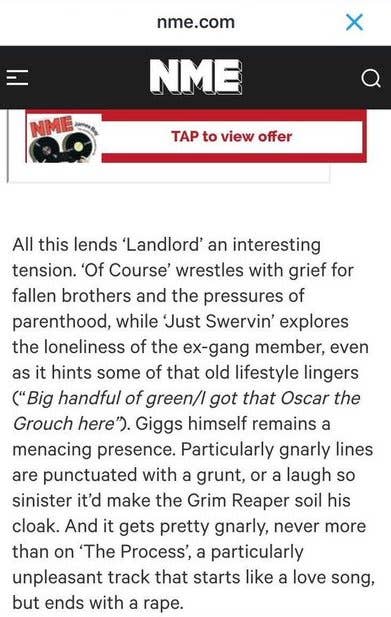 So, to recap: it was a fairly positive review (given 4/5) that was published with a rape insinuation? Cool. My issue here is that the reviewer—a white male—must have already formed an opinion on who Giggs was before even listening to the LP.
The piece was littered with "ex-gang member" and "drug-dealing" chat, but that was his choice to include as a journalist. Anybody who has respect for this rapper's work, though, would be more than aware of the implications those phrases could add to the consistent campaigns to derail his career. But to insinuate rape is a whole other thing. Do you really think Giggs would casually talk about raping a woman, on or off wax? If you thought that, and gave him such a high rating, then what does that say about you as a man, as a writer? 
In an apology issued by the NME (which UK rap Twitter had to push for, by the way), the opening paragraph reads:
NME would like to make an unreserved apology to Giggs. In our review of his new album, 'Landlord', a lyric was misheard which completely altered the context and our understanding of the track 'The Process'. In the track Giggs says "man rates her", which was incorrectly interpreted as "man rapes her". 
There's this thing called Google. And Genius, which breaks down lyrics so that you don't have to! This was just lazy on the writer's part, and it makes me wonder: if a clued-up writer—black, brown, or white—wrote that for the NME, would they have made such a huge blunder? Having a basic understanding of even just slang terms can be so important when documenting subcultures, and if you can't be bothered to do the research, leave it to the experts. Some of the feedback on Twitter has been people saying we need more black-owned media platforms, and while I'm very much for that and feel it's super necessary, I don't think it's the full solution—it's more about having full-time staffers with a deeper understanding of our culture sitting in seats at these esteemed publications.
Black music should be handled with just as much care when critiquing as if it were a white pop act or an indie band, and with black music running the world right now, that extra bit of care should be taken at all costs.