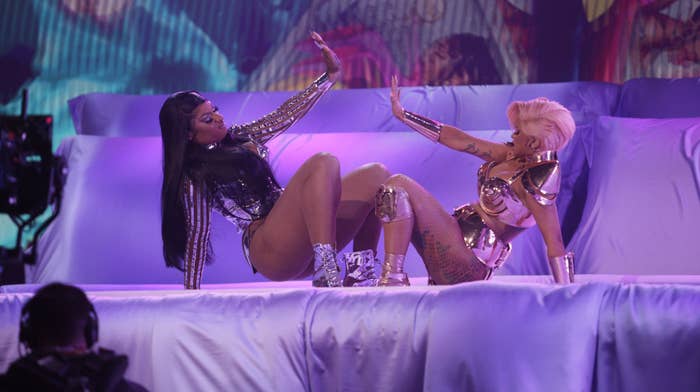 A copyright infringement lawsuit against Megan Thee Stallion, Cardi B, and others has been dismissed by a federal judge who denies the claim that certain NSFW terms in songs, like "WAP" and "Thot Shit," were copied from the plaintiff.
U.S. District Judge Andrew L. Carter wrote in his dismissal, obtained by legal affairs journalist Meghann Cuniff, that use of the phrase "pussy so wet" is "neither original or unique to the Plaintiff," as this expression is "employed frequently in popular culture and other Hip-Hop songs."
In the suit, Denise Jones, who performs under the stage name Necey X, alleges she created the song "Grab Em by the Pussy" on Dec. 8, 2019 following a failed partnership on an assisted living center with Mathew Thorpe. Jones claims she severed ties with Thorpe because he "couldn't hold up his end of the contract."
Jones, who was representing herself, alleges Thorpe is the father of Jorden Thorpe, who is also named in the lawsuit. Even though the suit spells his first name as Jorden, she's apparently referencing Megan's ex-boyfriend Pardison Fontaine by his real name. A footnote in the dismissal acknowledges the defendants' argument that Jones was not dealing with Pardi's actual father, but accepted the claim as truthful since it's "required for the purposes of this motion."
As you may have noticed, her lines and the ones that were allegedly copied are almost never similar.
The judge made note of that in his dismissal, pointing out that the phrases are "plainly different" and even if two words were identical, someone "cannot exercise a monopoly over this two-word phrase."
Jones accuses Megan and Cardi of copying lines from her song and using them in "WAP" and "Thot Shit." For example, her line reads, "pussy so wet I got that n***a wild'n," while the bar in "WAP" is "it's that WAP, WAP, it's some wet ass pussy."
Another example is her line, "I got that n***a wild'n," which she claims was used for "why you in the club with n***as wildin'" in "Thot Shit."
Here's a rundown of the other lines she claims were taken from her.
Jones also alleges Megan and Cardi, along with the other defendants named in the suit, were mocking her with "WAP" since the cover art and song title were inspired by the 1997 film B.A.P.S. The perceived slight was taken from Jones' claim that her stage name is based off Halle Berry's character Nisi in the movie.
In other Cardi B and Megan Thee Stallion news, the two are reuniting for the new single "Bongos" this Friday.