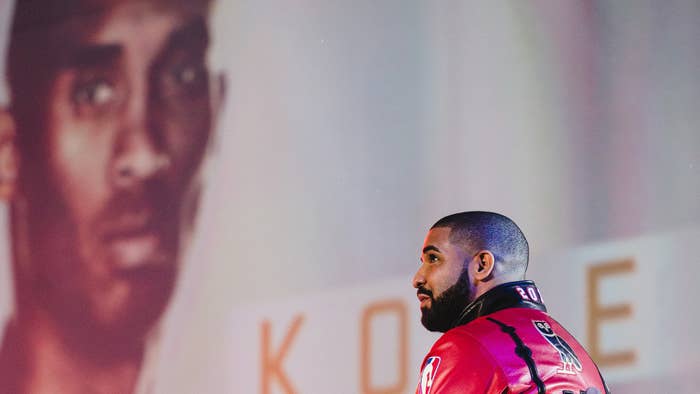 Drake shared a story about the first time he met Kobe Bryant while onstage Wednesday during the It's All a Blur Tour at Crypto.com Arena—formerly known as the Staples Center, which the late NBA legend called home for two decades.
The Toronto native recalled flying out to Los Angeles to meet with Lil Wayne on his tour bus and sign his record deal. Wayne was eager to play his then-upcoming album Tha Carter III for Drake, but they needed to wait for a third person to arrive.
"When I had to move away from home, move away from my mother, move away from my friends, the first place to ever take me in was Los Angeles, California," Drake said, as seen below. "And I'll never forget, in my life, the day I got flown out to get signed, right? I was on Lil Wayne's tour bus, I'll never forget. And he told me, he said, 'Man, I got this album coming out. It's called Tha Carter III. I want to play it for you, but we gotta wait for somebody to get here first.'"
After a suspenseful wait, Bryant showed up on the tour bus, met Drake for the first time, and the trio listened to Tha Carter III together.
The 36-year-old said the story was an example of how he's "been through a lot of things" with the city of Los Angeles, and wanted "to pay all my respects and all my love to you in the right way."
Kobe would have turned 45 years old today. His wife Vanessa Bryant posted a series of photos of the two of them together on Instagram, along with the caption, "Happy birthday, baby. I love you always & forever."
According to the Los Angeles Times, the Ferris wheel at Pacific Park on the Santa Monica Pier will honor Kobe on Thursday, Aug. 24, which represents the two jerseys, No. 8 and No. 24, worn by the NBA Hall of Famer during his 20-year career. The Ferris wheel will be lit up in the Lakers' colors of purple and gold with his two numbers on display.
According to People, Drake urged the crowd to make noise for Kobe after receiving his jersey during his first show at Crypto.com Arena.