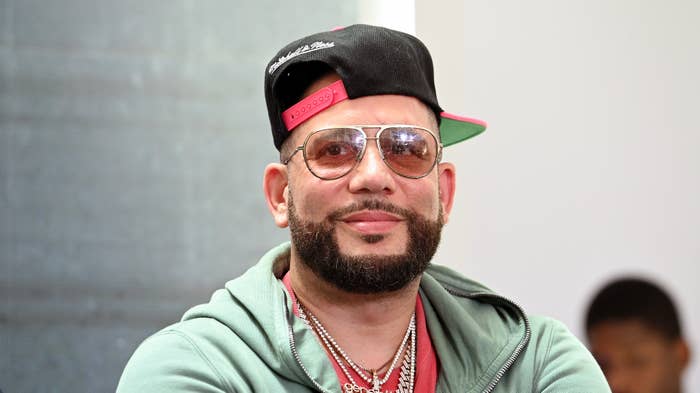 DJ Drama discussed his opioid addiction and sobriety on a recent episode of the Broken Record podcast.
Drama revealed he first checked into rehab "right when Covid hit" in 2020 and came out a few months later. The 45-year-old said he managed to stay clean early on because of the continued shutdown throughout the United States due to the pandemic, but he relapsed toward the end of 2020 once things started to open back up.
The Gangsta Grillz pioneer recalled nearly overdosing at his Atlanta home, shortly before he was scheduled to shoot scenes for the Netflix film You People. Drama was taken to the hospital, but allowed to leave after a nurse spoke with a coworker about his presence in the facility.
His time on the set of You People became a blessing in disguise. Following a heartfelt conversation with Jonah Hill about his struggles with addiction, Drama was convinced him that he wanted to get clean.
"I used to tell [my therapist] Amy all the time, 'My biggest fear is ending up like Michael Jackson or Prince...if it can take the lives of Michael Jackson or Prince, who the fuck am I? That was always my fear."
Prior to embarking on the Vinyl Verse Tour with Wiz Khalifa and Logic in 2022, Drama felt like being on the road would give him three unfavorable options. He would either go on tour and buy an abundance of Percocets, go without them and deal with withdrawals, or run the risk of buying drugs from potentially shady dealers.
With that in mind, DJ Drama checked into rehab.
As he approached six months of sobriety, Drama was asked by Shanti-Das Healing to tell his story.
Looking back at his opioid addiction, Drama remembered how it all started with a 5-milligram Percocet. After several months, he had transitioned into over 100 milligrams. He revealed that he would take 30 milligrams in the morning, another 30 in the afternoon, and "three 30s and a 15 to fall asleep."
His heavy opioid use came at a great cost. "I know how easy it is for it to become a problem," Drama said. "It's scary. The scariest part and the most dangerous part is that it was a five-to-six thousand dollar a month habit I had."
"I was spending close to six figures a year on opioids," he added. "I was in a position where I could afford the type of habit of doing that. The average person can't do that. The next step after opioids or not being able to afford consistent Percocets is heroin."
Even in the throes of addiction, Drama considered himself a "functional junkie," recalling how he hid it from Tyler, the Creator while working closely together on 2021's Grammy-winning Call Me If You Get Lost.
When asked what keeps him going with his sobriety, Drama said he looks forward to the 22nd of every month, so he can celebrate another month of staying clean. He will celebrate his 14th month of sobriety this weekend.
Those seeking substance abuse treatment and mental health referrals can call the Substance Abuse and Mental Health Services Administration's (SAMHSA) National Helpline at 1-800-662-HELP (4357), and visit their site here.