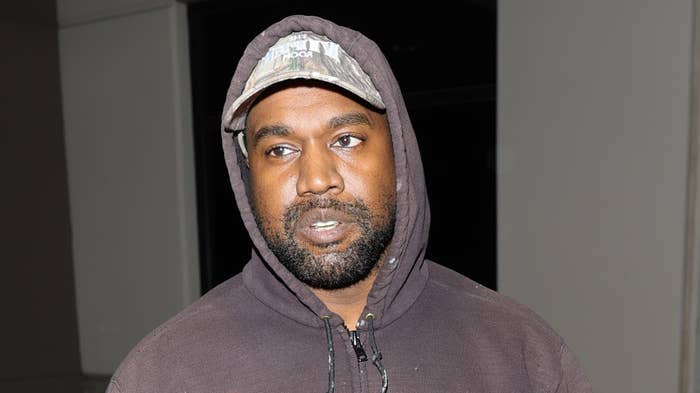 As more and more people distance themselves from the artist formerly known as Kanye West, an anti-Semitic group unabashedly showed their support for Ye with a banner that hung over the 405 Freeway in Los Angeles on Saturday. 
Oren Segal, vice president of ADL Center on Extremism, shared a photo on Twitter showing seven people delivering a Nazi salute as they stand near a banner which reads, "Kanye is right about the Jews." Another sign read, "Honk If You Know." 
The Anti-Defamation League considers the white supremacist group, which shall remain nameless, to be aligned under a common goal to "cast aspersions on Jews and spread antisemitic myths and conspiracy theories." 
West has come under fire following a series of appearances in which he delivered anti-Semitic remarks after vowing to go "death con 3 on JEWISH PEOPLE" on Twitter. In a baffling interview with Piers Morgan, Ye refused to apologize for his previous comments before expressing remorse towards "the people that I've hurt," ascribing his behavior to being hurt and trying to do the same onto others. 
In light of his remarks, Vogue's famed editor-in-chief Anna Wintour has decided to cut ties with West, and Balenciaga has reportedly done the same. George Floyd's family has also filed a $250 million lawsuit against him for falsely claiming on the since-pulled Drink Champs podcast episode that Floyd didn't die at the hands of the Minneapolis police officers, specifically Derek Chauvin.