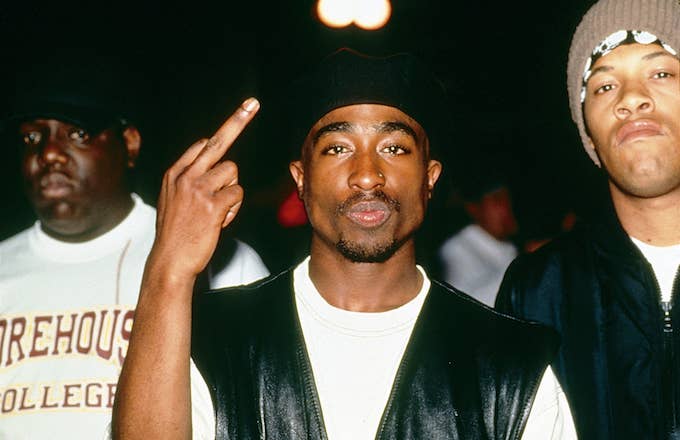 The Manhattan screening of All Eyez On Me, one week before the film's debut, has an eerie tinge. This viewing for media and tastemakers is taking place at Magno Screening Room, a facility located just three doors down from Quad Recording Studios, where Tupac Shakur famously survived five bullet wounds in 1994. It's a geotag that adds some realism to a mostly true-to-life biopic that features a convincing performance of the fabled rapper via newcomer actor Demetrius Shipp Jr., and an outstanding portrayal of Afeni Shakur by Danai Gurira (best known for playing Michonne on The Walking Dead).
All Eyez On Me is a thorough look at the life of hip-hop's most iconic figure. The Benny Boom-directed movie packs 25 years of pain, triumph, poetry, thug life, controversy, and cultural domination into two hours and 20 minutes of cinema. It's ambitious in scope, but still, several of the moments that added to 'Pac's legend (i.e. spitting at news reporters) are curiously left out. With All Eyez On Me in theaters today, Complex sifted through the film to find the most glaring exclusions.
Filming Poetic Justice
While Juice, Above the Rim and Gridlock'd are all accounted for in All Eyez On Me, Tupac's principled loverboy role in 1993's Poetic Justice—and all of its off-camera drama—is conspicuously absent. As reports tell it, co-star Janet Jackson asked that the actor/rapper take an HIV test before they filmed a kissing scene, a request that Pac vehemently denied. (Director John Singleton told Vibe in 2011 that it was a contrived publicity stunt.) Elsewhere on set, an extra reportedly trolled the movie star by calling him "Four Pac"; afterward, Maya Angelou lectured Tupac to tears.
The Storied Clash With the Hughes Brothers
Tupac was originally cast to appear in the 1993 classic Menace II Society, but was fired for causing problems on set. The dismissal reportedly led to a fight between Tupac and directors Allen and Albert Hughes. Tupac proudly confessed to the altercation on a 1994 episode of Yo! MTV Raps. "They fired me, but did it in a roundabout punk snitch way," Pac said, heated. "So I caught them on the streets and beat they behind." The music video show's footage was later subpoenaed and used to sentence Pac to 15 days in jail for the assault—although the twin directors remember it differently. "It was me and 12 Crips that he got to jump me," Allen Hughes told Vibe in 2009. "He didn't do shit." Either way, the incident is left out of All Eyez On Me.
His Time Dating the Queen Of Pop
Now the stuff of hip-hop mythology, Tupac Shakur and Madonna were once romantically involved, a point that is overlooked in the biopic. The megastar singer/actress opened up about their relationship during a 2015 interview with Howard Stern. "One time, I was mad at [Letterman] when I said the f-word a lot—I was in a weird mood that day," Madonna said. "I was dating Tupac Shakur at the time and the thing is he got me all riled up on life in general." Pac's friend and actress Rosie Perez later admitted to hooking the two celebrities up at the 1993 Soul Train Music Awards. 
The Uncanny Rhyme He Recorded Before Being Shot at Quad Studios
Prior to the infamous Quad Studios shooting, Tupac laid one of his most clairvoyant 16s—and it's completely omitted from All Eyez On Me. The cash-strapped MC dropped a free verse for DJ Ron G in Harlem hours before he was shot, but the session was cinematic in its own right. Ron remembers that Pac seemed stressed as he was fielding phone calls about his whereabouts. When Pac finally laid his rhyme, which would later grace the posthumous Big L collaboration "Deadly Combination," his verse suggested paranoia: "I think niggas is tryin' to kill me/Picturin' pistols, spittin' hollow points 'til they drill me." It'd be the perfect prelude to a pivotal scene that changed everything, but the session didn't make it into the script.
His Marriage to Keisha Morris
The man who made "I Get Around" tried to settle down while he was locked up. In 1995, Pac married his girlfriend Keisha Morris at New York's Clinton Correctional Facility; Morris told The Source in 2000 that it was a loving, but partially strategic move intended to better allow her to handle the rapper's business matters. While the union was brief—they divorced the following year—it was eventful (their hotel room once caught fire). But it's not surprising that the marriage is altogether overlooked in All Eyez On Me, as Morris has rarely done press after being unhappy with her depiction in the 2003 documentary Tupac: Resurrection.
The Full Scope of the East Coast/West Coast Beef
While Biggie and 'Pac—and to a broader extent Death Row and Bad Boy Records—are clearly pitted against each other, the film doesn't depict the totality of the media-fueled East Coast-West Coast rivalry. You don't see Tupac trading shots with Mobb Deep or Jay Z ("Chino XL, fuck you too!"), or eventually squashing his beef with Nas in Central Park after the 1996 MTV VMAs. And there's no reproduction of the "Hit Em Up" music video (casting a phony version of Gravy, who is already a phony version of Big, to mock Big, would be way too meta). It's all likely an artistic choice out of respect for the beef's tragic outcome or as not to overshadow the significance of Tupac's life, but the direction reeks of Hollywood shellac.
His Rigorous Studio Work Ethic
All Eyez On Me pictures Pac's perfectionism in a scene in which he obsesses over the mixing of his debut solo single, "Brenda's Got a Baby." But the prolific recording process that provided enough material for seven posthumous albums goes unexplored. It would've been interesting to witness a recreation of Tupac's diligence in the studio—the work ethic of a man who knew his days were numbered.