Getting To Know Adekunle Gold, Nigeria's Afropop Treasure
After jet-setting around the world with his signature Afropop sound, all whilst working through COVID-19 restrictions and delays, Nigeria's Adekunle Gold...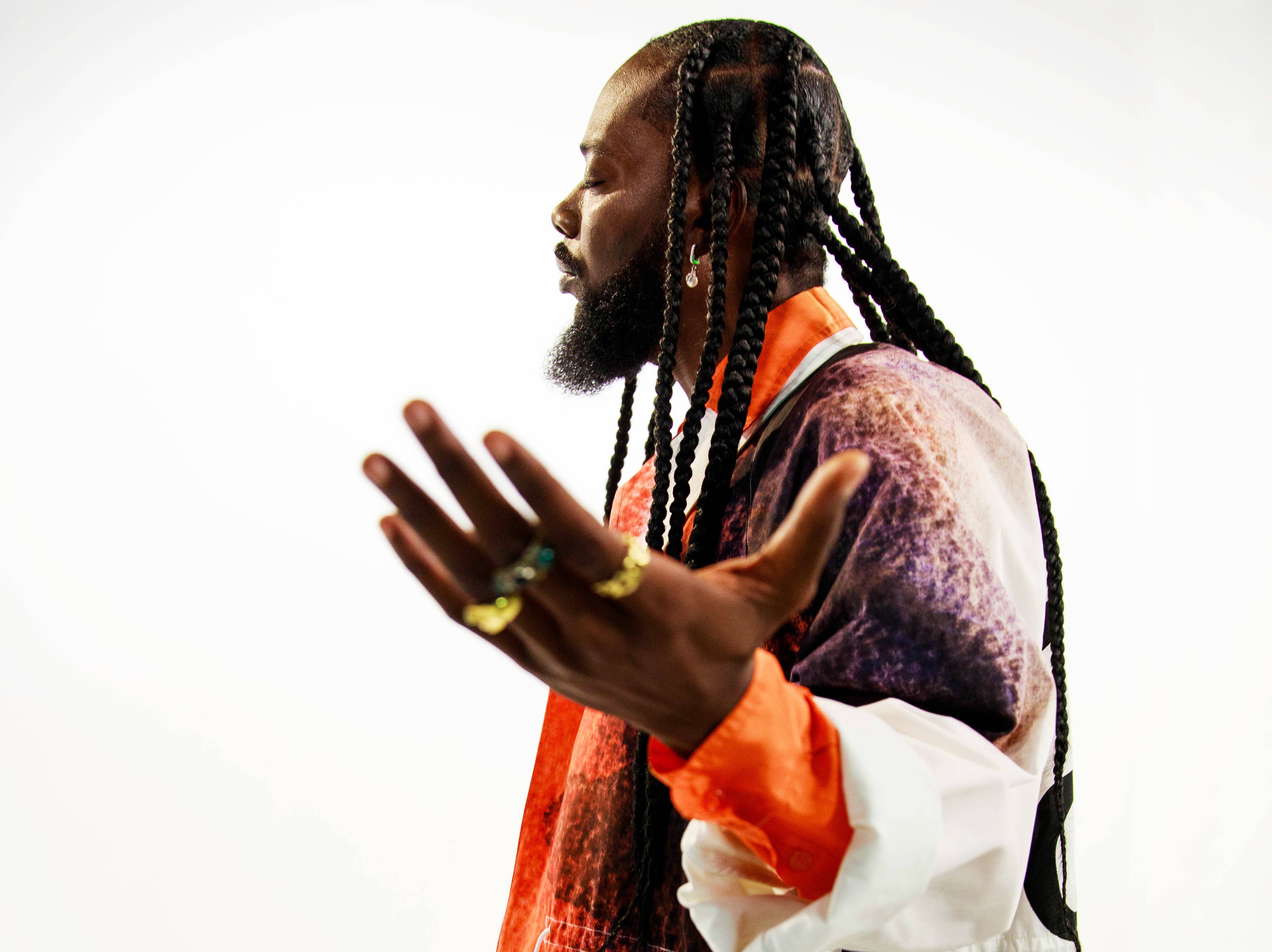 Publicist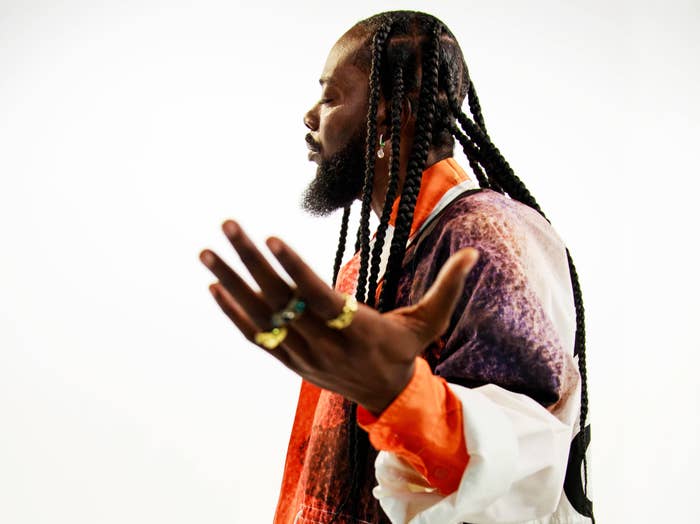 After jet-setting around the world with his signature Afropop sound, all whilst working through COVID-19 restrictions and delays, Nigeria's Adekunle Gold is back with a story to tell. "Being on the road was fun," he tells me with excitement in his voice during on our call. "I'm comfortable now, and I feel like I'm where I'm supposed to be."
It's clear even from the onset of our conversation that this two-year journey since his Afro Pop Vol. 1 album dropped has been one of self-discovery, experimentation, building confidence and trusting his musical instinct. AG has this palpable sense of relief as he talks through what it took to get his new music ready to release. It's safe to say his new album, Catch Me If You Can, is an accumulation of the sonic flight mileage points he's earned touring cities and states across Africa, the US and the UK. "The valuable things that I learned while I was on the road, I put it all into this album," he says. The singer-songwriter also managed to connect and work with some of the world's biggest artists for the project, with everyone from Davido and Ty Dolla $ign to Stefflon Don and Lucky Daye featuring on the 14-track set.  
Since the mid-2010s, Adekunle Gold—with his otherworldly vocal tone—has been known for his distinct, mellow vibe and hard-to-miss "AG baby" tagline that christens every tune. His sound is soulful Africa: melodies with a heavy reliance on traditional percussion, alongside a penchant for the bass guitar, sax, and untainted storytelling, which can be heard as far back as on 2016's Gold album. His latest offering, however, is leaps and bounds ahead of what you might expect from Adekunle and what he does so well.
Upon listening to the album and hearing AG speak about the creative process behind it, it's clear that he's unlocked a new level to his artistry. We caught up with the main man for a chat about his musical progression, and the importance of listening to your own voice.
"I don't have the energy to act for anybody anymore. I talk less now, for some reason, and I just put all of my energy into my work and my family."
COMPLEX: It's been two years since you released Afro Pop Vol. 1 and cemented a groundbreaking sound. Is Catch Me If You Can a continuation of that?
Adekunle Gold: With Afro Pop Vol. 1, I was trying something new. It was very experimental. I was trying to prove a point with that album, like: "You know what? I'm a songwriter and I can make pop records as well." Coming from making a Highlife album twice in Gold and About 30, with Afro Pop Vol. 1, I wanted to do something entirely different and prove a point, but I won't say Catch Me If You Can is a continuation of that. Catch Me If You Can is my current vibe; it's how I'm feeling right now. It's pop, with a bit of soul, and a little Highlife in there. It's an entirely different album on its own.
What changes in your personal life would you say have influenced this new creative approach to making music?
I started prioritising my peace, and made it a point to listen to myself more and whatever comes naturally. Like, I don't have the energy to act for anybody anymore. I talk less now, for some reason, and I just put all of my energy into my work and my family. Anything that isn't serving me can take a backseat. I've become a lot more daring with my sound. Whatever I'm feeling, I just say it. I'm finally free to say whatever I want to say, without fear of being criticised or wondering if people will like it. I live an exemplary life—to the best of my ability—but I also don't want to be pressured to live a certain life, so I'm just doing me.
But I'll be very honest with you: for the most part, when I first started making music, I didn't even have the balls to say a lot of things that I wanted to say in my head, but I'm growing now and I no longer have a filter. Sorry to disappoint anybody [laughs]. For example, with a song like "Fye", that's my nastiest song ever. Before now, I would've been afraid to put a song like that out, but now, it's liberating. I don't want to hold back on anything. If I feel it, I'll say. Like I said before: no filter.
Even during the pandemic, you managed to tour and travel quite a lot. Is this album inspired by anything you saw or experienced on your travels? 
I made Catch Me If You Can in the U.S. while I was on the road. I think I wrote most of the songs there—at studios in LA, some at my house—and I made some in Lagos as well. I was touring and going to different cities and I always have my mobile studio with me; that's one of the things that I have to have on tour with me. Even if I'm going somewhere for just one day, I have my studio with me because I don't know when I'll get inspiration and put something down. While I was in America, I was in a studio with different producers and they all challenged me sonically. During my travels with my boys, anything that came to me, I just put it down on a song. If I see things that strike me, I want to talk about it on a song. Every night we were playing different cities in America and then came back to Africa and went to Tanzania, to Kenya and to Rwanda—and it was fun! It was an amazing run for me, and the peace I got and the things that I learned was put into Catch Me If You Can.
What was the process of completing this album like? I was told you pushed a couple dates back to perfect things…
It's always a madness putting together a project of mine. I started making this album in 2020 and I had no idea what I was going to call it at that time, but I knew I wanted it to be what I was feeling at the moment. I wrote so many songs and it was tough picking the final 14. It was even supposed to be out in September 2021 but, as always, I wasn't really satisfied and I didn't really feel like I had emptied myself yet so we pushed the date back. I'm happy that I got it into rooms with different producers, though. I was very involved in the production side of things.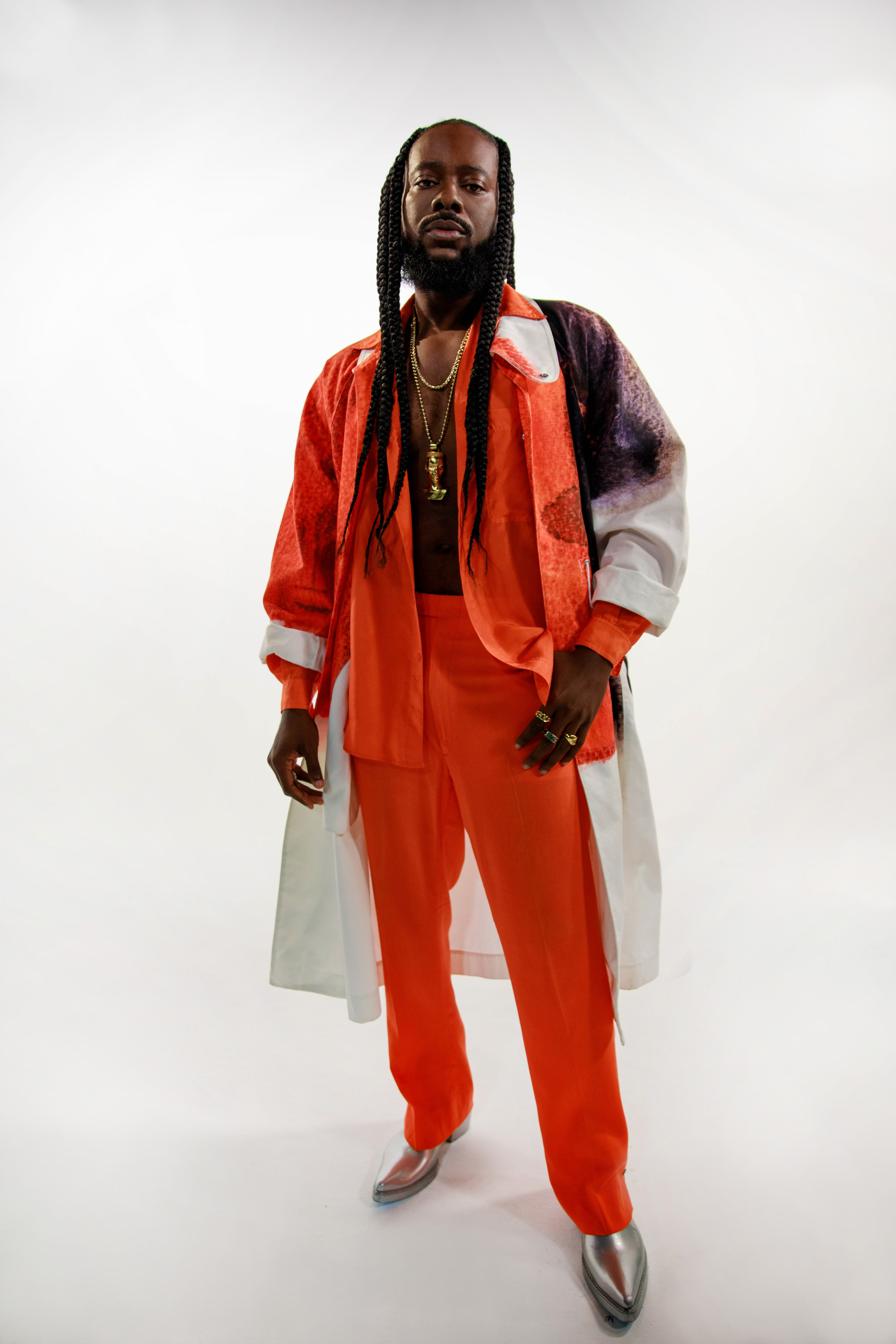 What was your favourite part: working closely with the producers? 
My favourite part of making this album… I don't know, but I do know that I enjoy writing and I enjoy thinking about my rhymes, especially. I love to play with words. The part that I don't look forward to is getting in the studio, as I like being in the comfort of my own room—just chilling, writing and creating music at my own pace. I don't like to be rushed at all. For example, a song like "High" took me 7 months to finish after I'd written it. I just like to take my time.
It's obvious you appreciate traditional percussion instruments, and a mix of genres native to your roots. I know you mentioned that you loved working closely with the producers, but to what extent? Were you almost like an exec producer to the producers too?
I'm always very involved in the production process. I tell my producer friends what I want to hear. I tell them I want to hear a guitar there, a bass line there, a saxophone there. I have visions for each song and I tell them how I want it to sound. I wish I could produce but then I don't think I want to learn because I'd never sleep [laughs].
Your voice and chilled tempos are hard to miss. How would you say you've developed your distinct sound, and are there any artists in particular—new or old—that inspired or helped in that development?
Growing up, I listened to a lot of Highlife and juju music, a bit of Fuji and a bit of apala. They are all beautiful sounds from Nigeria, and they influenced my writing in the very beginning—but I always wanted to make pop records. I always wanted to write pop songs, but I didn't get the hang of it and didn't understand it as much. When I released Gold, it was Highlife because that's what I was enjoying and that's the only thing I knew to do then, so it's no surprise that it was my first offering. As I grow, I'm challenging myself to learn new approaches and new ways to just do this music thing. My voice is still distinct—even if I decide to rap tomorrow, my voice is my voice—but the music I listen to plays a huge role in the type of things that I write. In 2019, 2020 and 2021, I listened to a lot of Post Malone and you can kind of hear it. So yeah, I was listening to him, Bazzi, and some other incredible artists. 
Which song on the album resonates with you the most? 
There's too many! I know I'm supposed to have an answer here, but I can't do it to myself [laughs]. I love "Sinner", I love "High", I love "Mercy", I love "Sleep"… Okay, I'm attached to "Sleep" because it's the sound of it is what I really envisioned. It's everything I ever dreamt of before I even made it. Shout out to Tay Iwar; I knew he was the guy who would understand what I wanted. We got in the studio and it just flowed. That's up there as one of my favourite songs on the album.
You've got some big features on the album, too.
I'm happy for my collaborations all the time. Stefflon Don, Fatoumata, Ty Dolla $ign, Foushee, Lucky Daye and, of course, Davido—they all played a huge role in the songs. They all really came through for me, so shout out to every artist on this album.
Can we look forward to catching you on tour? 
I plan to go everywhere, man. Everywhere the money is, everywhere my people are. Let's sing this album to each other! Let's yell at the top of our voices! My plan is to do an African tour and a world tour, so stay tuned.