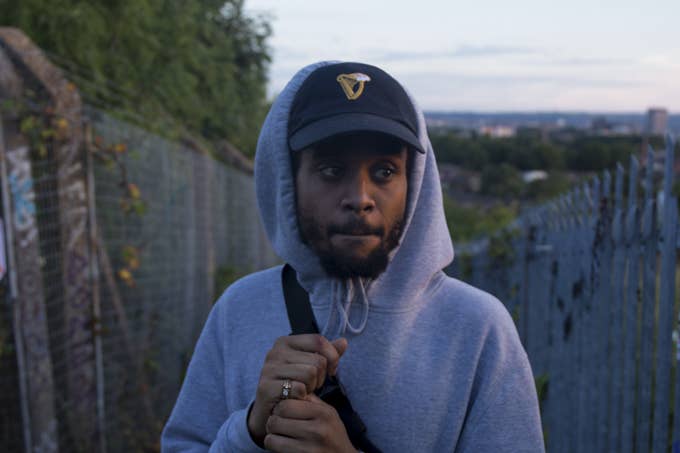 Ever since his outstanding Coyote Records debut Stealth in 2013 (and the subsequent split 12" with Chemist), OH91 has been one of the most favoured producers when it comes to grime instrumentals. Often tapping into grime's heritage — as well as some of the sounds that came before it — OH91's productions are driven by everything that makes for an emcee-ready riddim. New number "Shuttle", for example, nails the less-is-more approach with a snappy beat, screeching sirens and a taut string section. It's menacing and eerie, but admirably restrained. And look out for a remix from Wiley's favourite Dutch producer, JLSXND7RS​, on the flipside.
Ahead of the single's release on Oct. 13 via Coyote Records, we grabbed OH91 to fire some quick questions at him about his journey so far and the lessons he's learned along the way.
People connected with your music pretty much instantly (e.g. the Chemist split 12" selling out immediately) — why do you think that was?
To be honest, I think it was more the tunes, because they're both classics but even then I didn't expect them to sell out. Like, imagine I had a set with Novelist earlier that year and towards the end of our set I played "XTRA91" for the first time ever and everyone was like, "What the fuck is this?!" Lemzly Dale was there too and he was like, "Yooo when did you make this?!"
What do you look for in a producer when you're selecting someone to remix one of your tracks?
Well, for me, it just has to bang, as in it has to have that feel when you play it out for the first time, or even just when it gets aired for the first time on radio. It's just gotta have that remix touch.
How do you think your sound has developed since you started?
I was having a conversation with my bredrin Shamz about this the other day and, to be honest, I'm not sure. I don't like to segregate my production style into just one box, so I wouldn't say developed is the right word really, because I like to make all sorts of music.
What's the most important/valuable lesson you've learned since you started making music?
Boy! It would be from when I was yout going into Rooted Records in Bristol and seeing man like Peverlist behind the counter. He always said one thing to me which stuck with me, especially with my productions — "Omari, it's not what you use, it's how you use it." When he said that, I remembered it straight away and it'll stick with me forever, still.
Plans for the future? 
More vocal releases incoming, finally! And another tour, as well as just putting out new music for everyone to enjoy.
Shuttle is out on Oct. 13 via Coyote Records. Pre-order it here.