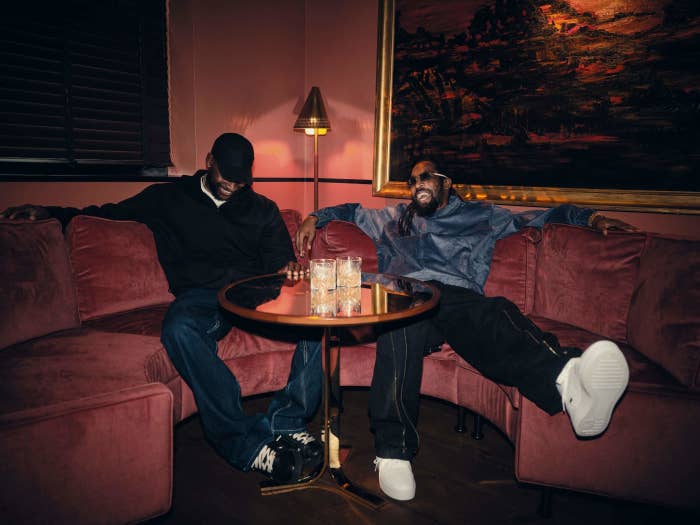 Last month, it was announced that a massive IKEA in North London was going to buck trends and be transformed into a sprawling, 150,000 square-foot megaclub called Drumsheds. It was the talk of the timeline as we all tried to guess who would be booked to fill such a vast space.
They have since filled out their caterpillar-themed website with a schedule to take us through to the end of the year, including nights curated by Bicep, Piano People, Worried About Henry, and for the final event before Xmas: Skepta and Jammer's Más Tiempo.
Ever since their debut at Circoloco in Miami last year, the Más Tiempo brand has stuck largely to house music—particularly deep house—but the list of DJs they've got booked for Drumsheds on December 16 looks to cover a bit more ground. Of course, there's every chance they'll all draw for more house selections, but the inclusion of names like DJ EZ, DJ Q and Green Velvet suggests a little more variation.
As with all the Drumsheds line-ups, there's a lot going on. Spread across the new venue's three rooms—simply named 'X', 'Y' and 'Z'—it's a pretty even spread of old friends, house heavyweights, and underground talents. As well as Skepta and Jammer spinning on the night, they've got 20 more selectors on the bill. That's a lot to see and, given how these things normally go, a lot to miss out on when you get sidetracked in the smoking area.
To stop things getting overwhelming, we've picked five essential sets you really shouldn't miss at the event. Dive in below.
---
This summer saw DJ Q reconnect with Flava D and Royal-T to focus their efforts on their work as TQD, but that's still left him plenty of time for his own pursuits. Just a few weeks ago, for example, he turned in a silky bassline/4x4 reworking of T.Williams and Terri Walker's 2010s house groover, "Heartbeat", and then there's his work with Toddla T and Bradford barrer S Dog on the brash and boisterous "On Heat". All that is to say, he's busier than ever, but also that he's still pushing himself into as many different territories as possible.
Going B2B with G33 should play to that same sense of adventure. As one-quarter of the all-powerful Girls Don't Sync set, G33 has long since proven her mettle as a multi-genre selector. Never really sticking to one style or sound, her sets (and those of GDS) switch from garage to rap to funky to house music to pop to bassline and the energy levels are always sky-high. Even before she connected with the other three, the Liverpudlian was a force of nature. What combination of sounds the two could bring out of each other remains to be seen, but it won't be dull.
---
There's a reason it took Jordss just five quick years to rise up from aspiring DJ getting paid in beers to one of the fashion industry's most sought-after vibe suppliers. The Ealing-raised selector has one of the sharpest instincts in the industry; her sets are raw, but precise, tough yet soulful, and the absolute cream of the multi-genre crop.
At their heart, Jordss' DJ sets are built on the foundations of her Caribbean roots, mixing soundsystem culture with her famously huge bag of R&B edits. There's a lot more to her record bag than that; if you've caught her alongside any of the women and non-binary DJs in the Girls Can't DJ collective she runs, or if you've tuned into her thrill ride radio show Black Joy Archives on NTS, you'll have at least some idea of the breadth of her record bag—and it's that versatility that's made her such an easy fit on just about any line-up.
---
Continental GT's star has been on an almost vertical rise these past few years. From livestreams at home to commanding bigger and bigger rooms up and down the country, to Ibiza and the Middle East, there's been almost no downtime at all for the Birmingham DJ.
A textbook example of making your own opportunities, GT was quick to get himself back in the club once things reopened in 2021, kicking off his ongoing STEPPERS club night with himself in the headline spot. Between that and the monthly Rinse FM show he helms, specialising in UK funky and house music, it's drawn more and more bookings his way.
Those of you clued up on your Channel U and pirate radio history might know him for his garage-rap roots. Though his sound's moved on a bit since then, that same bassy energy is still a central part of GT's sets.
---
Todd Edwards' rapturous reception at the 4by4 night at Time & Envy in Romford is, of course, the stuff of UK garage legend. 20 years later and he's no longer the bag of nerves he was that night and he's a bit more comfortable in his legendary status, but despite the praise still heaped upon him all these years later, he still approaches every set as if it might be his last. Now based in LA, he's still a regular fixture in UK clubland, making the transatlantic trip several times a year, but a Todd Edwards DJ set is still a treat to be savoured.
More often than not, his sets tend to be a cocktail of house, garage and bassline. The tough, jackin' element that made his earliest house productions and DJ sets such an inspiration to the UKG scene can often be heard, too. Regardless of what he's playing, the kickdrums still thump through your chest cavity and that soulful, gospel-inspired edge he uses to offset the heaviness is still very much his trademark. Whatever Todd draws for on the night, that rough-and-smooth contrast is more than likely to be its beating heart.
---
That brings us to DJ EZ, the Nike cap-sporting legend who booked Todd Edwards for that fateful Romford gig all those years ago. EZ's history with Skepta is almost as long. Primarily known as a garage DJ—scratch that, the garage DJ—his sets often feature at least one Skepta tune or acapella, usually thrown in to get the crowd amped with a singalong.
At Glastonbury in 2015, he went even further: tapping into the whirlwind of hype surrounding grime's renaissance and the recent release of "Shutdown", EZ filled his set with half a dozen Skepta bangers old and new, none of them getting past a couple of bars without a reload. Arguably even better than that, though, came a few years earlier when Skepta and EZ brought in the New Year (2011) together at Z Uncut.
Skepta and Jammer are unlikely to pick up the mic at Drumsheds, but that hardly matters. EZ on his own is a spectacle unlike any other. His marathon sets are the stuff of legend, spanning house, garage and bassline (and always with the possibility of a bit of D&B or grime to keep you on your toes), he's the undisputed master of balancing technical ability and instinctive crowd-reading.
Whether he's on deck for one hour or 24 hours, you won't want to miss a second of it.