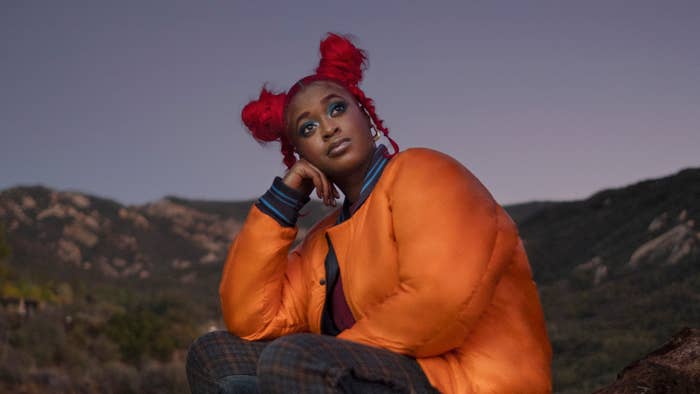 Nearly five years after her debut album Whack World, fashion-forward rapper Tierra Whack is still making moves.
The 27-year-old Philadelphia rapper made a bold and memorable entry in 2018, and has released four projects as we await her sophomore album. She was also recently tapped for the Canada Goose x Union LA line released in collaboration with the NBA for All-Star Weekend. The line features SoCal-influenced looks from the luxury performance brand. In promotional spots for the campaign, Tierra rocks bright red space buns, adapting to various outdoor scenes with basketball as the focal point. Highlighting a playful and bright aesthetic, the nature of the collaboration aligns with Tierra's signature eccentricity.
Tierra, an admitted part-time athlete who began playing basketball in junior high and was a top scorer in high school, returned to the competitive pastime in 2020. While most were drained at the height of the pandemic that year, returning to basketball helped Tierra gain endurance and shaped a much-needed routine for the Grammy-nominated artist.
"When I go in the studio, sometimes even after the gym, my stamina is on a thousand. I guess the cardio just pushes me to release," she tells Complex on the phone; the artist is getting settled in the studio when we speak. had just arrived at the studio.

Music-wise, the quirky and unpredictable artist has kept busy, too. In the last two years, Tierra has released a three-set series of EPs: Rap?, Pop?, R&B? Additionally, she received a name-check on Beyoncé's "Break My Soul (The Queens Remix)"; was a supporting act on Tyler, the Creator's Call Me If You Get Lost Tour on Australia and New Zealand dates; and retracted her plans for early retirement. The artist, formerly known as Dizzle Dizz, appeared on the 2022 Minions: The Rise of Gru OST on a Jack Antonoff–produced cover of Fleetwood Mac's "Black Magic Woman" and assisted The Roots and Erykah Badu on their upcoming collaborative single "Misunderstood," too—all while releasing her fan-favorite freestyles to social media. Tierra hasn't left the game; instead, she's only further evolved her multi-hyphenate flair, partnering with brands like Banter, Vans and Lego without compromising her one-of-a-kind style.
On the year of hip-hop's 50th anniversary, she says "Hip-hop was born on Aug. 11, which is my birthday. So I just always felt like it was meant for me to do this."
Occasionally an internet humorist—even bringing the laughs IRL for Philadelphia's Whack A** Comedy Show last November—Tierra's forthcoming release is sure to be just as quirky as the technicolor surrealism of Whack World. Though Tierra remains hush on the details of her next project, she confirms that it'll be a testament to her continued versatility through diverse genres. These days, Tierra's finding inspiration from close friend Lil Yachty, who released the experimental album Let's Start Here earlier this month.
Tierra Whack spoke to Complex about her Canada Goose x UNION campaign; advice she's gotten from former tourmate Tyler, the Creator; what fans can anticipate from her Whack World follow-up; and more.
This interview has been lightly edited and condensed for clarity purposes.
What excites you about hip-hop currently?
I like the diversity. It's not just one style. Everybody's just doing whatever they want to do. It's no box. I was in the studio yesterday and I was talking to an intern, and she was saying that it was an artist that was coming and recording. I was like, "I want to look him up. How would you describe his style?" She's like, "Well, I really can't. He raps but he sings a little bit, too." I just thought that was so cool. Now that I'm talking about it, I have to check his music out.
You're known for having a whimsical fashion sense that the public first became familiar with on Whack World. What elements of your style have changed since 2018?
I feel like I'm still the same exact person, honestly. Besides everyday life [and] maturing, I think I'm still the same. I was in the studio last night and we made some stuff and it was like, "Oh this feels like when we were at this studio six years ago." I'm still me to the core.
What are your thoughts on Pharrell Williams joining Louis Vuitton?
Yoooo. That's so crazy. I haven't been able to meet Pharrell, and I'm really pissed about that. I mean I did Something in the Water [in 2022], but I gotta get in the same room as him. That's gonna be a blast like I can't wait to see what he puts together. I trust him. I love him. It's gonna be amazing.
What do you hope that he brings to the company?
I'm going to be satisfied with whatever. Pharrell has never ever left me unsatisfied. It's just like, whatever he wants us to wear, we're gonna wear. He sets the trends. I trust his ear, his sense of fashion, the whole nine.
What made you interested in partnering with Canada Goose and Union LA when you were approached about their NBA All-Star collection?
Recently, like the past two years, I've just been tapping back into basketball. I play at least two or three times a week. So anything basketball, my team knows to let me know. So that was just first for my love of basketball and sports. I was just so excited. I've always been a big fan of Union and of course Canada Goose, so I mean, it just was a no-brainer.
So you're a basketball enthusiast and occasionally still play basketball. How do you think sports have played a role in your music?
So when COVID first hit, the world was on lockdown. We had to literally sit still and I kind of became stressed and depressed. I think the whole world was just like, "What is going on?" Slowly but surely, when things started to open back up, I was like, "I got to get some action, some motion. Like, I got to do something." I always have my basketball in my garage and I just started dribbling one day, and I'm like, "You know what? I should call up some of my friends and see if they want to get together to hoop." We started to do it, and we were all so out of shape but stayed on it. Now we look up and it's three years later, and we're so good and it's so fun. It's something we look forward to every week.
So it's just really good to just have a routine, because like I said with lockdown, with the pandemic, it's just everything was in shambles. So basketball just helped me get back and to feel something and then [was] also like a stress reliever. So when I go in the studio, sometimes even after the gym, my stamina is on a thousand. I guess the cardio just pushes me to release.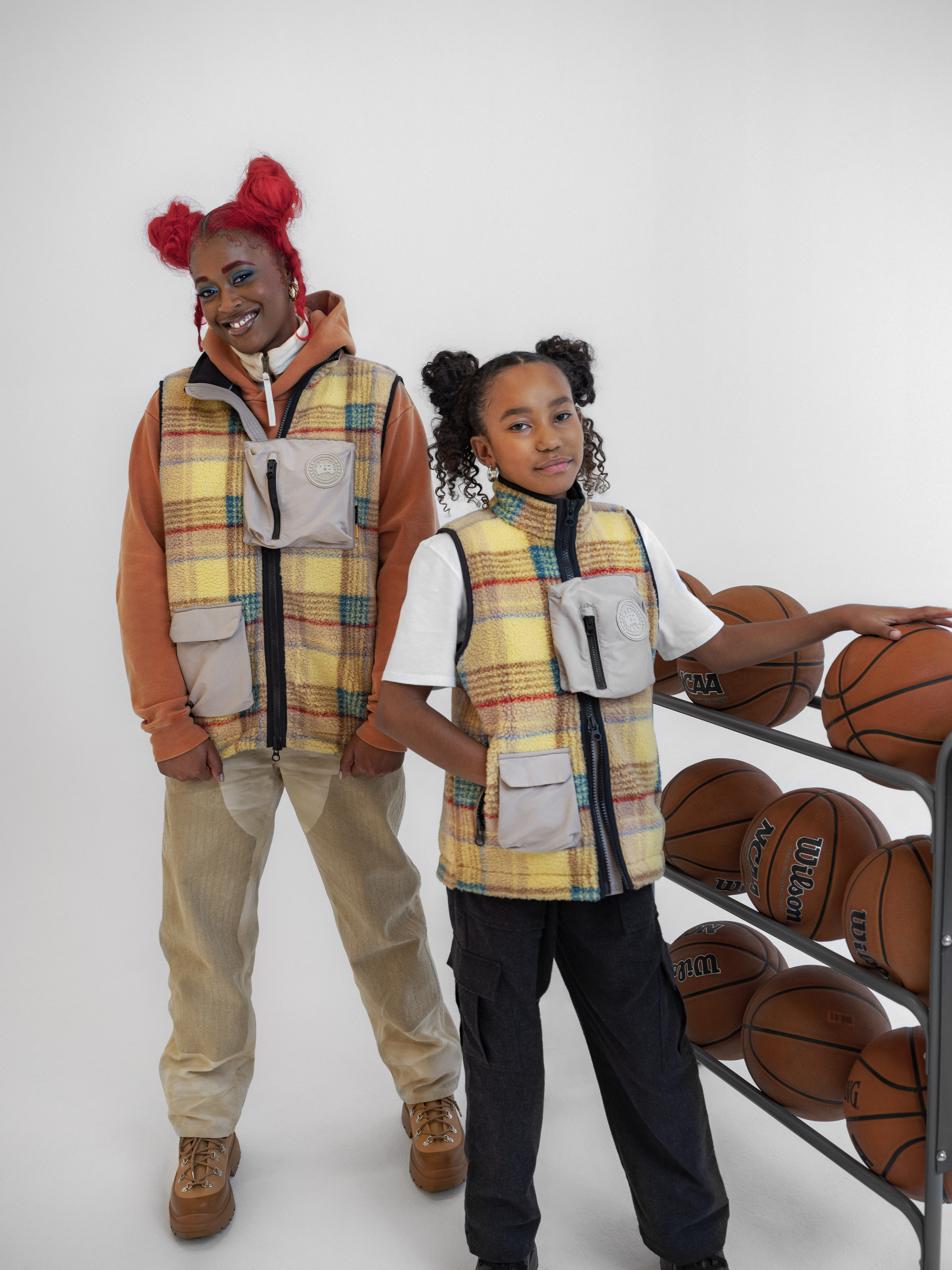 Chris Gibbs of UNION LA said the collection was made with "the West Coast lifestyle in mind." When it comes to your personal style, is there a destination it's largely inspired by?
It's a blend of everything because I can literally get inspired by anything, anybody I see, something I watch. It's all about mixing and experimenting and just trying new styles, new stuff. So I can't really say it comes from a specific place. Every day I wake up is something different. I might have something laid out like, "I'll wear this," the night before, but then I get up and I'm like, "I don't know if I'm feeling that." Then I just throw something together at the last minute.
Hip-hop turns 50 this year. How would you describe your contribution to the genre?
Well, hip-hop was born on Aug. 11, which is my birthday. So I just always felt like it was meant for me to do this. What I'm doing right now is exactly what I'm supposed to be doing.
Is there anything that you haven't done with your music yet that you're looking to do with your upcoming album?
Nah, I'm just gonna drop the album and you guys decide. (laughs)
You've made a visual album but have you envisioned creating an animated feature or series?
Yeah, it's been a thought before but I've never leaned on it.
If you have the opportunity to do it, what would the premise be?
I can just simply say that, of course, it would be about my life, but there's so many different ways it can go based on me. I don't think of ideas on the spot. I just gotta sit with something, really plan it, and put it together.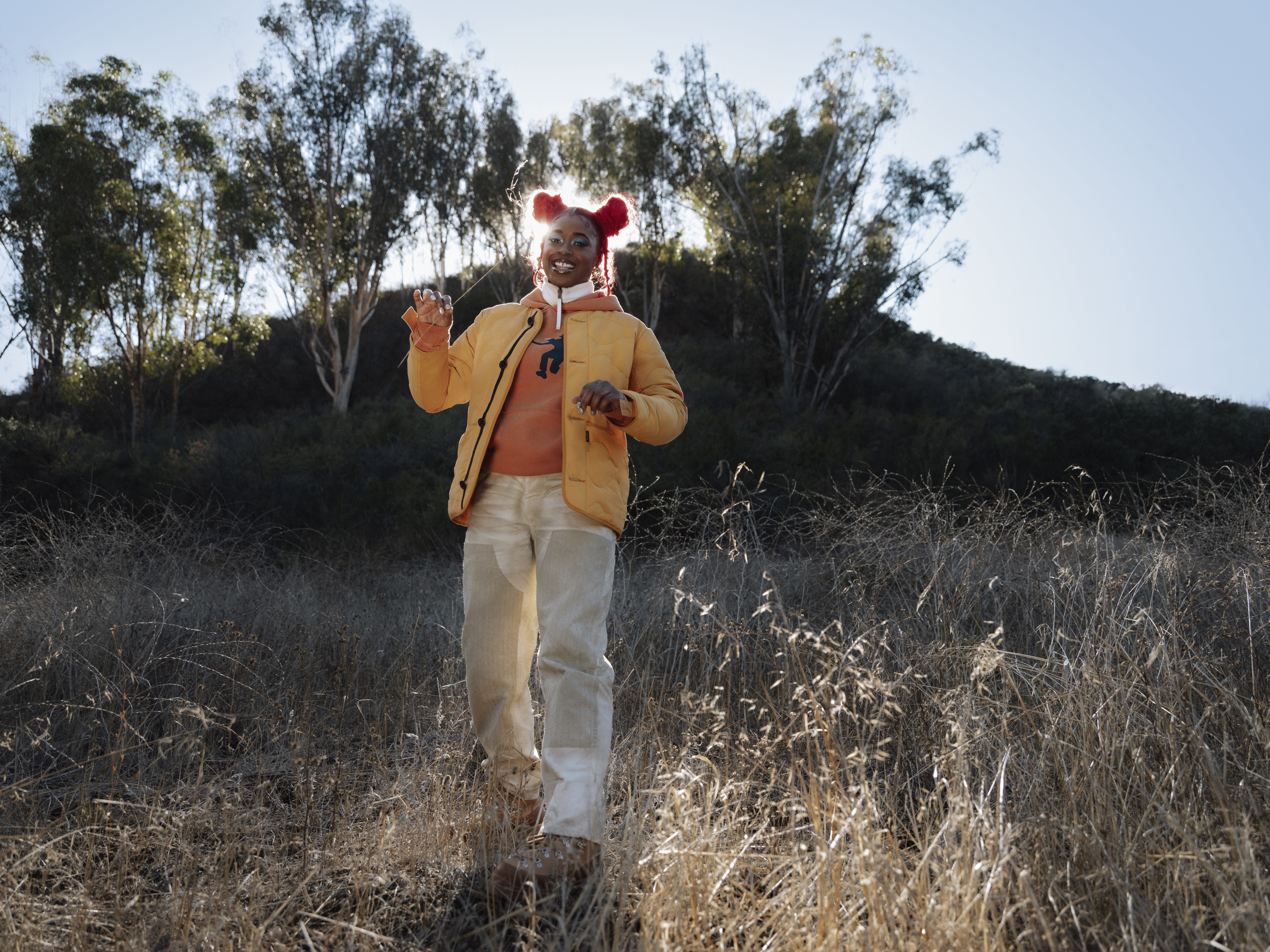 Can you give us any updates on your music with Tyler, the Creator?
Me and Tyler don't have any music. We're just friends. We were hanging out during [the Call Me If You Get Lost Tour] and we got to know each other better and we [still] talk. But yeah, I think with artists sometimes, people just expect, like, "Oh they both make music so they should just go make music [together.]" But sometimes we just want to be friends with people without asking anything of them but just simply be my friend.
Tyler gives great advice. He's a busy, busy man—I'm just grateful I'm his friend. I was just talking to [Lil] Yachty, too. He's one of my best friends, and he put all of us together on his [Lil Boat 3] project for the song "T.D" So that was a huge blessing—me, Tyler, Yachty, and ASAP Rocky.
You mentioned that Tyler gives you advice. So is there any advice that he's given you recently?
You know Tyler is random. He'll just be like, "Yo, don't ever mess with your gap." I've thought about it in the past like, "Maybe I should get braces," but he has a gap too. So he's like, "We gotta represent." I love that though, because it's like, "You know what? Tyler said no, so I'm not gonna do it."
So you're not necessarily working with Tyler, but is there anyone that you want to work with or collaborate with next?
People have been asking me that question for years, and I never have an answer. I don't force anything; if it happens, it happens, or it has to be organic.
Fans have been anticipating new solo music from you since 2021. What sounds are you interested in exploring on your new project?
A little bit of everything: pop, a little bit of rock. We came out with Whack World to show you guys that I can do a little bit of everything. I'm just trying to touch on every genre that I kind of already did, but it's like the same thing, which is a lot but it's still coming back to me. With Whack World, we laid out the outline just to [show] people like, "Hey, we can do it all."