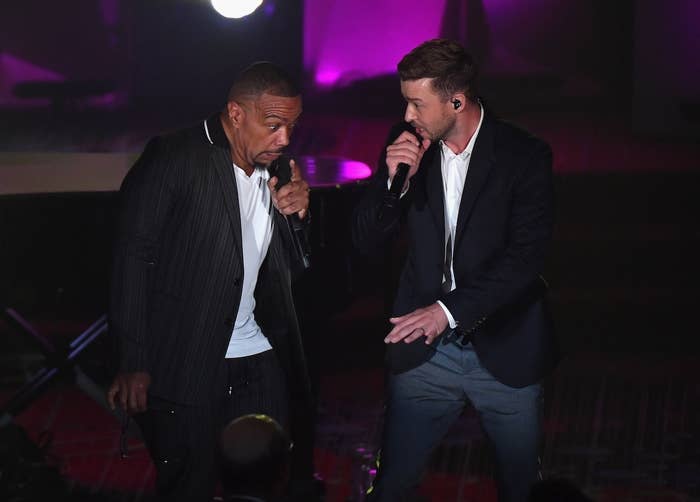 UPDATED 11/8, 9:40 a.m. ET: Timbaland has apologized.
In a video shared to social media, Timbaland apologized to Britney Spears' fans, as well as to the singer herself. He also spoke about fatherhood, his "own mental health issues," and the importance of being "mindful" when speaking in a public setting.
"I apologize to the Britney fans, and her," Timbaland said in the video, later adding that he was "making a joke actually" when he said Spears was "going crazy." The comments came in response to a question at a Kennedy Center event about Justin Timberlake, who is mentioned in Spears' recently released memoir.
"I can look outside myself and be like, 'I don't know. That wasn't a joke, and that wasn't a nice thing to say,'" Timbaland told fans.
See original story below.
Timbaland has nothing but support for Justin Timberlake amid the release of Britney Spears' memoir The Woman in Me.
A clip from Timbaland's Sound Architects conversation at the Kennedy Center with 9th Wonder has surfaced on social media. The Virginia superproducer was questioned about Timberlake being a topic in Spears' memoir, which was released on Oct. 24. Timbaland spoke frankly about the "Gimme More" singer, also defending Timberlake.
"She going crazy, right?" Timbaland asked the audience, who roared with laughter. The producer added that he wanted to call Timberlake upon hearing about the book, saying that the "SexyBack" vocalist should "put a muzzle" on Spears.
Britney fans have since demanded he apologize for his remarks, according to TMZ.
Allegations about Timberlake have been brought to light from The Woman in Me, with Spears claiming that she had an abortion at Timberlake's request, and the singer having an awkward AAVE encounter with Ginuwine.
The Sound Architects event wouldn't be the first time that Timbaland spoke on Spears. Per MTV News, in 2007, he brushed off the possibility of Timberlake and Spears collaborating although it would be "the best thing that ever happened" and would "help her out a whole lot."
Timbaland also suggested that Spears give Timberlake an apology, although he didn't disclose what it was for. "She should humbly humble herself," Timbaland said. "And make a phone call and say I'm sorry. That's it. She knows what she's sorry about, too."
That same year, Timbaland told EW that he almost had the chance to work with Spears and that Timberlake was interested in joining them. At the time, Spears was in a 30-day rehabilitation program at Promises Malibu.
"I asked Justin, 'How would you feel about me working with Britney?' I had to ask him that. I said, 'Would you do it with me?"' Timbaland recalled. "She's just gotta be serious."
However, the two would never collaborate, and Spears released her fifth album, Blackout, in October 2007. Since 2002, Timbaland and Timberlake have partnered frequently, their latest single being "Keep Going Up" featuring Nelly Furtado.