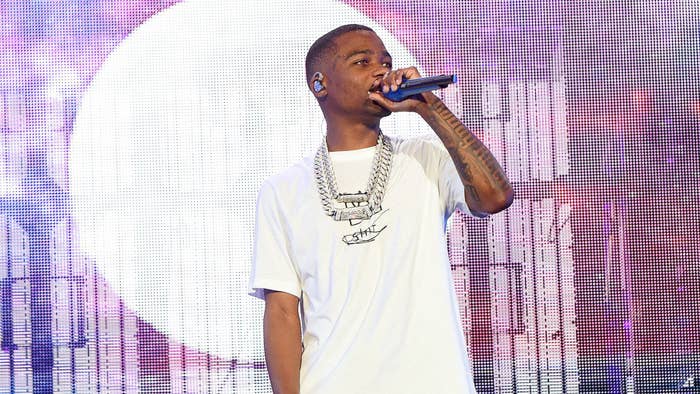 Roddy Ricch's highly anticipated new album Live Life Fast was not met with the same praise as his last full-length endeavor, Please Excuse Me For Being Antisocial, and now the L.A. rapper is promising fans another project to prove he's still an elite artist.
The diamond-certified artist took to Twitter to reveal he plans to continue his Feed tha Streets mixtape series by dropping Feed tha Streets 3 sometime in 2022.
"FTS 3 comin 2022, u n***as playin wit my top 🙄," Roddy tweeted.
Despite a lackluster reception from some fans, Live Life Fast still debuted at No. 4 on the Billboard 200, selling 62,000 equivalent album units in its first week. Ahead of it was Michael Buble's Christmas album, Taylor Swift's Red (Taylor's Version), and Adele's 30, which currently sits atop the chart for the fifth week straight.
Live Life Fast did go No. 1 on Billboard's R&B/Hip-Hop Albums chart, making it his second album in a row to reach the top spot there. That said, Roddy doesn't seem to care too much about industry-prescribed honors and accolades. While on Kevin Durant's The ETCs Podcast with Eddie Gonzalez, Ricch talked about how he confronted the Grammys for not recognizing Lil Uzi Vert and Lil Baby's music.
"Uzi is like, like when I was talking to the Grammys, I'm like, 'Y'all ain't nominate Uzi for [Best] Rap Album?' I was tripping on them," Roddy said during the pod. "Even like Lil Baby: 'Y'all ain't nominate Lil Baby?' Like I'm tripping, 'cause it's like everybody got their own lane, and it should be spoken about, talked about more, because I feel like the n***as now that's doing shit like, no disrespect, but we really breaking barriers."
Roddy was also notoriously snubbed after being nominated for six awards, making him one of the most heavily nominated artists at last year's Grammys.
Keep an eye out for Feed tha Streets 3 in 2022, and check out the episode of the ETCs Podcast featuring Roddy Ricch below.