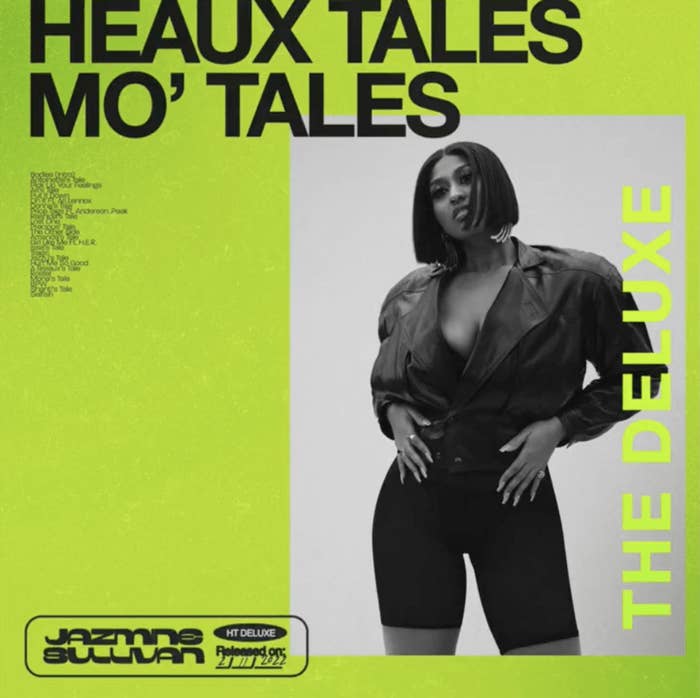 After delivering one of the best projects of last year, Jazmine Sullivan has returned to share the expanded version of her last studio endeavor, Heaux Tales, Mo' Tales: The Deluxe, which comes with nine new tracks.
Sullivan shared the cover art for the new edition, vibrantly tweaking the colors of the original, as well as a snippet of one of the fresh songs on Twitter this week while announcing the release.
What made Heaux Tales so special was its honesty. Sullivan has built a career off stringing together relatable stories with her soothing voice to connect people who have shared experiences, and the skilled singer looks to do it again in Heaux Tales, Mo' Tales. Sullivan will continue proving how far the project's reach is with the Heaux Tales Tour, set to kick off on Feb. 15. The 25-stop Live Nation production will make stops in  Los Angeles, New Orleans, Atlanta, and more before ending in Sullivan's hometown of Chicago. 
Along with the tour, Sullivan might also have a new collaborator in Megan Thee Stallion. During an interview with Billboard, the Houston rapper talked about the potential of doing an R&B/rap EP with Sullivan.
"A whole project [laughs]? OK, me and Jazmine Sullivan would definitely have some stuff to talk about," Megan said. "We'll have the girls crying, we'll have the girls screaming, we'll have the girls dancing, we'll have the girls sipping wine, [and] sitting in the backyard sipping cognac, but no [laughs]. The men better go run and hide if me and Jazmine Sullivan do an EP, so that's actually a really good idea. We need to get that in the works."
Sullivan later responded to a fan on Twitter saying that she saw Meg's response as well.
Listen to Jazmine Sullivan's new deluxe project, Heaux Tales, Mo' Tales, down below.