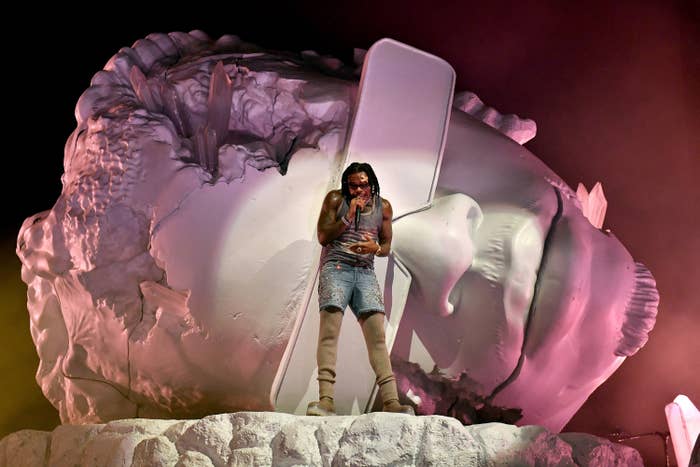 "This is crazy," Gunna tells a crowd of thousands in Brooklyn's Barclays Center during his first A Gift & a Curse concert on Sept. 9. It's one of the few moments the Atlanta rapper speaks during the entire show, yet this statement perfectly encapsulates the night and the year he has had. In this moment, it's evident that Gunna's star power outshines the dark pit the internet tried to keep him in.

The odds have been stacked against Gunna since he, Young Thug, and several other associates were arrested in May 2022 on racketeering charges that were being brought against their label, Young Stoner Life. Between the RICO case, Gunna pleading guilty to one count of racketeering conspiracy, and having his sentence commuted to time served, as well as the public backlash following this decision, this has been one of the most challenging of the rapper's career.

He became a polarizing artist immediately after he was released from prison at the end of 2022 by way of an Alford plea (which does not technically mean he confessed to any crime, but he withholds his innocence unless tried), with many talking heads on rap Twitter and fellow rappers alike labeling him a rat for "snitching" on YSL while his close friend Young Thug remains behind bars. Artists like Lil Durk have publicly said that they no longer support Gunna because of his choice to put his freedom first, and some fans followed the same frame of thinking, ultimately ostracizing him from many.

Yet despite all of the hate and criticism that came with his decision, the Atlanta rapper is still loved by many, even if the internet would have you think otherwise. Gunna went radio silent after being released from prison until he announced his fourth studio album, A Gift & a Curse, at the beginning of summer 2023. With all the hate that the Drip or Drown rapper was receiving throughout the entire year, it was unclear how this new album would perform, but A Gift & a Curse debuted at No. 3 on the Billboard Hot 100, making it the highest-charting rap album of the year at that time. The numbers don't lie, and Gunna's fans still showed up for him in spite of his circumstances.
The YSL rapper sold 85,000 units the first week of the album's release and churned out one of the songs of the summer with "FukUMean." The track owned the streets although he did basically no promo for it before or after the album. Neither A Gift & a Curse nor "FuKUMean" had the industry machine behind them or mass support from Gunna's peers, but he and his team were still able to create waves against all odds from the quality of the music alone.

Gunna also put on the best rap show of the year––with no guests by his side. After announcing his first headlining show since his arrest in July, there was no promotion in the two months between his opening The Gift show in Brooklyn or closing The Curse show in Los Angeles, but Gunna was still able to pack the Barclays Center off the strength of his music alone.

Flo Mili and DDG opened for the Brooklyn stop, but that was the only musical support he received during the concert. With a beautiful set design that featured a massive head from DS4 and homages to A Gift & a Curse, the Atlanta rapper commanded a nearly two-hour set by running through over 30 of his biggest hits and album cuts like "Top Off," "Drip or Drown," "South to West," and more. He also dedicated an entire section of the show to Young Thug and performed the songs they had together, with graphics reading "Free Jeffery" displayed on the arena projectors. Gunna hadn't performed live in over a year before this, but his delivery was crisp and he didn't rely on a backing track for any of his songs, which is a testament to his breath control and improved physical fitness.

Other rappers with massive followings and little to no controversies like Lil Baby, Lil Durk, and Moneybagg Yo have had to cancel some of their tour dates because of their inability to sell out venues. At Lil Baby's concert at Madison Square Garden in early September, the rapper managed to put on a great show but was flanked by guests like Meek Mill, A Boogie Wit Da Hoodie, Rylo Rodriguez, GloRilla, and Lil Durk. Even Drake's It's All A Blur tour, which has been dominating social media thanks to its eccentric props and numerous high-profile attendees, didn't have the same level of performance that Gunna demonstrated. Despite being outside of his hometown, Gunna held fans' attention without bringing out any guests; instead, he relied solely on his abilities as a performer and his dense catalog of hits, including "Pedestrian and P Power.

The show felt cathartic; in the more personal songs from A Gift & a Curse like "Alright," Gunna addresses the challenging year he's had—this time, in person, and it was clear that it resonated with the audience. The audience rapped these emotional songs bar-for-bar as if they were radio staples—another testament to their loyalty to him. The Atlanta rapper only had two shows to accompany the album, which made it easier to go all out, but the passion and intention behind the performances were evident. Fans also really showed up for Gunna at the Brooklyn stop, with some telling me as we waited in line at the arena that they had traveled from Baltimore, Boston, and other parts of the East Coast for the show. And on September 28, he'll attempt to recreate this special night at the Los Angeles YouTube Theater for the closing show.

If you only lived on the internet, the successful year that Gunna has had would sound impossible. The rap fans who endorse street codes that they've never had to live by crucified him for taking a plea deal, and the rappers who may have made the same decision in his position turned their backs on him. Even though it looked like the rap world betrayed Gunna, his talent and loyal fanbase prove that hip-hop is so much bigger than the narratives on Twitter. People lie, the internet lies, but the music sure doesn't.