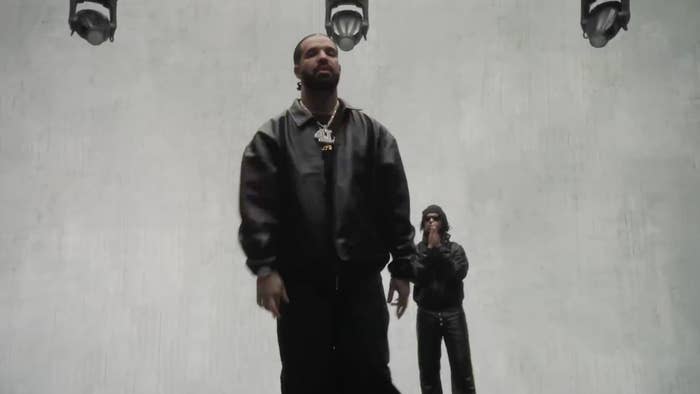 Six years after they released their first collaboration, "Sneakin" in 2016, Drake and 21 Savage have united for a collaboration album.
On Her Loss, Drake takes the lead, contributing two-thirds of the vocals himself (according to a breakdown by HipHopNumbers on Twitter) while Savage plays more of a supporting role. Beyond the duo, Travis Scott is the only additional collaborator, showing up on "Pussy & Millions."
Before Her Loss, Drake and Savage were on a hot streak together, releasing two hit songs ("Jimmy Cooks" and Knife Talk") in the past year alone. Now that it's here, the big question is: were they able to keep that energy throughout a full 16-song project? After a few initial spins, members of the Complex Music staff—Jordan Rose, Jessica McKinney, and Eric Skelton—shared their first impressions of the album.
Jordan: It's a tie between "Middle of the Ocean" and "Spin Bout U." As a fan of rapping-Drake, "Middle of the Ocean" gave me my fix and the beat sounds like something Hov would rap on from a boat in Santorini during one of his vacations. "Spin Bout U" is one of the most complete records I've heard from Drake and 21 Savage.
Jessica: "BackOutsideBoyz" and "Hours In Silence" (Drake solo songs) are the ones. They tap into both of Drake's personalities: the toxic and ruthless Drizzy on "BackOutsideBoyz" and the emotional, emo Drake on "Hours In Silence." As for the collab songs, "Treacherous Twins" is the best. It's emotional and sleazy, but not in an eye-rolling, annoying type of way. Drake and Savage both flex their skills, floating over mid-tempo production, while keeping it simple and not overdoing it. 

Eric: "Middle of the Ocean." I hate picking a solo song on a collab album, but Drake is rapping his ass off and the production is great. They swerved by putting Savage on the timestamp song, but "Middle of the Ocean" has everything we've come to expect from actual Drake timestamp records. It's a good one. ("Broke Boys" is a close second, and my favorite collaborative song).
Jordan: "Circo Loco" could have been cool if not for the unnecessary disses toward Megan Thee Stallion. The sample flip is fun, but instead of just sending subliminal messages to the nameless women of his past, Drake decides to make it clear that he does not believe Meg's story about getting shot in the foot by his fellow Canadian rapper. 
Jessica: Sigh. "Circo Loco" is not it. The interpolation of "One More Time" is a little corny, and the line that seemingly references Megan Thee Stallion being shot by Tory Lanez is even more corny and unnecessary. 

Eric: "Hours In Silence." The first two minutes are great, but they didn't need to stretch it out for six minutes. Those last four minutes of Drake vocals drag on for no reason. It's not terrible, but if I'm skipping anything, it's this.
Jordan: These are the most complete songs we've heard from Drake in a long time. Her Loss reminds me of If You're Reading This It's Too Late in the way that every track is thorough and highlights different strengths of Drake and Savage. On "Spin Bout U," Drake is giving us a little bit of everything, with a smooth and melodic hook that flows naturally into a ridiculous rap pocket (not to mention he gets back into his rapping bag on "Middle of the Ocean" and spits hot flame for over four minutes). Even Serena Williams' husband wasn't safe from catching a stray. Wild. 
Jessica: I love when Drake and 21 Savage trade bars. On songs like "On BS," their chemistry shines through as they go back and forth with an almost call-and-response flow. I also like the songs with beat changes, like "Broke Boys" and "Rich Flex." You're getting two songs in one, and they each give Drake and 21 a chance to experiment.
Eric: The production is great, and Drake sounds energized. Maybe we can thank Savage for lighting a fire under him? Or maybe all the negative reviews of the last few albums put a chip on his shoulder? Whatever it was, it inspired his best album in a long time (minus a couple glaring missteps). Also, Yachty deserves praise for his contributions. He has four production credits, and his fingerprints are all over one of my personal favorites ("BackOutsideBoyz"). Is a Drake and Yachty collab album next?!
Jordan: There was no reason for Drake to send subliminals at Megan Thee Stallion. The album was fun, and had so many entertaining moments, but that was not one of them. It's disappointing to have this moment spoiled by misogyny, but unfortunately, here we are. To make matters even weirder, he dedicates a bar to protecting women on "Spin On U," just to rap about the exact opposite later on. 
Jessica: Drake could've saved the singing for a solo album. This album was the perfect setup for him and 21 to just rap and flex that skill. The singing was a distraction and didn't add much value, especially on the menacing tracks about their opps. I know Drake feels pressure from fans to rap and sing on every album, but sometimes it's better if he just picks a side. Drake is also unnecessarily ruthless (calling Serena's husband a groupie? Yikes.). If the intention to piss people off, he'll definitely get what he's asking for, but the targets are questionable. 
Eric: The "stallion" line, easily. Drake knew what he was doing and it was unnecessary to force that tasteless double entendre. Drake sent a lot of shots in a lot of directions on this album, and it feels like he got too caught up in creating Twitter discourse (regardless of the consequences). It ultimately backfired, and ended up distracting from an otherwise great album. (I also wish there was a little more 21 Savage on this thing.)
Jordan: This is a Drake album, featuring 21 Savage. Drake clearly took this opportunity to do all of the rapping he chose not to do on Honestly, Nevermind, and it sounds great. Every song is complete, every verse is thorough, and he often dips into his melodic and lyrical bag on the same track. Savage does an amazing job supporting these performances, but his verses usually came secondary to Drake's, even in moments where he would anchor a song alone. This album was Drake's reminder to the game that he's still here and has no plans of slowing down anytime soon.
Jessica: 21 Savage wins in the sense that he set the tone and vibe for this album. The production, with its sinister sound, is clearly inspired by 21. In regards to their rap performances, though, Drake is the clear winner. Coming off Honestly, Nevermind, we all wanted Drake to deliver bars, and he didn't disappoint. That's not to say 21 isn't compelling, though. He delivers (and then some) but his performance is as expected; it's good, but nothing extraordinary.
Eric: Drake, but it's almost unfair to even compare them on a project like this. Drake takes most of the airtime, and Savage plays a supporting role. That being said, Savage made the most of his moments. If you somehow still don't respect his skills as a rapper, his performance on "3AM On Glenwood" should change your mind. He's one of the best and most underrated rappers of this era. (Maybe we'll be able to scratch "underrated" out of that description soon).
Jordan: When Drake's ego is his driving motivation, he makes great music but poor decisions.
Jessica: This is a Drake album with a side of 21 Savage, where Drake is in his rap bag and 21 is satisfyingly menacing—it doesn't have any obvious chart-toppers like some of Drake's other collaborative albums with Rick Ross or Future, but Her Loss still feels like a win.
Eric: Her Loss is a very well-produced, enjoyable album full of great rapping (the five-song run from "Broke Boys" to "3AM on Glenwood" is incredible) and a couple distracting missteps.