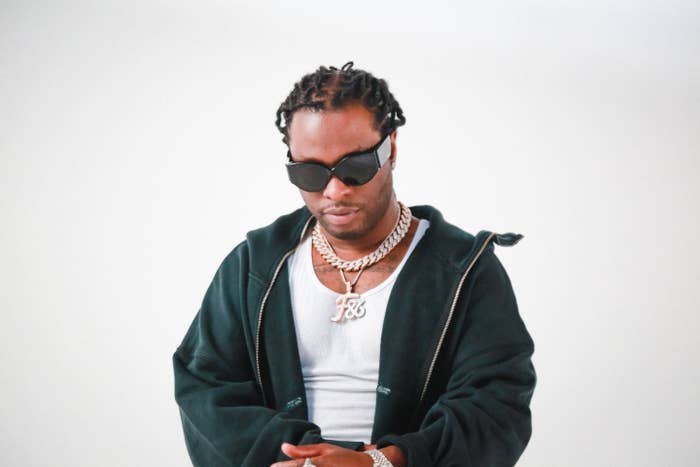 Young Stoner Life Records artist Strick just dropped his new single "Nelly Furtado" just in time for summer. It's an uptempo track that was inspired by the singer Nelly Furtado—best known for 2000s hits like "Promiscuous" and "Maneater"—and it arrives with a music video that shows Strick whipping it in a luxury car, surrounded by dancers.
Strick tells Complex he recently had the chance to link up with the real Nelly Furtado, reflecting, "That was super cool. Meeting her in person, and her showing that she really liked the record, just super dope, man. I grew up listening to a lot of her music," he recalls of their interaction.
It's been a busy time for Strick lately. He recently appeared in two Future music videos for "Wait For U" with Drake and "Keep It Burnin'" with Kanye West, and he's gearing up for his next project, The Machine, Vol. 3, which will be the final installment of the series. 
While juggling music and fashion projects, Strick is coping with the recent passing of YSL's Lil Keed, as well as the ongoing RICO case against labelmates including Young Thug and Gunna. Strick has been in the YSL Records family for years, releasing the Young Thug-assisted single "100 Degrees" back in 2017 and formally signing to the label in 2018. Fondly remembering memories of his time with the late Keed, Strick says, "He was always working, always coming from the show, always ready to put out music. I couldn't even pinpoint just one particular moment because every single interaction with Keed was always a genuine one and it was always amazing to be around him. I love Lil Keed." 
Strick spoke to Complex about his new single (which is available on streaming services now), Lil Keed, the problem with using rap lyrics as evidence, and more. The interview, lightly edited for clarity, is below. 
How did the idea for "Nelly Furtado" come about? 

Big shout out to Nelly Furtado and her whole team. They got huge support for the record. I actually got a chance to link up with Nelly. I went up to Toronto and ran into her, so that was amazing. But that record is the first single from The Machine Vol. 3. 
What was your interaction like with the real Nelly Furtado? 

That was super dope. When I did this song, I was super nostalgic. I record basically line-by-line, pretty much freestyle, so I saw whatever comes to my mind at that moment. And after I said [the Nelly Furtado line], I looked back at my boy, Don Veedoe. He was like, "Yeah, that's the song." We ended up reaching out to her team and speaking with her daughter, and we stayed in touch. Then I was with my boy Future, and we were going up to Toronto so he can shoot the "Wait For U" video with Drake, and I just used that as an opportunity to reach out to Nelly and see if she was around. She ended up being there, so we linked up. That was super cool. Meeting her in person, and her showing that she really liked the record, just super dope, man. I grew up listening to a lot of her music.
How did the idea of paying homage to Nelly even come up when you were in the studio? 

I think it's always divine how thoughts come to your head. And at the same time, it's the way that the beat was going. The beat was giving me that Timbaland nostalgia kind of vibe, so it just felt like the 2000s. Just having a good time. It definitely wasn't any forethought, until it just kind of came.
What is the main goal from this track? It seems like it will probably be a dance, club record. 

Yeah, definitely. I think it's a fun record. I want everybody to have fun with it. I want the DJs to have fun with it. I want people to remix it. I just want it to be one of those records. And maybe people will go back and check out some of Nelly Furtado's classic work with her and Timbaland. That's the vibe that I was going for. Again, unintentionally, but I think it's just a good record, a good moment.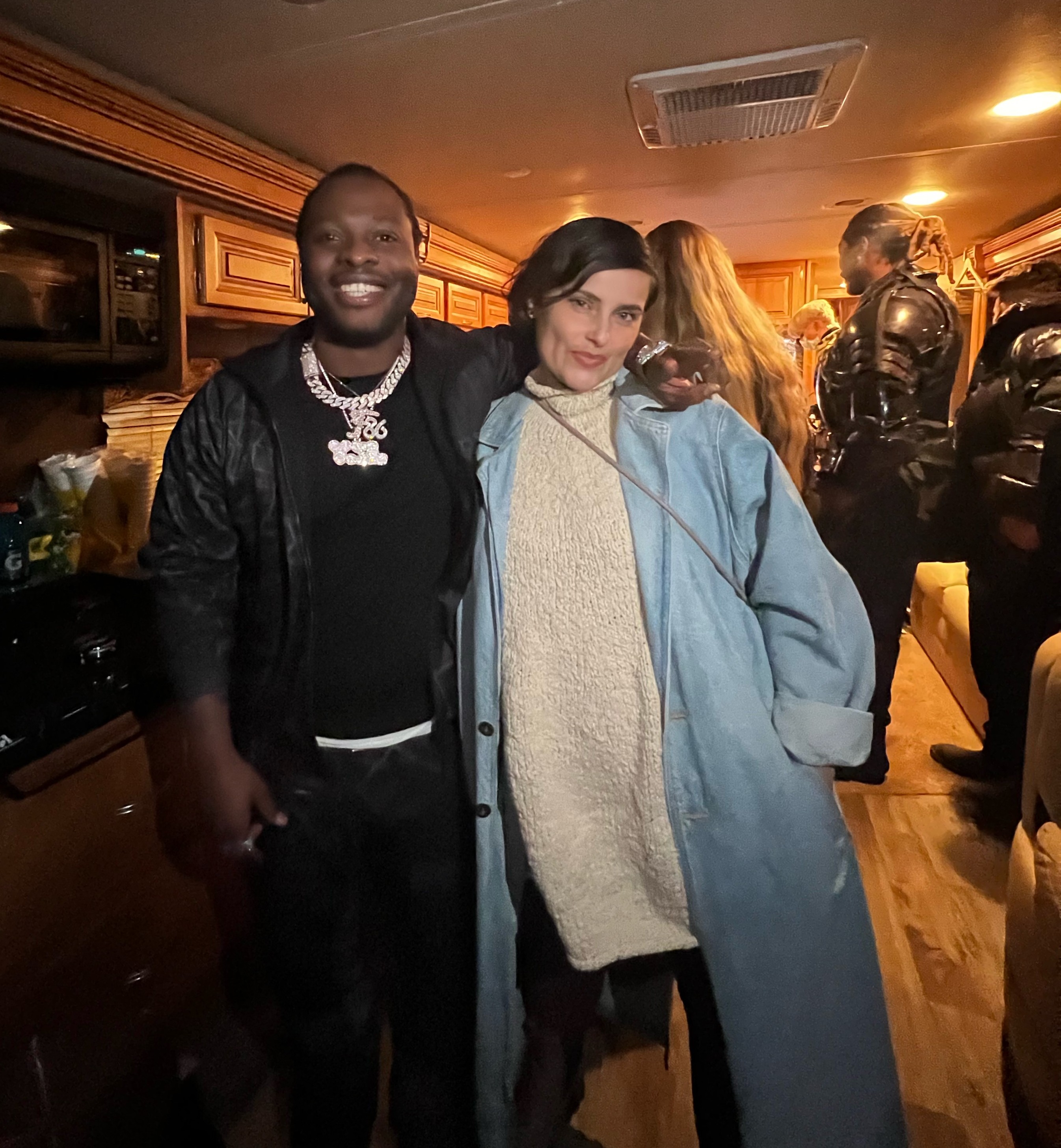 What was it like shooting the music video for "Wait for U" with Future and Drake? 

I grew up on a lot of medieval times. I was always into that, and like a lot of people know, I had my company Crown and Sword. So I like a lot of royalty type of vibes all the time, and obviously Game of Thrones is a super dope show. That was a memorable time, and the whole staff was amazing. The video was a timepiece, and some of the scenes were shot in a real castle. They had a lot of antiques. A lot of Princess Diana stuff, also. That was a dope experience. 
What was your favorite memory from shooting the "Keep It Burnin'" video with Future and Kanye? 

"Keep It Burnin" was another super dope video—another record that I actually was able to be a part of. That was wonderful, to not only be a part of the record, but be able to share in the moment and be there for the video shoot. Pluto called and was just like, "Yo. Pull up. You got to be at the shoot." So I pulled up. Thanks to him for the opportunity. Thanks to Kanye as well. 
You've collaborated a lot with Future. What's the best lesson that you've learned from him? 

It's very similar to learning from Thug. Their work ethic is impeccable. Their foresight, the way they think, the way they do the game, not only just the music aspect, but the business aspect of it as well. I've learned a lot from just seeing how Future handles his business and everything like that. I definitely have a lot of takeaways from those moments. We share a lot of knowledge with each other. He's one of those people that don't hoard a lot of the information that he knows. He's such a genuine person.



"It's a constitutional right to have freedom of speech. I don't think that it should be judged based on what type of entertainment someone chooses to use it in, whether it's an actor or whether it's someone musically using self-expression."
You mentioned "Nelly Furtado" being on The Machine, Vol. 3. What can you tell us about that project? 

Yeah, "Nelly Furtado" will be on my new project, The Machine, Vol. 3. It's the last of the series. I really enjoyed doing it, because it gives me the opportunity to put out summer music that's really fun—really uptempo summer music for my fans. This is the last installment, and this project has a lot of really incredible production, a lot of great songs. I'm excited to release the artwork. I'm excited to share a lot of it with the world. 
How have you grown as an artist from The Machine, Vol. 1 to now? 

Tremendous amounts. I work every day. I record every day. I dropped Machine, Vol. 1 right after I got signed. So the first part of that, which I released with 300 and Young Stoner Life Records, was See You When I Land. That project felt like an album. So Machine, Vol. 1 was the first project I put out after that. It was a very monumental moment because it was like, OK cool, I'm signed and now I'm putting out more work. Then I ended up going overseas for the first time as an artist and spending a lot of time at summer festivals. Fast forward to now, I just released my debut album in November, which was titled Strick Land. And now I'm coming back with Machine, Vol 3. It's that moment for me again. And this time I'm going to be going overseas and I'm going to be performing at a lot of these festivals, just learning the game. It's a great way to end this series.