The Harassment Lawsuit Against Nicki Minaj and Her Husband, Explained
Nicki Minaj and her husband Kenneth Petty have been sued and accused of intimidating and harassing a sexual assault victim. We looked at the court documents.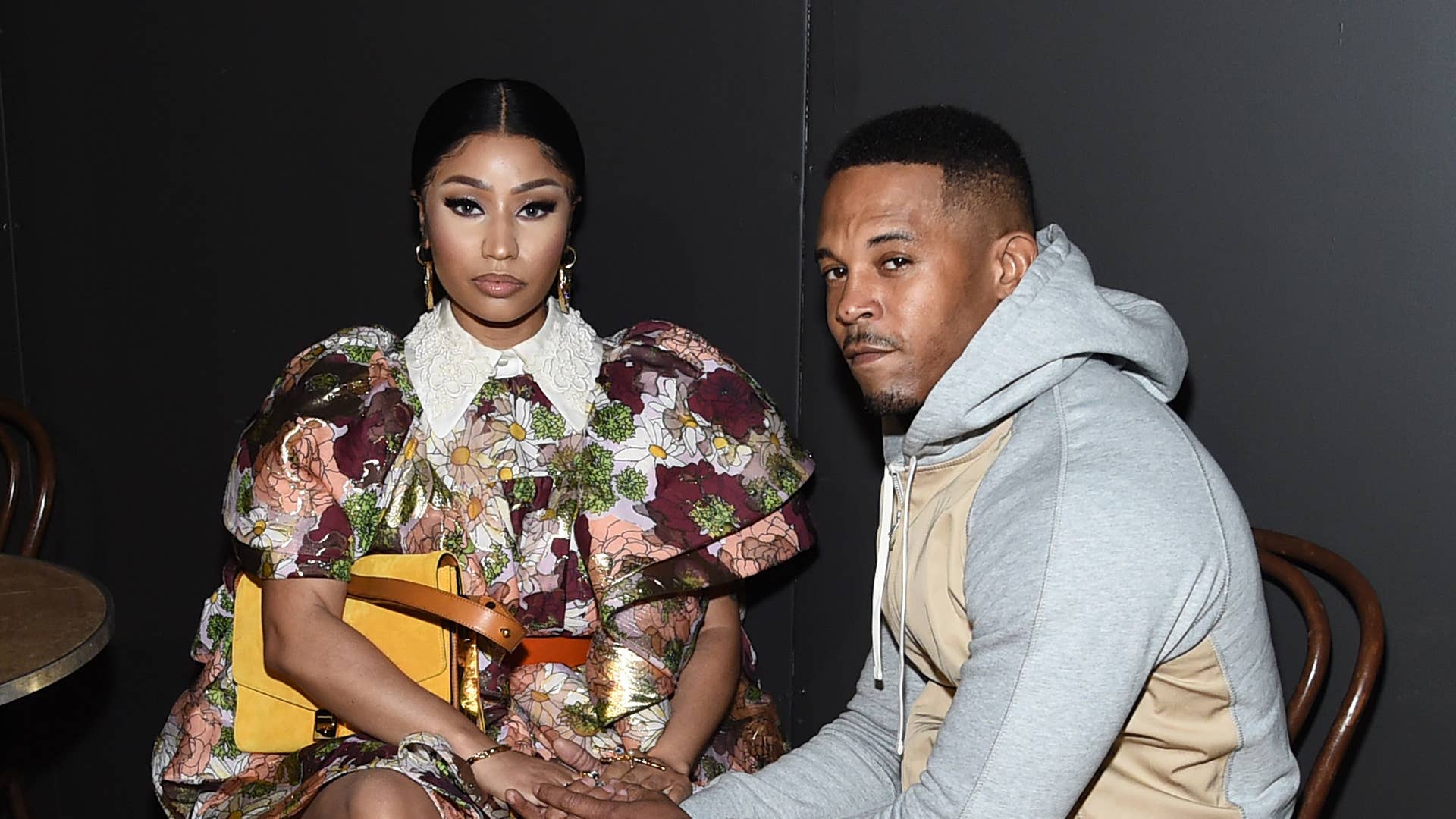 Getty
Image via Getty/Jamie McCarthy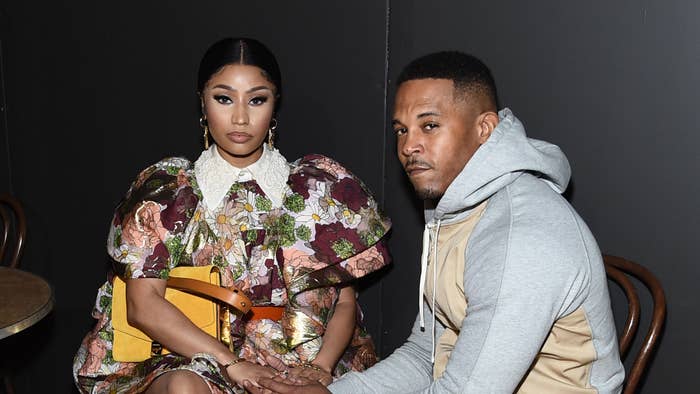 Nicki Minaj has had a tumultuous month. On Sept. 13, in a Twitter rant now known as "#BallGate," she revealed that she hadn't been vaccinated and claimed her cousin's friend's testicles became swollen after getting the shot. As she received blowback on social media for her comments, details regarding a lawsuit brought against her and her husband Kenneth Petty also recirculated online. 
At the beginning of September, Minaj and Petty were served with a lawsuit accusing the couple of intimidating and harassing a sexual assault victim. The victim, Jennifer Hough, accused Petty of raping her in New York in 1994, a crime he was convicted of in 1995. Since then, Hough alleges that Minaj and Petty have hired associates to reach out to Hough and her family in an attempt to silence her initial allegations. Hough recently appeared on daytime talk show The Real on Sept. 22, where she shared her story and outlined the events she said have left her traumatized and afraid for the safety of herself and her family. 
Complex has obtained legal documents in Hough's case against Nicki Minaj and Kenneth Petty, and outlined the most important details, with the hopes of providing some clarity to this serious situation. Here is what you need to know about the harassment lawsuit against Nicki Minaj and Kenneth Petty.
According to court documents, Jennifer Hough is the plaintiff in this case, and Kenneth "Zoo" Petty and Onika Tanya Maraj (Nicki Minaj) are the defendants. The documents also cite other individuals who played a role in the intimidation and harassment of Hough, but have not been formally sued.
Jennifer Hough accused Kenneth Petty of sexually assaulting her on Sept. 16, 1994. At the time, Hough was 16 years old. According to a court complaint obtained by Complex, Hough left her grandmother's residence in Jamaica, Queens and was headed for the MTA bus when she saw a 16-year-old Petty standing at the bus stop. After a brief exchange, Hough says she turned her back when Petty approached her from behind and grabbed the back of her jacket, pressing what she believed to be a gun or knife against her. Then they walked to a house around the corner from the bus stop, where Petty forcibly led Hough upstairs. Hough says she pleaded with Petty, saying, "What do you want from me? Why am I here?" Petty replied, "You know what I want" before allegedly forcibly ripping Hough's pants off. When Hough attempted to fight him off, Petty grabbed the weapon and threatened her, before raping her.
Hough alleges that once he finished, Petty stood in front of a mirror beating on his chest and stating, "I am the man" repeatedly. After the act was over, Hough says she pleaded with Petty to let her leave, but he attempted to block the exit door. Hough recalled Petty trying to light a cigarette while still "admiring himself," and she offered to light it for him. Hough says she attempted to throw the lit flame from a match on a roll of toilet paper that was sitting on a dresser, but the flame quickly went out. Shen then grabbed a contact solution container from the dresser and threw it at Petty's head. As Petty reacted to the thrown object, Hough pushed him away and was able to escape. 
Though Kenneth Petty initially denied the rape charges, he was charged with first-degree rape and was subsequently convicted of first-degree attempted rape in April 1995. Petty served almost four years in New York state prison for the crime, and was required to register as a sex offender.
According to proof of service documents obtained by Complex, Nicki Minaj was served with  legal documentation on Sept. 13, 2021. Kenneth Petty was served two days later on Sept. 15. Among the claims, Petty and Minaj were sued for harassing and intimidating a sexual assault victim.
The formal complaint filed against Kenneth Petty and wife Nicki Minaj accuses the couple of intimidation and harassment. On Nov. 25, 2018, Nicki Minaj posted a photo of her and Petty on social media, seemingly confirming their relationship. Then Minaj shared another photo of the couple on Instagram with the caption, "Oh they wanna talk? Let's give'm smthn to talk about." At this time, many people were aware of Petty's past. One person commented below the picture, writing, "Wait y'all, calling this man a rapist but it happened in 1994, meaning he was 16 or 17 and the girl was 16 years old… must've been a whit girl." Nicki Minaj responded in the comments section of her photo, saying, "He was 15, she was 16… in a relationship. But go awf, Internet. Y'all can't run my life…." The photo and Minaj's comments were subsequently submitted as Exhibit A in Hough's complaint. It was also picked up by various media outlets, tabloids, and YouTube blogs around the country and Hough was sought after for interviews. 
In addition to speaking with Jennifer Hough directly, Nicki Minaj is also accused of hiring mutual friends and employees to reach out to Hough on her and Petty's behalf to convince her to recant her account of rape. Several days after Hough and Minaj's phone conversation, Hough received a call from her brother. According to her brother, two people reached out to a family member and offered them $500,000 from Minaj in exchange for a letter that recanted Hough's rape claim. Hough rejected the offer. In April 2020, Petty and Minaj's legal team hired Attorney Ian Wallach to give "legal advice" to Hough about recanting her statement. After Hough informed Wallach that Minaj and Petty were sending people to harass her, Wallach promised to "help her," but no real efforts were made. Throughout this time, Hough alleges that Black continued to receive and relay messages from Minaj and Petty to Hough. During a phone call, Black stated that if Hough signed notarized papers he obtained from Minaj and Petty, that nothing would happen to her. Shortly after, Black appeared in front of Hough's home. In order to protect her children, Hough allegedly met Black in his car where he revealed a document of recantation for Hough to sign. She refused. Black allegedly put $20,000 on her lap, and stated that Minaj would send happy birthday videos to Hough's daughter "as a bonus." Hough also claims that she and her children have been contacted and approached by Petty's legal team, associates, and even fans of Minaj who have threatened, harassed, and intimidated them. 
Nicki Minaj has been fairly vocal about the case between her husband and Hough. In November 2019, Minaj broadcast an episode of Queen Radio titled "Shade No Shade," in which she addressed the allegations against Petty. Minaj repeated the false claims about Petty being 15 years old at the time of the incident. She also stated that he was "wrongly accused" of the crime and insinuated that the only reason for his time in jail was because "he did not have bail money." Minaj also stated, "white is right" when discussing Petty's case. Hough is biracial, but Minaj's comments led some to believe that she was a white woman in order to draw historical reference to this case.
Hough and Minaj did not have a personal relationship prior to this situation, but they have spoken directly. In 2020, Hough was contacted by a childhood friend named Black. During their conversation, the topic of Hough's rape came up, to which Hough said that she "wished it could all just go away forever." Black responded, "I can make that happen." Several days later, Black called Hough and informed her that he had given her number to Minaj upon Nicki's request. During an interview on The Real daytime talk show on Sept. 22, Hough detailed her phone conversation with Minaj. "She offered to fly me and my family to L.A. I turned it down, and I told her, woman to woman, 'this really happened,'" Hough recalled of their phone conversation. Following that call, Hough says she has not spoken to Minaj since.
In November 2020, Hough posted a video to YouTube, in which she discussed everything she was going through, from the original rape case to the recent harassment. She stated that the video was intended to create a digital record just in case something was to happen to her. On Sept. 22, 2021, Hough appeared for the first time on national daytime television show The Real. During the interview, Hough tearfully discussed the initial allegations against Kenneth Petty and the harassment she received from Nicki Minaj. On why she chose to sit down for the interview, Hough said, "I am tired of being afraid. I feel like the actions that were taken in regards to this whole situation, have put me in a different type of fear at my age now. And it was wrong, and I don't want to be afraid anymore. So the only way not to be afraid is to continue to speak up."
Yes. In March 2020, Petty was arrested by the U.S. Marshals in Beverley Hills on an indictment for failing to register as a sex offender in California. He was released from federal custody on a $20,000 bond. At his first court hearing, Petty pleaded not guilty to the charge and posted a $100,000 bail. In September 2021, Petty returned for a virtual hearing with the U.S. District Court for the Central Distrtct of California, where he pleaded guilty to failing to register as a sex offender in the state of California.
Kenneth Petty is currently facing a maximum of 10 years in prison and a lifetime of supervised release for failing to register as a sex offender. His sentencing is scheduled for Jan. 24, 2022. It is still unclear if Petty and Minaj are facing jail time in regards to the intimidation and harassment of Jennifer Hough.
According to court documents obtained by Complex, Hough "prays for judgment against all defendants, jointly and severally." She is asking for "past, present, and future general damages," "any appropriate statutory damages, costs of suit, attorney's fee, and punitive or exemplary damages" against Petty and Minaj. During her interview on The Real, Hough also stated that she wants Petty and Minaj "to know they were wrong and you can't do this to people. You shouldn't do this to people." She continued: "He did something a long time ago and he had consequences that he was supposed to stick with. What they did to me and my family wasn't okay. It wasn't right. And it doesn't matter how much money you have. It doesn't matter what your status is, you can't intimidate people to make things go better for you. And that's what they did. I want my daughters to know that as they grow, as they experience life, as they come in contact with friends, family strangers, that they'll have the strength to know that they have a voice, and they should use it, and don't let anybody try to silence them."