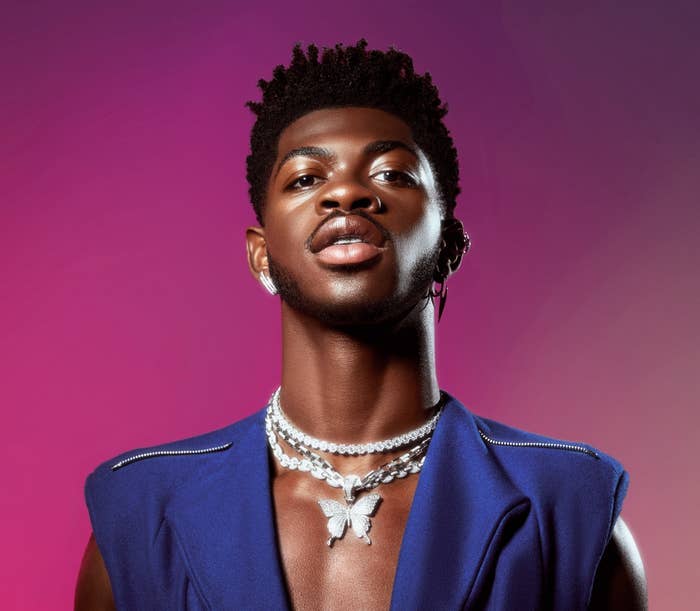 It's… an album! Finishing one of the most memorable rollouts of the past few years, Lil Nas X finally gave birth to his debut album, Montero, this week.
It's been a hell of a year for the 22-year-old artist. Proving (once again) that he isn't the one-hit wonder many predicted he would become after the unfathomable success of his breakout hit "Old Town Road," Nas X has spent the past year releasing hit singles, stirring up controversy, clapping back, and constantly going viral. In other words, he's been impossible to ignore (not that you would want to).

By now, everyone knows that Lil Nas X is a talented provocateur who can bend the internet to his whims better than anyone we've ever seen. And after releasing multiple chart-topping singles, he's proven he can consistently make hits. But one question remained: How will his talents translate to a full album? Well, now we have our answer. After giving Montero a few initial spins, two members of the Complex Music team (Eric Skelton and Jessica McKinney) shared some first impressions of the album.
Eric: "Dolla Sign Slime" featuring Megan Thee Stallion stands out the most when it comes to the new songs ("Industry Baby" is still my favorite overall). The brassy production hits hard, he sounds confident and defiant, Megan's verse is great, and it's catchy as hell. It's got everything I want from a Lil Nas X song.
Jessica: "Industry Baby." I hate to pick a pre-released single, but I really believe it's the best song on the album. It continues the fun that Lil Nas X showed on "Old Town Road," but it sounds more mature and R-rated (thanks in part to the music video). Nas X is braggadocious and not afraid to respond to the criticism of his come-up. Jack Harlow is also the perfect collaborator for the song—not only as a fellow rookie, but another artist who has received similar feedback about his position in the industry. 
Eric: "Am I Dreaming" featuring Miley Cyrus. It works well to close out the album, but it doesn't play to Nas X's biggest strengths as a vocalist and I don't think I'll return to it often on its own.
Jessica: "Life After Salem." There's nothing to explicitly complain about, but I'm personally not crazy about the song. 
Eric: The confidence. Montero is an album that only could have been made by an artist with a chip on their shoulder and a ridiculous amount of confidence. You can tell Lil Nas X heard all the "one-hit wonder" and "gimmick" talk, and set out to prove there are deeper layers to him as an artist, which will lead to more longevity than anyone predicted. Montero is a wildly ambitious album with arena-ready pop songs, but it also has a heart. Nas X gets real about his struggles with as much believability as he does on the more boastful records. As he's already made it clear on his Twitter feed, this man really does not give a fuck, and it comes across on the album. He clearly knew Montero was going to be great and wasn't afraid to clap back at anyone who has suggested it wouldn't be. You have to respect it.
Jessica: I really appreciate how youthful and fun Montero is. There are some slow songs, but the album as a whole sounds appropriate for where Lil Nas X is in his life. He's at the top of his game and has a lot of talent, but he's also embracing his sexuality and navigating relationships, and that comes across on the album. He also did a great job selecting the features. Each guest is properly vetted and sounds great on their respective tracks. It's also worth noting that, unlike a lot of other rappers recently, Lil Nas X enlisted three female acts—Doja Cat, Megan Thee Stallion, and Miley Cyrus—for his album, two of which are rappers.
Eric: I'm tempted to knock Montero for a lack of cohesion, because it's all over the place stylistically, but that's always been part of the appeal of Lil Nas X. He came into the game by smashing the worlds of country and rap together on "Old Town Road," and he brings all kinds of disparate sounds and textures together on Montero. It makes for a somewhat disorienting listen, lurching from a club-ready song like "Dolla Sign Slime" straght to a much more low key (and kind of sad) song like "Tales of Dominica." But that's also the essence of Lil Nas X, an internet-born artist who can vacuum up influences from all corners of the world and reimagine them in his own liking. He gets a pass here.
Jessica: When I think of Lil Nas X, I think of radio hits and upbeat, fun records. While I appreciate some of the slower, intimate tracks like "Dead Right Now" and "Sun Goes Down," I think there were too many slow records and some of them failed to say anything real. 
Eric: The songwriting. Everyone knew Nas X could make massive pop songs and go viral whenever he wants, but we hadn't seen what he would do with deeper album cuts. Well, it turns out he can be a very introspective songwriter when he wants to be. On songs like "Dead Right Now" and "One of Me," he sheds his defiant disposition and acknowledges his own struggles and fears. He's quickly becoming one of the world's biggest stars, but in the same way that he's able to make his Twitter feed so engaging and relatable, he's held on to a very human element in his music as well. When he's not trolling or making larger-than-life pop songs, he's not afraid to get vulnerable. 
Jessica: I don't think there is anything that stands out as surprising right now. 
Eric: This rollout has been incredible, but I'll admit that it did lower my expectations for the actual music a little. I thought maybe he had dedicated all his time and attention to the rollout and marketing, and skimped on the music itself, but I was wrong. All the music videos, skits, tweets, viral clapbacks, billboards, and stunts were very entertaining on their own, and then he followed it all up with an album that lived up to the hype of his own making. What more could you ask for?
Jessica: Lil Nas X is a genius when it comes to his social media and online presence, and his rollout for Montero was perfect. Some rollouts that have too many working parts can become a distraction (cough, cough, Kanye) but each component of Lil Nas X's marketing plan was cohesive and well thought out. From the pregnancy reveal to the music videos, Lil Nas X and his team were very intentional, which is rare these days. 
Eric: Lil Nas X keeps proving everyone wrong. When an artist pops up out of nowhere with a massive breakout hit, and then follows it up with a bunch of viral stunts and controversies, it's usually fair to assume that the debut album will be a letdown. We've seen it happen many times before. But now we know that Lil Nas X isn't a normal artist. Montero exceeded all my expectations. It's a great pop record.
I have no idea where the hell he found the time to make a quality album while also perfecting one of the best (and most involved) internet marketing campaigns of our time, but he did. Credit needs to be given to the project's executive producers Take a Daytrip, who worked hand in hand with him on much of Montero, but Nas X deserves a lot of recognition for his musical talents as well. This is a very ambitious, sonically diverse album that would have fallen flat if it weren't for an artist with his impressive vocal and songwriting chops. He still has some room for improvement as a rapper and singer on some of these songs, but you have to remember this is only his debut album (and he's still only 22 years old). Now that we've made it past all the "one-hit wonder" talk, it's clear he's going to be here for a long time, and it's going to be fun to see how he grows as an artist.
Jessica: Montero is a decent first album for Lil Nas X. It definitely shows some growth from 2019's 7 EP—he sounds more confident and settled in his voice. The features were equally compelling. With that being said, I don't think it's one of the top albums of the year. The pre-released singles are the main highlights of the album, which is somewhat dissappointng. While Montero is not a 10-out-of-10 project, I think there are some highs on the project and it does leave me interested to see what Lil Nas X will do in the future as he continues to grow into himself as an artist and a man. Despite my personal feelings, I do see Montero getting some Grammys recognition next year.